Your favourite '90s troll is back! In Hugo's Adventure, we get to search the skies and the depths of the ocean for treasures and kick the evil Don Croco's butt.
Hugo was created as a game character by Danish company Interactive Television Entertainment. The Hugo game show aired in over 40 countries since the early '90s, and in the UK it was broadcasted on ITV on Saturdays.
If you don't know or remember Hugo, here's a short recap; He's a troll, and he has a wife, Hugolina, and three kids, Rut, Rit and Rat. Hugo and his family would like to live peacefully, but an evil witch Scylla has discovered that having a troll near helps her maintain her youth. So, naturally, she always tries to kidnap Hugo's family, which is ultimately the basic idea for many early Hugo stories.
Hugo's Adventure was released by Play 'n GO in 2019, but it wasn't the first – in fact, there are four Hugo slots in total. The first one was simply called Hugo, and it came out in 2016. Hugo 2 was released in 2017, and Hugo Goal in 2018.
Hugo's Adventure is an easy slot for both experienced players and newbies. And, if you loved Hugo as a kid like me, this game is sure to tickle your nostalgia bone.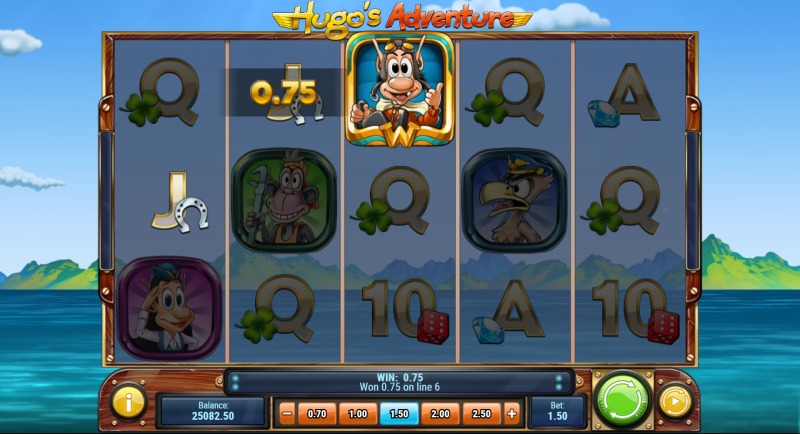 Graphics & sound
Hugo's Adventure is bursting with colour and fun characters, and the music is quite fitting for an exciting quest that lies ahead!
This time we're out of the familiar troll woods, and soaring through the air or exploring the seafloor for treasures. But, it wouldn't be an adventure without any danger involved, so the henchman of witch Scylla has done his best to stop Hugo from gathering riches. Therefore, the sky is littered with air mines and the seafloor is guarded by Don Croco himself.
The audio in the game consists of energetic background music and Hugo occasionally talking to the player. The remarks he makes are funny for the first couple of times, but after a while, they get a bit annoying.
Symbols & wins
Hugo's Adventure has five reels, three rows and 10 paylines from left to right. The most valuable symbol in the game is, of course, Hugo who's also the Wild in the slot.
In addition to the base game, Hugo's Adventure also has a free spins feature and a bonus game. The free spins are triggered by landing three Scatters, and the bonus game activates by landing two Bonus symbols.
Basic symbols:
5 x Hugolina pay 35x your bet
5 x eagle pay 25x your bet
5 x monkey pay 20x your bet
5 x A pay 10x your bet
5 x K pay 7,5x your bet
5 x J or 10 pay 5x your bet
Special symbols:
Hugo: Hugo himself acts as a Wild, but also gives payouts on its own. The Wilds substitute any other symbols except Bonus and Scatter. 5 x Hugo pay 50x your bet.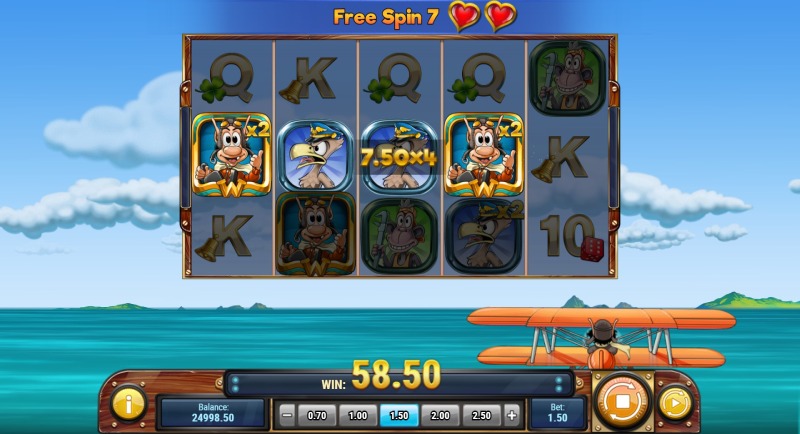 Features
Air Ace: An aeroplane (Scatter) on reels 1, 3 and 5 triggers the free spins.
The free spins start by hopping in a plane with Hugo. The player always receives one initial life, and more can be collected during the flight.
Hugo flies the plane beneath the reels, so you get a good view of both reels and Hugo. Randomly, he steers the plane left or right, and hits three possible objects on his way:
Air mine: Hitting an air mine causes the plane to explode, and Hugo falling down. This extracts one life from the life counter.
Extra life: Adds one heart to the life counter. The maximum number of lives is two, so if Hugo already has a full life counter, the extra life does nothing.
Multiplier balloons: The golden balloons can add up to four x2 multipliers on the reels.
On any spin, the game can add flying Wilds on the reels. These Wilds land on random places, and move one spot to the left after a spin. The flying Wilds stay in the game until they reach the first reel and then drop off.
If you manage to play 20 free spins and still have at least one heart left, you advance to the bonus game as an extra reward.
Underwater Adventure: A submarine (Bonus) on reels 2 and 4 triggers the bonus game.
At the beginning of the bonus game, you get either one, two or three lives. Then it's time to get diving! Select one of three options, and Hugo swims to it and opens it. If there's a treasure, you collect it and swim further. If the clam or a chest is empty, the life counter goes down by one and Hugo faces the terrible consequences.
If the life counter goes down to zero while choosing the treasures, the bonus game ends. But, if you manage to swim all the way to the evil Don Croco, it's double or nothing. By choosing the right anchor chain, the heavy anchor gets dropped either on Don Croco or Hugo. Again, if the anchor lands on Hugo, the bonus game ends.
However, if Don Croco is the one being squished by the anchor, it means there's a possibility to multiply your winnings up to 20 times.
Final Thoughts
I loved Hugo as a kid. I even had a board game based on the popular TV show, and it was one of my favourites. So, I guess it's only natural having a tad biased view on Hugo's Adventure. Nevertheless, I think Play'n GO did a wonderful job adapting Hugo to a slot version, even if it wasn't such a demanding challenge – after all, originally Hugo was created as a game character.
But, let's get to my experiences with the slot. The game is nicely done, the graphics are colourful and the gameplay goes smoothly. Sometimes the additional graphics, like Hugo popping in to say something, does slow down the game and at times it's not even possible to skip these animations.
Without any random events, the base game can easily get boring if the free spins or bonus don't get triggered. And, as the game only has ten paylines, it's also very stingy with payouts. While this is nothing unexpected in a highly volatile slot, it can scare away the impatient players.