Scroll of Dead is a slot game set in ancient Egypt where mythology is used as inspiration for a quick and easy game. This Play 'n GO slot features expanding reels, free spins and stacked symbols.
The game was released in 2021 making it one of the newest slots by this popular studio and likely showing off their current abilities. Unfortunately, the setting of Ancient Egypt has been done to death by this point and even if there are still creative angles to take, the developer clearly wasn't interested in that. The 5-reel, 3-row playing field looks fine but also completely standard with no originality at display at all.
If you're a fan of this setting then you will get what you're looking for. The game puts all the familiar visuals into the game, with lots of gold and different classic Egyptian symbols. We're treated with scarabs, ankhs and different Egyptian gods to fill the reels, while the low-paying symbols are simple card letters. There's nothing to see in the background and a win on 1 of the 10 paylines only lights up and shows the win line.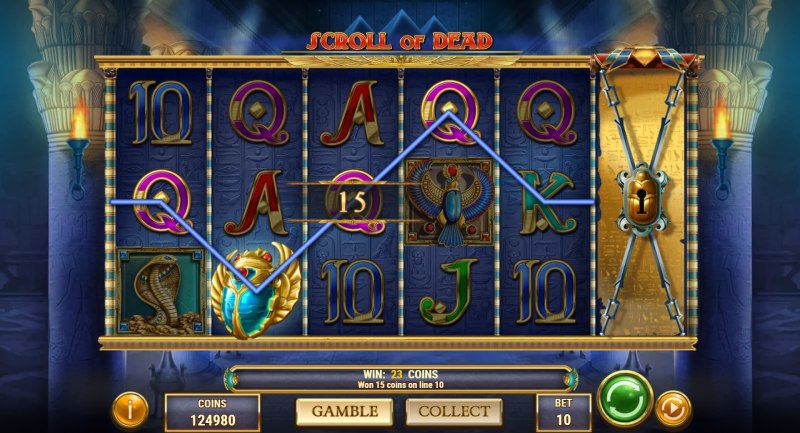 When it comes to the music and sound design the game unfortunately also doesn't make any big leaps towards originality. We're treated with some nice-sounding but uninspired music that reminded me more of the classic adventure films than Egyptian culture, which is odd since the slot seems to be based in Ancient Egypt. As with the rest of the presentation, it's well-done but lazy and unoriginal.
Symbols
Scroll of Dead includes a medium range of symbols that are divided into the usual high-paying and low-paying symbols. Where the high-paying symbols represent different elements of Egyptian culture, the low-paying ones are simple card letters with a gold rim. I didn't think the colours worked especially well together, but they do keep everything visually clear.
Players who want to give this game a try will be able to pick a bet between $0.01 and $100 per spin. This will be a good idea since the slot has High Volatility. During my time playing, I found that my funds would drop pretty steadily and even though I got some occasional wins I did run out of coins pretty fast. Even with a lower bet, the game was not returning many coins that let me play for a longer time.
Players do have a shot at a jackpot that can reach a maximum amount of 7,500x your bet which is slightly above the average for slots with similar volatility. There are some features that will make this possible, mostly the stacked symbols but they are usually hidden behind the free spins mode which adds to the difficulty of getting it to trigger. In short, don't count on hitting the jackpot while playing the slot.
There are a number of symbols in the game, including:
Scatter: Max. 500x your bet with six-of-a-kind on a win line.
Queen: Max. 7,500x your bet with six-of-a-kind on a win line.
Cobra: Max. 3,000x your bet with six-of-a-kind on a win line.
Bird: Max. 1,000x your bet with six-of-a-kind on a win line.
Ankh: Max. 1,000x your bet with six-of-a-kind on a win line.
Ace: Max. 200x your bet with six-of-a-kind on a win line.
King: Max. 200x your bet with six-of-a-kind on a win line.
Queen: Max. 150x your bet with six-of-a-kind on a win line.
Jack: Max. 150x your bet with six-of-a-kind on a win line.
10: Max. 150x your bet with six-of-a-kind on a win line.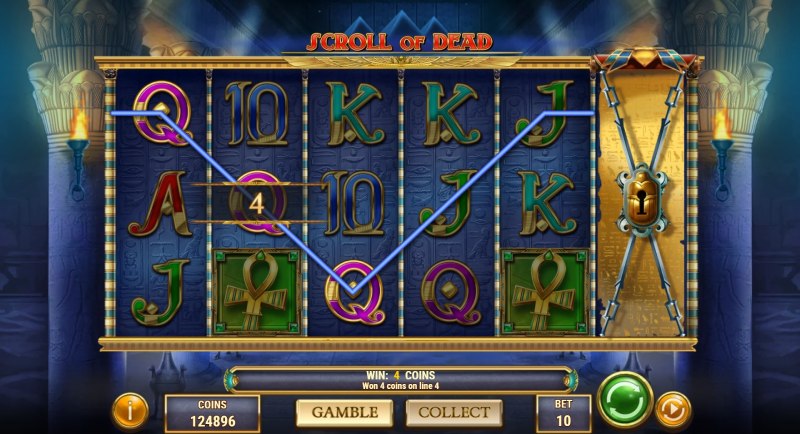 Features
Scroll of Dead does bring some interesting features to the table that can severely impact the gameplay. Players don't really need to do much while they play other than to spin the reels, as most of the features are triggered automatically.
Wild: The Scatter symbol can act as a Wild as well. Wilds substitute all other symbols in the game.
Free Spins: With 3 or more Scatter symbols on the screen the free spins mode is activated. Players receive 8 free spins to play with.
Expanding Reels: When the free spins mode is activated, the 6th reel is unlocked.
Stacked Symbols: At the start of the free spins mode, a random symbol is selected. If there are at least 3 of those symbols on the screen, they expand to fill the reel.
The features aren't particularly original but their combination is quite nice and they do offer some change to the gameplay. The main focus is around the Scatter symbols that act as both a Wild and the symbol to activate the free spins mode. They appear quite frequently but I found activating the free spins rather difficult. It's not as hard as in some slots though, and I would trigger it a few times an hour.
Once the free spins mode is activated, most of the features are triggered as well. This part starts with the game randomly picking one of the symbols. That symbol will be a special symbol that can expand to fill the reel it's on if there are enough on the screen. During the free spins mode, this symbol will also count towards a win regardless of their position on the playing field.
Finally, there's the 6th reel. This will only unlock during the free spins mode and is the only time the player can get six-of-a-kind wins. That's why their payouts are also large when compared to the shorter winlines. I only had a handful of times where this triggered, making it feel rather wasted. Players will need the expanded reels as well as the highest possible expanding symbol to be able to get the jackpot.
Conclusion
Scroll of Dead is the type of slot that is the hardest to write anything interesting about, simply because it plays things so safe. It is a competent game that will offer players exactly what they want if what they want is a simple slot that plays like most others.
The graphics are fine but uninspired and boring, with even the original high-paying symbols being derivatives of other Egyptian-based games. Players are unlikely to get anything out of the game on a creative level.
Finally, I think the volatility is quite harsh. It brings us a reasonable shot at getting some nice wins but those are rather spaced out. In general, I don't think this game really stands out in any way. Even if it was extremely volatile it might have been something interesting but it doesn't even offer us that.