East Coast vs West Coast takes the best of both worlds and merges it into a 243 win-ways game that's been decked out with a funky set of features and reel modifiers called enhancers.
The game was released by Nolimit City, a company that's become infamous for its bold take on the art of producing online slots.
In my mind, this may not be a timeless classic in the making, but it's enough that it is going to leave a mark on the year 2021 in terms of online slots.
Part of the reason for that is because East Coast vs West Coast can launch a barrage of enhancers that can lock together multiple reels and trigger the company's signature xWays and xNudge mechanisms.
I like the game's attitude overall. It doesn't try too hard to impress, yet it has a 30,618x your bet for a maximum win limit and starts with a simple layout of three rows and five reels.
In terms of intricacies working in the background, the volatility is at the highest level, yet the payout rate seems to be quite favourable. I don't think that the base game is able to award you a huge win even with the reel modifiers, which leaves the matter up to the free spins bonus.
Theme and Design
East Coast vs West Coast has some similarity in the design features with Punk Rock, also by Nolimit City.
Both games have an urban character that is reflected by collages of cultural and/or political icons from history. But unlike its edgier, rowdy cousin, West Coast vs East Coast is more polished and with a distinct hip hop vibe.
The animation has been done in a style that phases presidential figureheads into OG 'gangstas' flaunting the greenbacks. Without much ado, West Coast vs East Coast is fun to watch, fun to listen and fun to play.
Anyone who is looking to play a unique online slot, this is the game – as fresh as graffiti paint on a brick wall.
Nolimit City has found a perfect solution for how to trigger four features and reel modifiers without cluttering the reel set with different bonus symbols.
In addition to the Wild, there is only one Bonus symbol, represented by chrome rims on a wheel. What feature or modifier (enhancer) you get depends on how many Bonus symbols land on the reels.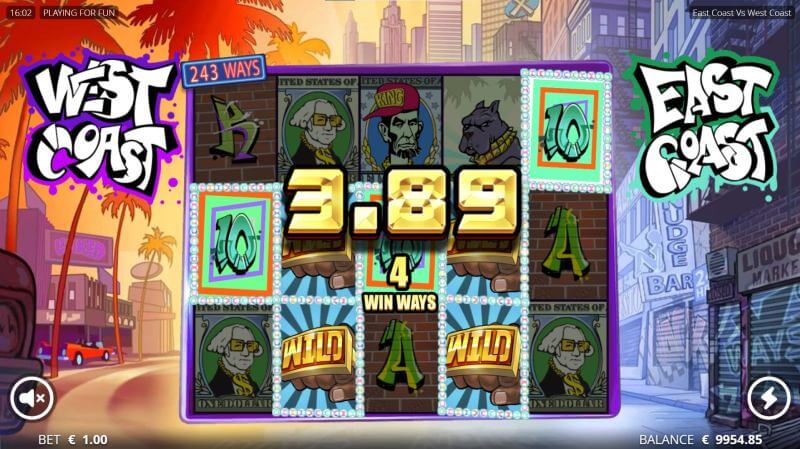 The part of the gameplay that makes it a lot more interesting than your average 3×5 slot game is the East vs West Coast divide.
Landing two Bonus symbols grants you a respin with one random enhancer from either the East Coast or West Coast.
East Coast/West Coast Spins
Three, four or five Bonus symbols can trigger 8, 10 or 12 spins.
In the first two instances, the player can choose the left or the right Coast, which corresponds to either the xWays or the xNudge enhancer plus three or four unlocked enhancer positions.
Depending on your choice, the game will include either an xWays or xNudge reel Wild on every spin, as well as different volatility modes.
There is another mode to the free spins bonus called Coast to Coast Spins where all enhancer positions are available.
Each additional Bonus symbol adds +2 spins to your tally and unlocks the potential enhancers.
When you sum up all of this, East Coast vs West Coast has one helluva bonus feature that gives the game its sharp edge.
I think either choice is good. East Coast gives you consistent odds that can result in more than one winning outcome and West Coast gives you the benefit of a surprise.
Enhancers
Basically, a symbol transformation modifier that can post three symbols of the same kind and add a row to the reel set.
This is a stacked Wild symbol that comes by way of nudging. If the symbol is not in partial view, it nudges one step until it covers the entire reel.
I love the kicker on this feature. Each nudge adds a Wild multiplier of 1x towards a potentially-mighty effect on your winning outcome.
This is one of the ways in which East Coast vs West Coast increases the number of win-ways. While it isn't an outright win multiplier extra, the Multiplier feature can enough win-ways to link towards a bigger win.
I've seen this feature in several games. It's basically a way of getting you closer to a guaranteed win if it occurs starting from the first reel. In combination with the Wilds, this enhancer can result in a big-win scenario.
Bets and Payouts
You can roll with either coast with as little as 20p per spin. To make sure it's clear, the game starts off with 243 win-ways, however, these can expand to up to 84,370 ways thanks to the enhancers.
In terms of payouts, we have a paytable that is pretty consistent across the low-paying and high-paying categories. In the first case, wins consisting of three and four matching symbols can pay between 0.2x and 0.6x. No surprises there.
These values make a lot of sense when the winning combinations are given a boost by one or more of the enhancers. Note that this can happen in the base game with the help of two Bonus symbols.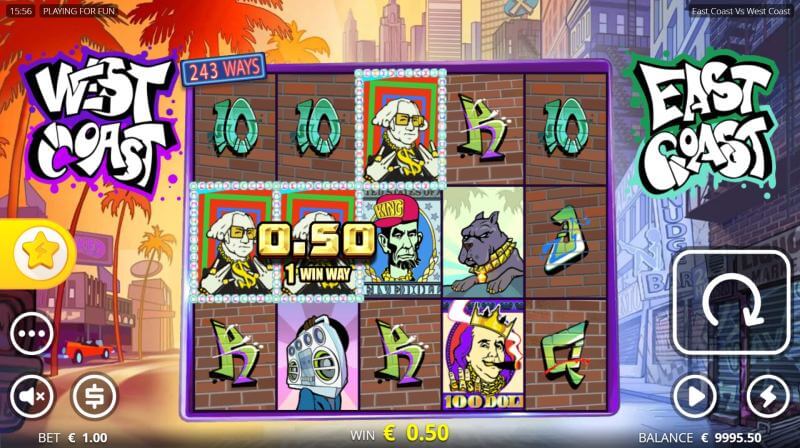 The payout values – multiplied by your bet, are as follows:
10 card: 0.2x, 0.5x, 1.5x
Jack: 0.2x, 0.5x, 1.5x
Queen: 0.2x, 0.5x, 1.5x
King: 0.25x, 0.6x, 1.75x
Ace: 0.25x, 0.6x, 1.75x
Boombox: 0.3x, 0.75x, 2x
Pitbull: 0.4x, 0.9x, 2.5x
One $ note: 0.5x, 1x, 3x
Five $ note: 0.75x, 1.25x, 3.75x
100 $ note: 1.5x, 2.5x, 7.5x
Conclusion
For those of you who are looking for a new and exciting game, the game at hand will not disappoint. I was pleasantly surprised that Nolimit City has succeeded in combining different payout mechanics in a game that flows.
Although the hit frequency is officially one in three spins, East Coast vs West Coast isn't eager to pay up in the base game. Even the free spins bonus can take you for an L ride by posting enhancers that don't get a follow up by a string of matching symbols.
So what's the bottom line? This is a highly, highly volatile slot game and should be enjoyed as such.