Dreamzone blasts us deep into our dreams with this Elk Studios slot that combines a trippy background with a selection of simple symbols, cascading reels and free spins. Players are invited to step into the dreamzone and see what it has to offer.
Released in 2020, the game features a rather simple presentation consisting of a spacey background with various triangular shapes as well as a variety of symbols in different shapes. Most of these shapes are rather simple, but they do get more interesting as they go up in value. Their shapes are probably somewhat related to the theme as they only seem to appear in dreams.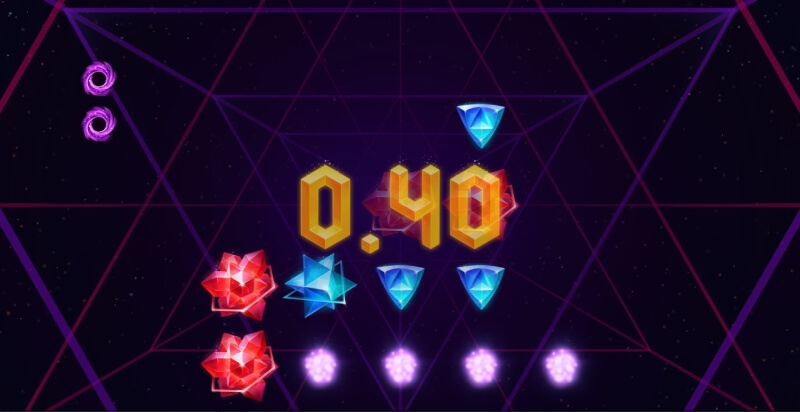 The game features a 5-reel, 5-row playing field using a Cluster Pays mechanic. To get a win, you'll need at least three symbols touching either horizontally or vertically. I found the whole game to be rather thin on the theme, with the shapes and background reminding me more of space than dreams. The presentation is also pretty lacklustre, with basic animations whenever there's a win or a cascade. It's functional but not much more than that.
I thought the sound was a bit better representation of the setting, giving off a dreamlike feeling with the music that plays as long as the reels are spinning. Getting a win will trigger a jingle that keeps in with the theme.
Symbols
All of the symbols in the game use only a small selection of colours, meaning that there are several different ones using the same colour. This makes it a lot harder to spot any wins at first glance, and I'm not sure why they chose to go this route. The shapes of the symbols are a mix of simple card suits that are slightly altered, and fully weird shapes that look less and less coherent.
I think the idea of having dreamlike symbols in a game called Dreamzone is actually a really nice idea, unfortunately, it isn't carried through enough to really feel like a substantial part of the slot. Because of that, it loses its impact and just looks like a few random shapes.
The symbols in the game include:
Red Gem: Max. 100x your bet with 11-of-a-kind in a cluster.
Orange Gem: Max. 40x your bet with 11-of-a-kind in a cluster.
Green Gem: Max. 40x your bet with 11-of-a-kind in a cluster.
Blue Gem: Max. 20x your bet with 11-of-a-kind in a cluster.
Pink Gem: Max. 20x your bet with 11-of-a-kind in a cluster.
Red Heart: Max. 6x your bet with 11-of-a-kind in a cluster.
Orange Star: Max. 5x your bet with 11-of-a-kind in a cluster.
Green Plus: Max. 5x your bet with 11-of-a-kind in a cluster.
Blue Triangle: Max. 4.8x your bet with 11-of-a-kind in a cluster.
Pink Teardrop: Max. 4.8x your bet with 11-of-a-kind in a cluster.
The number of symbols is pretty high, and the payouts aren't great, even for large clusters. As a result, the game has a listed High Volatility. Players that want to give it a try they can choose a bet between $0.20 and $100 per spin. I thought the rate of wins was actually pretty good but most of them aren't very high. As a result, I found my funds to be slowly shrinking.
Features
Dreamzone has quite a few features for what is seemingly a simple slot. The main gameplay mechanics are the most obvious but even besides those, there are a few things changing the standard spins.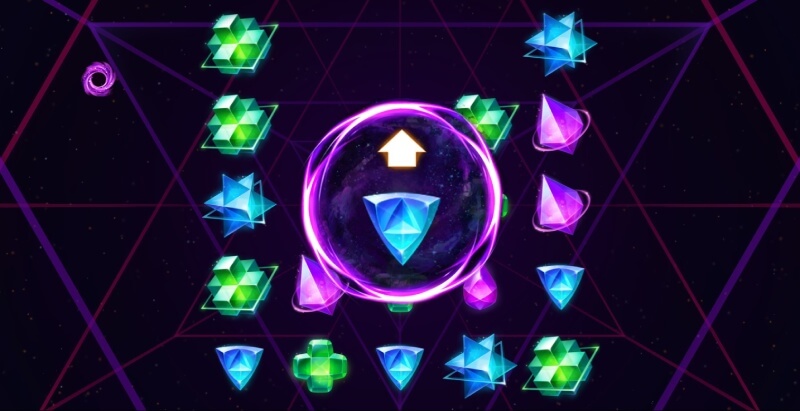 The features include:
Cluster Pays: Wins are calculated by 3 or more of the same symbol touching either horizontally or vertically.
Cascading Reels: Whenever there's a win, the winning symbols drop away.
Wilds: Wilds are randomly added to the screen.
Free Spins: When the entire screen is empty, the Bonus round is started.
Multipliers: During the Free Spins mode, a 2x multiplier is applied. This can happen multiple times in a row, adding a 2x multiplier every time.
Most of the game will keep us in the base game, having the symbols drop down and creating wins whenever there's a cluster of symbols. After the winning symbols disappear the empty space is not filled with new symbols. Instead, the playing field empties out. If it ever completely empties, the Bonus round starts.
I thought that the gameplay, in general, was pretty fun, as it was quite entertaining to see the symbols drop. The features work well together with random Wilds helping the game to clear the playing field as well as the multiplier making the Bonus round more interesting. However, this didn't happen often enough to feel like it was an integral part of the game.
Considering the high volatility, I think it would have been a better choice to see these various features activate more frequently, considering this would help make the game feel a bit more willing.
Conclusion
Dreamzone is a rather confusing game, that doesn't really commit itself to the core idea or use any clever ideas to visualise it. As a result, it feels like the developers picked a random name they thought sounded interesting and made a generic game around it.
Which is a shame, as dreams do have a lot of potentials. Players that are interested in the cascading reels mechanic or are a fan of cluster pays might want to try the game out simply for its gameplay, which I thought was quite strong. The different features keep close to the core game, even when the Bonus rounds are activated.
If you're looking for a jackpot, the max. win of 5,000x your bet is probably not the highest you can find but it's still pretty sizeable. During my time playing, I found my funds to drop down somewhat and then stabilize, compensation bigger wins with steady losses.
Pros:
Cluster Pays mechanic adds a unique and engaging gameplay element
Cascading Reels create opportunities for consecutive wins
Randomly added Wilds help clear the playing field
Free Spins mode with increasing multipliers adds excitement and potential for big wins
Max. win potential of 5,000x your bet
Cons:
Lack of strong theme and visual representation of the dream concept
Limited variety in symbol designs and colors
High volatility may result in prolonged periods without significant wins
Features, such as the Free Spins mode, don't activate frequently enough to feel integral to the gameplay