Reactoonz 2 is the latest version of the wacky Play 'n GO slot with a collection of bizarre and original aliens that appear on non-standard reels. The game doesn't just feature a number of strange aliens, it also adds Random Wilds, Re-Spins and Cascading Reels.
The game is a sequel to the popular Reactoonz, with this version coming out in 2020. The game shows off some excellent graphics, a number of new animations and a slew of features, some of which are new when compared to the original. Reactoonz 2 has a massive 7×7 playing field that uses cascading reels as its most important mechanic.
The graphics are very bright and sharp, with a great selection of different monsters that all have their own animations. These not only play when they're part of a cluster but have some passive animations too, usually glancing to the side or making a silly face. It all makes the monsters feel a bit more alive and even gives them a little personality. The background of the slot is purely functional, showing different trackers but mostly just being a swirly void.
Reactoonz 2 plays a high-tempo energetic song with a lot of electronic beats. The game has sound-effects whenever one of the features are activated as well but the designers made sure these fit well with the music. As a result, it creates a rather compelling soundscape that sets the mood and keeps the player engaged.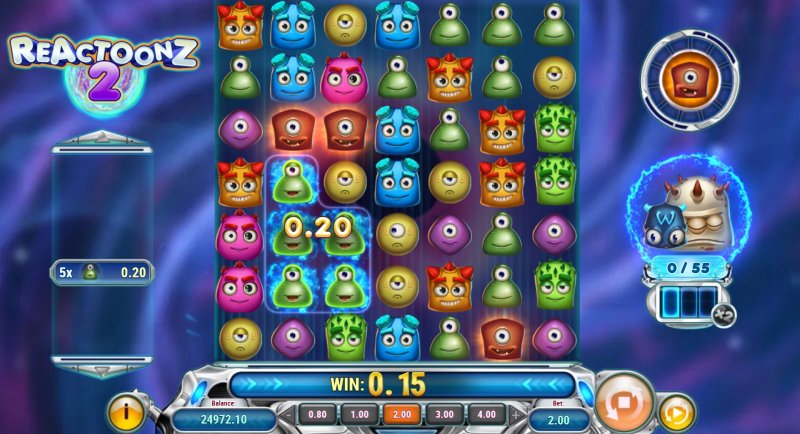 Symbols
This slot has a number of different symbols, all of them created specifically for the game. All but one of the symbols are actually monsters with their own shape and colours. As mentioned before, they also have their own animations when part of a cluster. The symbols in this game include:
Wild: Wilds substitute all other symbols in the game.
Colossal Wild: A 2×2 Wild that substitutes all other symbols in the game.
Electric Wild: Gets placed on the screen when the tracker is filled. Substitutes all other symbols in the game.
Uncharged Wild: Substitutes all other symbols in the game, can explode to allow more symbols to be replaced.
Purple Monster: Max. 500x your bet with a cluster of 15 or more.
Green Monster: Max. 200x your bet with a cluster of 15 or more.
Orange Monster: Max. 100x your bet with a cluster of 15 or more.
Blue Monster: Max. 60x your bet with a cluster of 15 or more.
Purple Monster: Max. 10x your bet with a cluster of 15 or more.
Red Monster: Max. 10x your bet with a cluster of 15 or more.
Dark Green Monster: Max. 3x your bet with a cluster of 15 or more.
Yellow Monster: Max. 3x your bet with a cluster of 15 or more.
Even though the slot has a large playing field, works with a Cluster Pays mechanic and has Cascading Reels it still has High Volatility. This isn't due to the fact you never get any wins but rather than getting a single win is almost never going to be enough to make back your bet. You will require a series of wins on a single spin to go into the positives.
In my experience, getting wins was difficult but not impossible, with the game really using a cascading mechanic. With that, I mean that getting a number of wins at the start would almost always generate more and more wins. If that didn't happen, you were left with only a single small win. That's where the volatility really showed itself.
Features
Reactoonz 2 isn't a very complicated game to understand even though it has a large number of features and doesn't use a classic slot appearance. As the player gets a grasp on the basic features, everything will become more obvious.
Cluster Pays: The game doesn't use paylines but counts a cluster of symbols when there are 5 or more touching each other horizontally or vertically.
Non-Standard Playing Field: The playing field is 7×7.
Cascading Reels: Whenever a cluster is created, the winning symbols are removed and replaced with new symbols. This continues for as long as new clusters are created.
Wilds: Wilds substitute all other symbols in the game.
Random Wilds: A random symbol is selected each spin. If that symbol is part of a cluster during that spin a tracker is filled up. If the tracker is filled, it will add up to 3 Wilds to the playing field.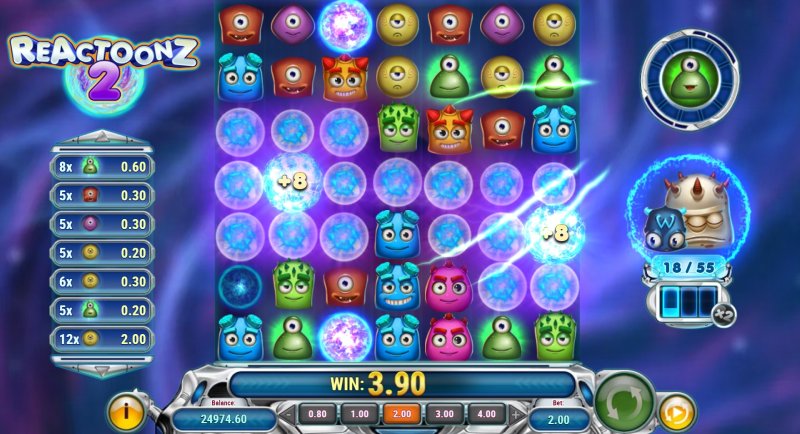 The non-standard playing field and cluster pays mechanic usually come together as they need each other to work. The clusters only count with horizontal and vertical symbols, no diagonal ones as happens in some other slots. The clusters happened pretty often but it was only occasional that they were bigger than 5 symbols, which was the minimum size.
The game has two different trackers. One shows a random symbol every spin. When that symbol is part of a cluster that spin it will fill up the tracker. Filling up the tracker will add a random number between 1 and 3 Wilds to the screen.
The other tracker is tiered and split into separate parts. Any cluster wins with a Wild will help fill up the tracker but it requires more every time. Filling up the tracker will unlock different boons such as random Wilds and Colossal Wilds. Multipliers can also be applied but these require a perfect series of wins.
All in all, the wins aren't especially hard to get, but it is more difficult to get a win big enough to make your bet back. The game lets you pick a bet between $0.20 and $100 per spin, with a max. win of 5,083x your bet. It is quite a sizeable win, but it will require a number of features to activate at the same time, making it feel very unlikely any player will ever get close to it.
Conclusion
Reactoonz 2 is a worthy sequel to the original slot with a lot more animations and features, while still staying relatively close to the original game. The large number of different features might be a bit confusing to new people that haven't played the original but I felt that the game did a decent job at explaining them while playing.
The slot is not suited for people that only enjoy classic fruit machines for obvious reasons. People that are used to the standard video slot format of reels and rows might need some time to suggest but I'm sure a number of them will find that they enjoy this type of gameplay as well.
If you're looking for a non-standard slot with a lot of features without it being overly complicated I can recommend Reactoonz 2. I did enjoy the game and the few times everything goes right does generate some big wins. However, keep in mind this is unlikely to happen and players shouldn't count on it as they play.