Blazin' Bullfrog is a slot that is centred around the mysterious amphibian while it is cloaked in fire. The game harkens back to classic slots with its symbols but makes sure to introduce some more modern features like free spins and consecutive wins.
The game is built around a standard 5-reel, 3-row playing field with a total of 243 paylines. Players can enjoy the vibrant graphics made by Play 'n GO as they developed the slot, and it shows that it was released in 2021. The colours are bright and the symbols are beautifully drawn. That said, I didn't think the originality was really on display here as it is a rather standard collection of symbols.
For some reason, the bullfrog was picked as the central piece of the game. This is a fun animal to look at but it doesn't really mean anything when it comes to the gameplay. We see the bullfrog sit in flames. It also counts as a Wild but has little added value besides that. There are some animations when it appears on the screen which I did appreciate.
I think for most players the presentation will be quite appealing but the real interesting stuff comes from the gameplay. There are just not enough things to make the game stand out when talking about the look. The symbols are standard gems and other slot-related symbols and there is no background that helps set the mood.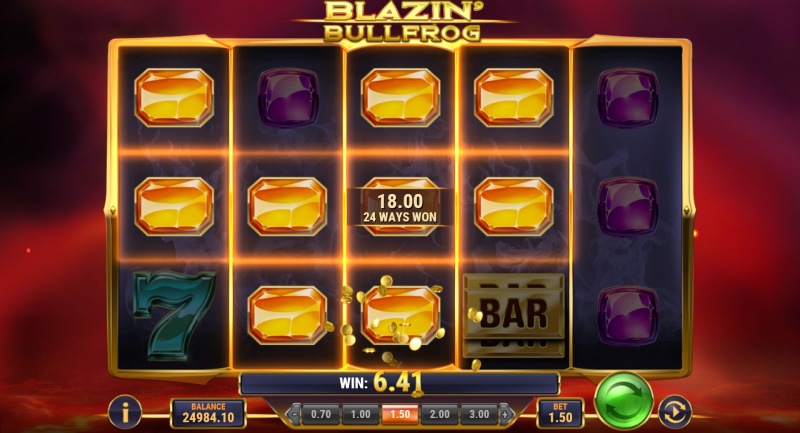 Symbols
Blazin' Bullfrog makes use of the usual collection of symbols to fill the reels with a selection of both colourful gems and less generic representations. Think of the classic 7 and the triple BAR. It all looks very sharp and well-designed without actually being very original or creative. They unfortunately also don't come with any special animations to liven it up at all.
The game is listed as having Medium Volatility and an RTP of 96.2%. This actually is quite high considering a slot like this, meaning a player should have a slightly bigger opportunity at getting wins. Do expect the game to take quite some time to trigger any bigger wins, as I felt like it was mostly about sticking with it than requiring any kind of skill. It also appeared that bigger bets meant bigger returns, although it shouldn't influence the rate at which you get wins.
When it comes to the bets, you can pick one between $0.10 and $100 per spin. This allows power players to invest heavily while the normal player might go for the smaller bets to have their funds last longer. There is a maximum win of 1,215x your bet which I thought was a slightly odd number. It's also a little below the average for a medium volatility slot.
The symbols in the game include:
Scatter: Get 3 scatters on the screen to trigger a re-spin.
Wild Scatter: During the re-spin, all Scatters count as Wilds.
Seven: Max. 3x your bet with five-of-a-kind on a win line.
BAR: Max. 1.5x your bet with five-of-a-kind on a win line.
Yellow Gem: Max. 1x your bet with five-of-a-kind on a win line.
Red Gem: Max. 0.8x your bet with five-of-a-kind on a win line.
Purple Gem: Max. 0.4x your bet with five-of-a-kind on a win line.
Green Gem: Max. 0.4x your bet with five-of-a-kind on a win line.
Features
Blazin' Bullfrog is a rather simple game when it comes to the features in the slot. There are few different ones but they largely work as a single thing. This does help with the synergy but it's up to the player to decide if it's interesting.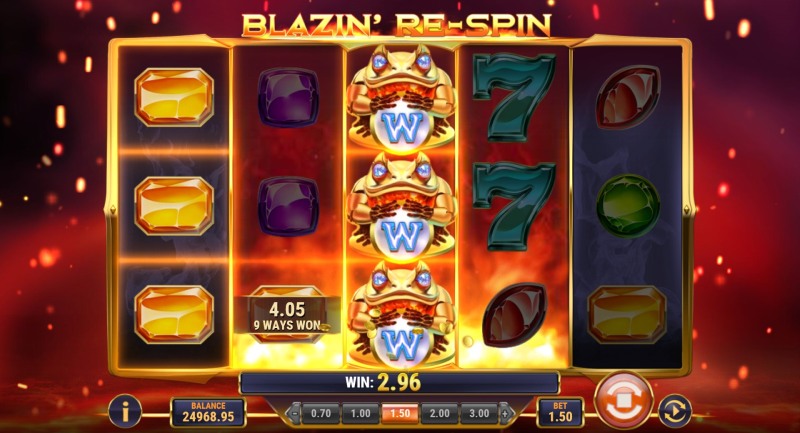 The features in this game include:
Consecutive Reels: Whenever a symbol appears on consecutive reels from left to right it will count as a win.
Re-Spin: Get 3 Scatters on the middle reels to activate a re-spin.
Wilds: During the re-spin, the Scatter symbols become Wilds and substitute all other symbols in the game.
There is no free spins mode in this slot, but the re-spin functionality takes over this role somewhat. When I was playing I would get to trigger this game mode quite often. The game also heavily relies on the player getting the re-spins to activate, since the payouts for regular wins are extremely low
In my experience, the game loop is as follows. You play the game as normal, then occasionally get a reel filled with the Bullfrogs. This will trigger a re-spin, where the stacked reel becomes Wild. If you get the right symbols on the other reels, this will create a bigger win.
The main trick here is that you can get multiple reels filled with Wilds during a re-spin. The bullfrog symbol can appear on reels 2, 3 and 4 which theoretically means you can get the entire screen filled with winning bet lines rather easily.
Although this didn't happen often, I did have it occur occasionally. What is weird is that getting another bullfrog on a reel during a re-spin will not trigger another re-spin. In fact, I once had reels 2 and 3 filled with stacked wilds but the game did not grant me any wins. It wasn't clear why, but I suspect that it's because the bullfrogs don't become wild until they trigger a re-spin which the second reel hadn't done.
If this sounds complicated, it is. The feature seems simple enough at first sight but as the game played I found that there were all sorts of little idiosyncrasies that didn't work as I would expect them to. This can be quite frustrating when you expect a win but instead, get nothing.
Conclusion
Blazin' Bullfrog is a nice-looking slot that unfortunately doesn't really capitalize on this premise. The idea of a bullfrog on fire is a silly one so I would have expected the developers to do more with this idea. Instead, it's just a single symbol in the slot that is slightly animated and will expand to fill the reel.
The gameplay is similarly rather stale. The stacked reels triggering a re-spin is fine, and the way the scatters turn wild is also appealing. Unfortunately, I found that there were all sorts of exceptions that prevented me from getting bigger wins.
With the game's volatility, players are dependent on these wins to make back their funds. Seeing the slot ignore what you think should have been a win means that it's largely just a loss. This makes the game too frustrating to really be fun.