Get your rock on with HammerFall, a 7 x 7 cascading grid slot where clusters of 5 or more will register a win. HammerFall hail from Sweden and have been active in the heavy metal music scene since 1993. This slot features some of their greatest hits fronted by a dark knight in shining armour and his mighty hammer.
If you're a fan of the genre then this slot will be right up your alley. The visuals give a nod to medieval times. The soundtrack is compromised of some of HammerFall's greatest hits and the FX comprise strong guitar riffs and metal sounds. This slot is on-brand but what is interesting about it is the journey the player has to make when playing.
This immediately felt like Heavy Metal's answer to Reactoonz. Gone are the cutesy, squishy aliens. Instead, we have some medieval imagery and powerful guitar riffs. Whilst the game follows the usual mechanics expected from cascading grids with cluster pays it has another dimension. The slot exists in three different worlds and each world has its own feature which helps create even more wins. To change from one world to the next a player will need to fill up the Hammer Meter with 25 winning symbols.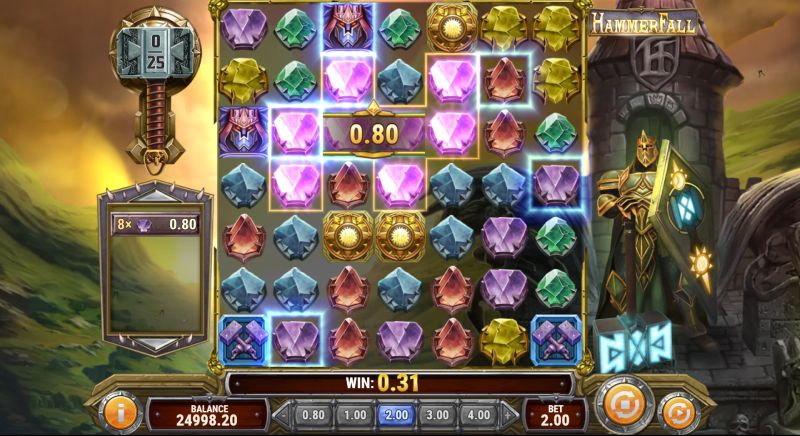 Symbols
Set on the outskirts of an abandoned castle the 7 x 7 grid contains two types of symbols. The high paying symbols feature intricately designed weapons and shields. The lower paying symbols take the form of differently coloured crystals.
The symbols, from highest to the lowest consist of:
The Lightning Wild tiles substitute for all symbols and can also have a multiplier of up to x3.
The knight yields 500x with a cluster of 15 or more.
The sun shield yields 125x with a cluster of 15 or more.
The two hammers tile yields 50x with a cluster of 15 or more.
The moon shield yields 40x with a cluster of 15 or more.
The red crystal yields 25x with a cluster of 15 or more.
The yellow crystal yields 20x with a cluster of 15 or more.
The blue crystal yields 15x with a cluster of 15 or more.
The purple crystal yields 10x with a cluster of 15 or more.
The green crystal yields 5x with a cluster of 15 or more.
Features
On every spins a number of super tiles are assigned to the grid. If a super tile is part of a winning combination it will change into a Lightning Wild with a possibility of a multiplier.
Any non-winning spin has the chance to trigger 1 of the 4 random Destruction feature.
1) Never forgive, never forget
A random symbol is selected and all tiles in play matching that symbol will move to the centre of the grid destroying anything in their path.
2) Bring it!
All high-paying symbols in play are selected. Some are destroyed while others are turned into a matching high paying symbol.
3) One against the world
All tiles of one symbol are highlighted and adjacent tiles are transformed to match them.
4) Chain of command
A chain of symbols in play is selected. Some of these symbols are destroyed whilst others are transformed into a matching symbol.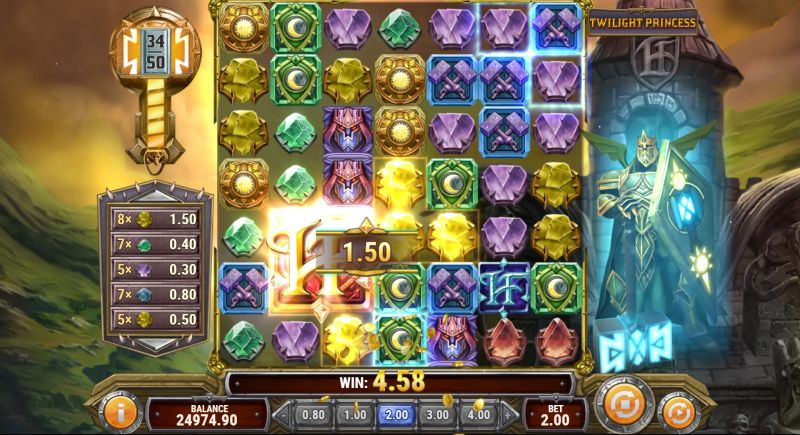 With winning combinations the Hammer meter will start charging. As soon as it hits 25 it will trigger the Song Feature of the current world. There are 3 worlds with their own Song Features and you move through these worlds every time the Hammer is charged to 25.
1) Twilight Princess
A 2×2 mega wild is added at random into the grid.
2) Second to None
All high-paying symbols will be transformed to match 1 high-paying symbol.
3) And yet I smile
Low-paying symbols are destroyed. After this feature is triggered the player will restart in the first world (Twilight Princess).
After charging the hammer to 25 there is a possibility to charge it by a further 25 to 50. This triggers the Hammer High! feature. This awards all 3 song features in succession in a free round.
In conclusion
There is a lot to unpack in this game. Even after playing this game for a good hour, I was still being surprised by all the features. The number of winning combinations is huge and with the changing worlds, it felt like new. However, there is a little problem with the background music. If you're not a Heavy Metal fan the guitars and the frontman's voice are going to become quite tedious at some point.
The game has high volatility and it can certainly be felt throughout. At one point I had gone through quite a bit of money and with so many features triggering along the way I wasn't keeping my eye on the balance. Even with the features, wins can be below the bet amount although they generally hover around the 5 to 7x. The Destruction features sometimes also lead to the Hammer Charge which then leads to the Hammer High and this is where you can expect big wins.
Even though I'm not a huge lover of heavy metal I can really appreciate the amount of thought that went into this. It feels like a labour of love that goes beyond designing a slot for the sake of it. We see so many slots being released using a well-known brand hoping the name will be enough to carry them. They sometimes end up feeling soulless. Not this one! HammerFall is a great game, brimming with features and a kickass soundtrack.