Pack & Cash brings players to the storage area of a large warehouse and has them oversee the process of packing and shipping a variety of items. The game also comes with a number of features including random wilds, free spins and cascading reels.
This slot was created by Play 'n GO and released in 2021, showing off some impressive graphics and interesting animations. The slot puts us in the middle of a warehouse where we are looking at a rack of items that slide in and drop off the side. Occasionally, different symbols are added or removed. The game is built around a 5-reel, 4-row playing field with a total of 1,024 paylines.
Everything looks great, with the background showing us different workers driving around forklifts and cranes moving around boxes. The reels are decorated to look like shelves you would find in a warehouse. The information of the game is also added to the screen with a counter that tracks the multipliers. I thought the style looked cartoony but in a rooted style, so nothing too unrealistic.
While playing, the symbols slide onto the screen and drop off the other side at the end of the spin. Sometimes, a crane will add Wilds or remove symbols from the rows. This is all done with a lot of different intricate animations that bring the entire setting to life. I appreciated the presentation of this game a lot because of that.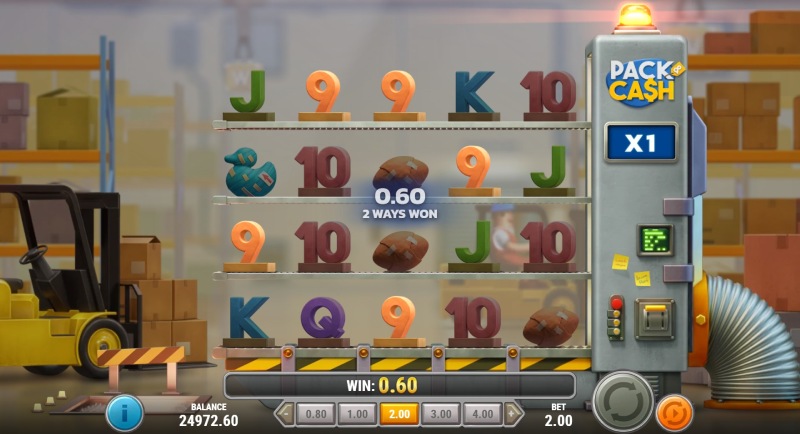 Symbols
Pack & Cash is set in a warehouse so a lot of the symbols are based on random items people might order online. Most of them are wrapped up in wrapping paper, making you have to guess what might be in them, although it isn't that hard. I thought it was a bit of a shame that the low-paying symbols are card letters since all the symbols in the game could have easily been various packages.
The slot has High Volatility and an RTP of 96.2% which players will notice almost immediately. I found it very hard to get any wins that were big enough to make back the coins I bet. There is also no real way to win them back unless they can activate the free spins mode and get the cascading reels to increase the multiplier.
Players can change their bet somewhat to help deal with the volatility. Lower bets will drain your funds slower while higher bets will make the likelihood of bigger wins more likely. Players can choose a bet between $0.20 and $100 per spin. The maximum win is 10,000x your bet which is a big jackpot and a lot larger than similar slots.
The symbols in the game include:
Scatter: Get 3 or more Scatter symbols on the screen to activate the free spins mode. Players receive 1 free spin for every reel the scatter symbols have to move to slide off the screen.
Wild: Wilds substitute all regular symbols in the game. Max. 5x your bet with five-of-a-kind on a win line.
Heart: Max. 3x your bet with five-of-a-kind on a win line.
Trophy: Max. 2x your bet with five-of-a-kind on a win line.
Duck: Max. 1.5x your bet with five-of-a-kind on a win line.
Rugby ball: Max. 0.8x your bet with five-of-a-kind on a win line.
Ace: Max. 0.4x your bet with five-of-a-kind on a win line.
King: Max. 0.4x your bet with five-of-a-kind on a win line.
Queen: Max. 0.4x your bet with five-of-a-kind on a win line.
Jack: Max. 0.3x your bet with five-of-a-kind on a win line.
10: Max. 0.3x your bet with five-of-a-kind on a win line.
9: Max. 0.3x your bet with five-of-a-kind on a win line.
Features
Pack & Cash has incredibly low payouts for its symbols, even on the maximum length, since it relies heavily on multipliers. Using the cascading reels feature, players increase the multiplier with every win they get in a row. This will make wins more and more valuable.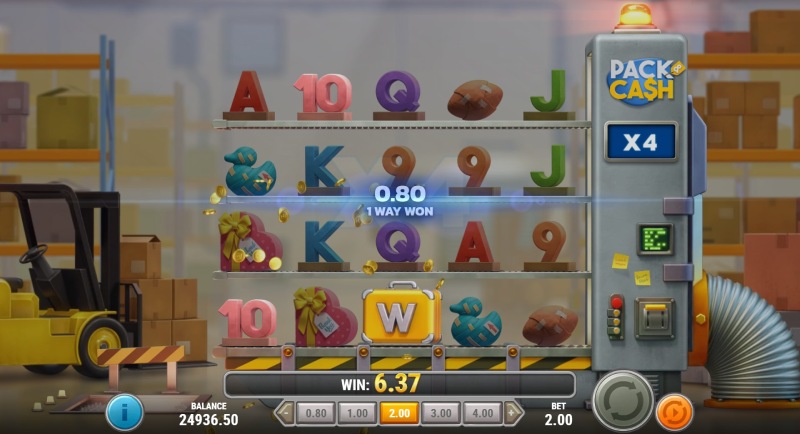 The total list of features in the slot is:
Consecutive Reels: Anytime a symbol appears on consecutive reels from left to right, they will count as a win.
Wilds: Wilds appear on the screen to substitute other paying symbols.
Random Wilds: Wilds can be added randomly to the screen.
Random Symbols: Symbols can be randomly removed from the playing field and replaced with new symbols.
Cascading Reels: Whenever there's a win, the winning symbols drop away and are replaced by new symbols. This can continue indefinitely.
Multipliers: Whenever there's a win, the multiplier counter will go up by one. This stays until there are no new wins.
Free Spins: With 3 Scatters on the screen the free spins mode is triggered. During the free spins mode, the multiplier counter never resets.
The game itself plays easy enough since everything is automated. The main thing for the player to do is to spin the reels. I found the base game to be quite entertaining but there aren't a lot of wins which keeps the multipliers low. Because of this, it's extremely hard to get any bigger wins.
The free spins mode is the only way to really make your funds back but this is hard to activate. Once it does trigger, the likelihood of big wins goes up considerably.
Conclusion
Pack & Cash is a great-looking slot that shines in its originality and execution. Players will find a lot of fun little details in the background and on the reels themselves. Everything is made to fit the theme and it all works together to set the tone.
The gameplay is very harsh in comparison. The payouts to regular wins are incredibly low with only 4 symbols in the game paying more than your bet with a five-of-a-kind win. Meanwhile, the cascading reels feature doesn't activate often enough to really help out.
Players that can afford to keep going until they hit the free spins mode have a better shot at big wins, but regular players will likely have to drop out before that happens. As such, it's definitely a game for power players or people that only play with the smallest bets.