Kiss – Reels of Rock brings one of the most iconic rock bands of all time to life in this special slot. Developed by Play 'n GO and featuring real music by Kiss, this game can't be missed by fans of any age. It further features free spins, expanding reels and multiplier wilds.
It's clear that the developers know and understand the band, as the entire slot that was released in 2021 bleeds the style and aesthetic. Players will be constantly bombarded with familiar visuals as we see the band play in the background. There are a number of great animations, including Gene Simmons breathing fire.
The game takes place on a 6-reel slot with rows of different lengths. In total there are 576 paylines on the screen which can expand to a maximum of 4,096. A lot of the graphics are created specifically for this game, including all of the symbols. I appreciated the amount of colour that was brought into it, making it really pop and being a good fit with the music.
Meanwhile, players can enjoy a number of different famous songs by the band. While the reels are spinning in the base game we can hear fragments of Detroit Rock City. This is obviously one of their most popular songs and it sounds great. We don't hear the full song play though, edited to fit the spinning of the reels. Other songs can also be triggered.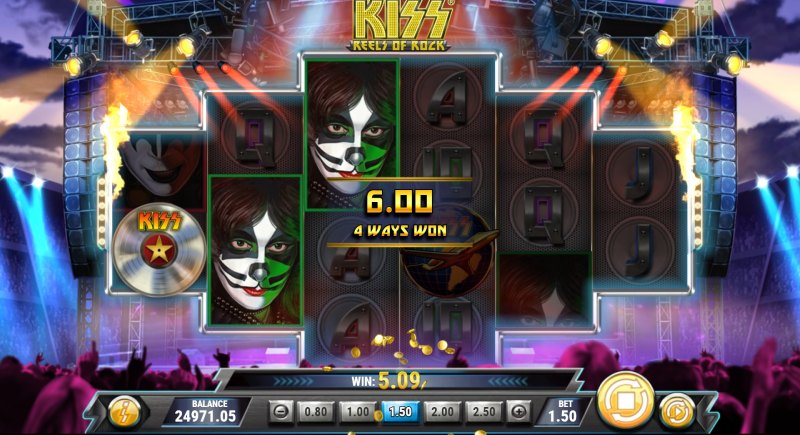 Symbols
Kiss – Reels of Rock brings the band to life through a number of special symbols. The high-paying symbols are obviously reserved for the band members. Each of these is animated when they are part of a win. The low-paying symbols are represented by the classic card letters but are designed to fit the heavy metal atmosphere. An interesting thing to note is that the game doesn't feature a King.
The game has an RTP of 96.2% which is slightly above the average. That's a good thing too because the High Volatility does make it harder to get a win. Players should expect long periods of time without a win, which is then punctuated by a larger win. I managed to make a small bump in my funds but don't expect that to happen every time.
Players can change their bets between $0.10 and $100 per spin. This means that both casual players with a limited budget and high rollers can enjoy the game as they prefer. It is a good idea to try and stretch your funds as much as possible. This slot features a massive jackpot of a maximum of 50,000x your bet. That's obviously an impressive amount.
The game features the following symbols:
Scatter: Get 3 Scatters on the screen to activate the free spins mode.
Wild: Wilds substitute all regular symbols in the game. Max. 15x your bet with six-of-a-kind on a win line.
Gene Simmons: Max. 12x your bet with six-of-a-kind on a win line.
Paul Stanley: Max. 9x your bet with six-of-a-kind on a win line.
Tommy Thayer: Max. 7.5x your bet with six-of-a-kind on a win line.
Eric Singer: Max. 6x your bet with six-of-a-kind on a win line.
Ace: Max. 4x your bet with six-of-a-kind on a win line.
Queen: Max. 2x your bet with six-of-a-kind on a win line.
Jack: Max. 2x your bet with six-of-a-kind on a win line.
10: Max. 1.5x your bet with six-of-a-kind on a win line.
9: Max. 1.5x your bet with six-of-a-kind on a win line.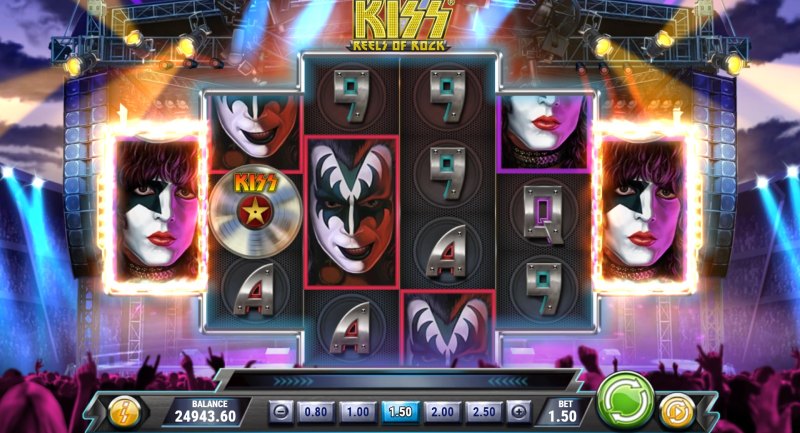 Features
Kiss – Reels of Rock plays with the playing field in a number of ways. The features also reflect this, helping the size of the screen grow as time goes by. The total list of features includes:
Wilds: Wilds substitute all regular symbols in the game.
Matching Reels: Randomly, 2 reels will be matched and display the same symbols. This feature is always activated during the free spins mode.
Multiplier Wilds: A Wild can randomly be added and all Wilds on the screen have a 2x multiplier.
Free Spins: With 3 Scatters on the screen the free spins mode is activated. Players can pick how many normal free spins and Encore free spins they'd like.
Encore Free Spins: During Encore Free Spins the extended 6×4 playing field is activated. Wilds will always apply a 2x multiplier during this mode.
The features in the game are pretty interesting and appear quite often during the main game. There is no real way to trigger them that I found. Getting a certain band member in a win will not automatically activate the feature associated with them. This makes sense since only 2 of the band members have their own feature.
Once a feature is activated we see a brief animation. Then the feature plays out. I found the free spins mode to obviously be the most interesting. When the player gets 3 scatters on the screen they get to pick their selection of free spins and encore free spins. Encore free spins are similar to regular free spins but will involve the maximum size playing field.
During the encore free spins, all wilds have a 2x multiplier. Also, 2 reels are always matched to each other to make it easier to get a win. For that reason, I would always pick the maximum number of encore free spins whenever I hit the mode. This unfortunately didn't happen all that often, but it wasn't as rare as in some other slots.
In general, I didn't think the features were that important for the overall gameplay. They influence the outcome of spins very little most of the time. Even when they do, the payouts are pretty low and make it hard to win back your bet. I found my gains to deteriorate pretty fast after getting them.
Conclusion
Kiss – Reels of Rock brings the Kiss experience to life in a way no slots have attempted before. Like most games based on bands, they give us a good sense of what the band is like. The use of licensed music is also very nice, allowing proper fans to enjoy the most popular songs to play while they spin.
When it comes to the gameplay, I would consider it solid without being particularly blown away by it. The biggest detriment is the ascending and descending playing field. This makes getting wins unnecessarily difficult and that can be frustrating. The features help a little with that but unless you activate the free spins mode they're not that impactful.
Players of all types might be most enticed by the massive jackpot that can be won. However, there is a reason it's so big and that's usually because it's exceptionally hard to get. Don't play this slot if your sole aim is the maximum win since it's unlikely you will get it. Instead, enjoy the music and the presentation.