Twisted Sister goes back to the time where this famous rock band was popular and plays some of their biggest hits as we look at a chaotic set of non-standard reels. The slot features cascading reels, walking wilds and multipliers when it comes to the gameplay.
Developed by Play 'n GO and released in 2020, this game strives to bring back the chaotic rebellious energy of this famous rock band that was huge in the '80s. It does so by starting off with a non-standard playing field that is 6×6 in size. The game is filled with different symbols that are all either related to the band or use the band member's faces. As a result, I found the appearance of the game to be pretty overwhelming in terms of colours and shapes. Players don't have a lot of familiar things to focus on.
The way it works is still familiar though. The game counts clusters of the same symbol touching horizontally or vertically as a win if there are more than 5 together. When a win is triggered, the symbols involved drop away to make room for new symbols. Because of this, the slot has no paylines as regular slots do. When it comes to its appearance, the game looks great. The symbols are a little small due to the size of the playing field, but the characters are animated when part of a win.
Obviously, the soundtrack plays a huge part in this game. The most famous songs that the band is known for are playing almost continuously. Especially 'I Wanna Rock' plays a prominent role. A lot of sound clips are also used from the music video attached to this song, which might be a bit confusing for those that have never seen it.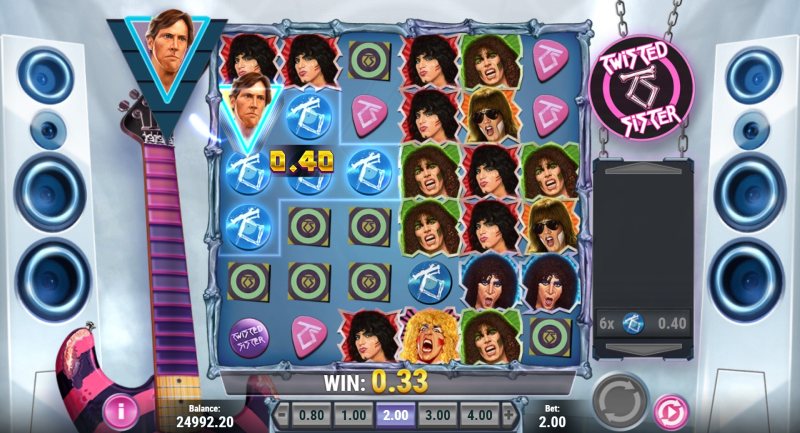 Symbols
Twisted Sister has a random feeling and that's mostly because of the choice of symbols in the game. Players will be shown a large assortment of different characters and symbols that are unique to the game. You won't even find card suits or card letters here, at least not in any identifiable way. Fortunately, there is some clarification through the appearance of the symbols, with the different logos clearly the low-paying symbols and the band members as high-paying ones.
Getting a cluster win will cause the symbols involved to explode and make room for new symbols. I found the basic gameplay on the main screen pretty obvious, but there are different trackers on the screen that manage consecutive wins and trigger different modes and bonus games that were not explained at all.
The game lets you pick a bet between $0.10 and $100 per spin if you are not happy with the way your funds are progressing. The slot is listed as Medium Volatility and that was how I experienced it as well. You will be awarded wins often enough but they won't frequently be high enough to pay back for many spins. To do that, you will need to trigger the bonus game.
The symbols in the game include:
Angry Dad: Get 4 Angry Dads on the screen to activate the bonus game.
Wild: Wilds substitute all symbols except the Angry Dad symbol.
Dee Snider: Max. 250x your bet with 25-of-a-kind in a cluster.
Jay Jay French: Max. 150x your bet with 25-of-a-kind in a cluster.
Eddie Ojeda: Max. 120x your bet with 25-of-a-kind in a cluster.
Mark Mendoza: Max. 120x your bet with 25-of-a-kind in a cluster.
A.J. Pero: Max. 100x your bet with 25-of-a-kind in a cluster.
Band: Max. 50x your bet with 25-of-a-kind in a cluster.
Pink Diamond: Max. 40x your bet with 25-of-a-kind in a cluster.
Circle: Max. 30x your bet with 25-of-a-kind in a cluster.
Twister Sister: Max. 20x your bet with 25-of-a-kind in a cluster.
Blue Diamond: Max. 20x your bet with 25-of-a-kind in a cluster.
Although the payouts look quite high, keep in mind these are based on the biggest possible cluster in the game and are very unlikely to actually trigger.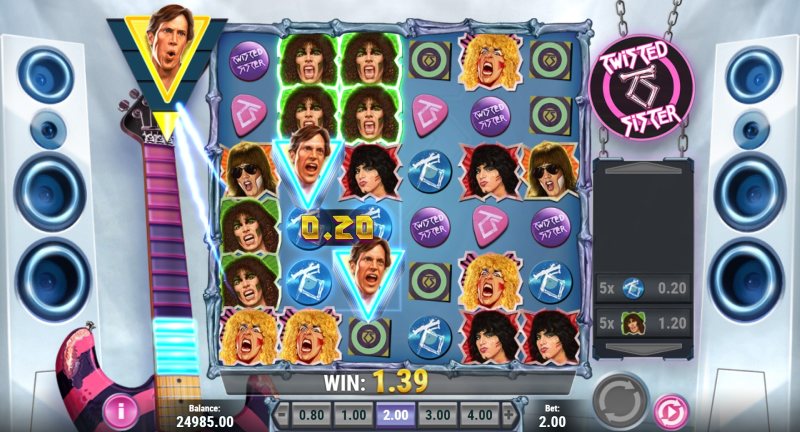 Features
Twisted Sister throws a hefty number of features at the player and does a rather poor job at explaining them. The paytable helps a lot, and here is a quick overview. The features you'll find include:
Cluster Pays: Wins are calculated by 5 of the same symbol touching either horizontally and/or vertically.
Cascading Reels: Winning clusters disappear and make room for new symbols. This continues as long as new wins are created.
Wilds: Wilds substitute all regular symbols in the game.
Guitar Charge: Wins with high-paying symbols will fill the guitar charge. The guitar charge can randomly activate different bonuses.
Angry Dads: Angry Dad symbols act as scatters. Get 4 or more on the screen to activate the We're Not Gonna Take It mode. During this mode, a multiplier is applied to all wins that increase over time.
Colossal Symbol: During the We're Not Gonna Take It mode a 2×2 colossal symbol appears on the screen which moves to each Angry Dad symbol on the playing field. The Colossal Symbol acts as a Wild.
The guitar is charged with every high-paying symbol win during the base game. If there are enough charges, a random feature can get activated. This will cost 5 charges. The features are:
Destroy Symbols: Low-paying symbols around a symbol are destroyed to make room for new symbols.
Random Wilds: Random symbols are transformed into wilds.
Synchronized Symbols: Random Symbols are changed into the same symbol.
Conclusion
Twisted Sister seems like an obvious favourite for those that like the original band and their music. The slot makes extensive use of their faces, their music and elements of their music videos. There is still a lot to enjoy if you're new to this band however since the game is made well.
My main complaint with the game would be the deluge of features and elements that seem disconnected until you dive into the paytable. It all does make sense but it is presented in such a way that it looks like just a bunch of symbols and numbers appearing randomly on the screen. It took me quite a while to get a grasp on the gameplay.
This slot is perfect for rock fans or people who are bored of classic slots and are looking for something more experimental. If you prefer the classic slot gameplay it might be too much as it will take quite a while to figure out exactly how everything works.