That day comes once every year and gives you the right to celebrate it right, unlike the other 365 days. It's called Birthday! and so is this amusing ELK Studios slot.
The premise lands you at the bar where you are served cocktails by a bull – not so much a mythical minotaur but a friendly bartender who appears to be a bull.
Your friends are animal-like too, for some reason, so who knows what was in ELK Studios head when they were producing Birthday!
One layer on top of the bonkers graphics, this cake comes with several extra features that can land at any time during the base game.
Free spins, respins, walking wilds, sticky wilds and more is all part of the four-row, five-reel package that spins across 178 win-ways.
I honestly didn't expect a max payout figure of 5,000x your bet, but it's somebody's birthday so there is that – definitely a plus in view of the game mechanic that can bring you close to higher winning combinations.
Theme and Graphics
As I said before, it looks like ELK Studios has unhinged its imagination for this game. The graphic design isn't exceedingly impressive (the balloons are one glaring example) but the overall work has some bright facets.
Each of the extra features is announced by a respective symbol depicting a cross between human and hooved animal, like the camel and the moose, then there is a leprechaun, a Matador and few other curious entities.
My highlight from the game design is its soundtrack. It's light and groovy and it wishes you a Happy Birthday! on a loop.
All of the reel modifiers on Birthday! can trigger in the base game from the Happy Spins feature. A random feature is selected to give your odds a serious boost. You can win with the help of the following modifiers:
It gives you a guaranteed number of wins, between 3 and 5.
The moose brings the gift of five guaranteed matching symbols posting on a win-way across the board.
The leprechaun steps in to choose a special symbol for you, which is determined to appear in multiple instances thanks to subsequent respins.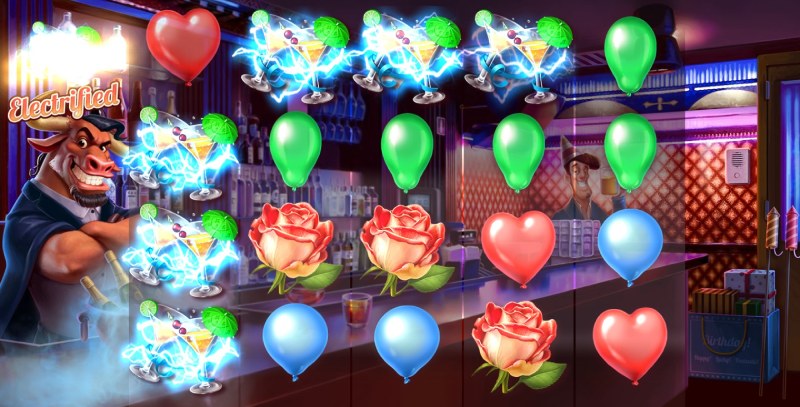 This is the gift that most players would prefer to get over any other from the paytable.
A piratess named Anne Bonny lets you have a 20x your bet win just like that.
The sleek Spaniard lifts the dome on the oval to reveal a special symbol that is bound to fall within a win-way.
In this case, getting that winning outcome right away isn't the best option, because all of the payouts that may occur until then are for you to keep.
A friend named Maggie brings you the gift of 10 free spins that can trigger again.
You get three wilds that start one the fifth reel and move one reel to the left with each spin.
This feature adds three wilds anywhere on the screen during the free spins bonus or any of the Happy Spins features.
Bets and Payouts
You can play Birthday! with as little as 10p per spin. The maximum bet is $50.00. Regardless of how much you choose to play with, the game will treat you to the totality of its peculiarity.
The win-ways payout system is widely known and enjoyed by players, but the math model here is as unique as its title. 178 win-ways is a highly unusual number of winning combinations and in a way, it doesn't fit the 4×6 layout.
Another singular thing about Birthday! is the fact it has only six paying symbols, plus the wild symbol acting as a substitute. I haven't seen a multiway online slot with so few symbols, which made me even more curious to try it out.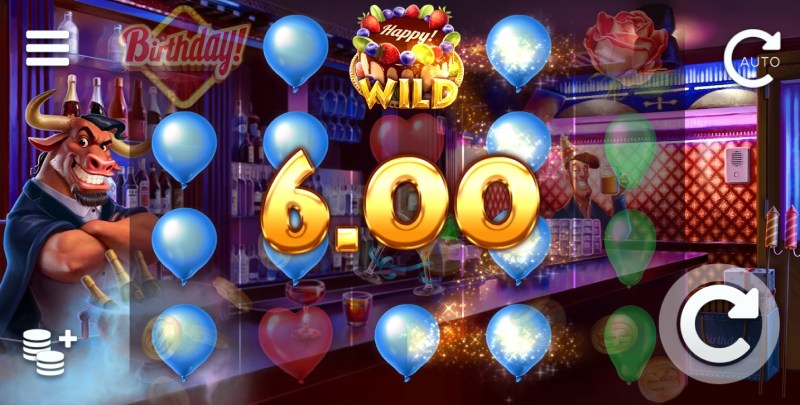 The structure of the payouts is very unusual. You can win 0.6x your bet for three of the lowest symbols. The picture improves significantly for combinations consisting of four matching symbols.
All of it looks decent in terms of ascendance, but the cap for the 15x your bet and this is for the "rare-to-click" combination of five Birthday! symbols.
The full paytable is as follows:
Green balloon: 0.6x, 0.8x, 1x
Blue balloon: 0.7x, 1x, 1.2x
Red balloon: 0.8x, 1.2x, 1.5x
Martini cocktails: 1x, 1.5x, 5x
Rose: 1.5x, 3x, 10x
Birthday! logo: 2.5x, 5x, 15x
Conclusion
Birthday! Is one of the strangest games, by all means. I can't say that I won any decent amounts in the base game, which tends to get a bit slow and uneventful after some time.
All of this can change when the game triggers its Happy Spins feature because it could mean multiple features triggering in succession.
For example, you can get the Electrified spins feature and win a Free Spins bonus along the way. The free rounds may or may not get the additional benefit of walking wilds or sticky wilds.
To me, it looks like ELK Studios made a game that is unique and which has an appetizing payout potential. It's just I didn't have the patience to wait for the ultimate birthday gift. I do recommend it, however. One-dollar spins may entail some interesting amounts from the bonus features.