Even though it doesn't feature Tiger Woods or any particular golf player, Gold Trophy 2 can refresh your vision with all the green on the screen and with a maximum exposure of €6,733,200, which is an official Play'n GO figure.
The game's graphics seem a little bit dated and the gameplay is clunky, yet Gold Trophy 2 is still relevant. I place it in the 'old but gold' category of slots because I find the symbol payouts and technical specifications, such as RTP of 96.88%, to be quite favourable.
Even though I see Golf as the equivalent of baseball but on a grass surface, I wouldn't pass up the opportunity to check out any game that comes with a set of promising features, such as this.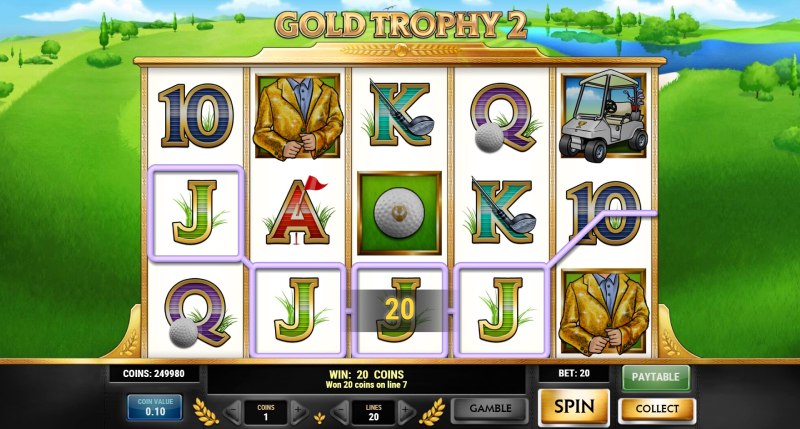 Theme and Graphics
I've played mini-golf a few times and enjoyed it quite a bit, but I can't imagine myself playing a professional 18-hole course. That would cost a professional price and I am not too keen on shelling out much cash. On the other hand, a layout of 3×5 dominated by green hues and bets that begin at 20p per spin is something that I can appreciate.
There are several golf-related symbols on Gold Trophy 2, such as clubs, golf balls, golf carts, a hole and a flag and a winner's check. No surprises here, except for the picture of someone wearing a sparking gold sports coat – that's just completely out of place.
Play'n GO has given Golden Trophy 2 a very basic design and animation, so much so that it looks like it was made in 1994 instead of 2014. But that is beyond the point because, in my opinion, Gold Trophy 2 was meant to be a low-key affair. Where the game lacks in graphic design it makes up with its potentially lucrative extra features.
Bonus Features
Gold Trophy 2 has the standard set of special symbols in the wild and scatter. The wild substitutes for all other symbols but the latter, but it can do more for the player, as it is the most valuable symbol on the paytable.
WildGold Trophy 2 is one example of a slot by Play'n GO from the period where wild symbols were the highest-paying one on the paytable

Players that can raise five golden trophies on a payline get a prize of 5000 coins or 250x your bet. The prize for four trophies is also appetizing, at 50x your bet.

Free SpinsThe bonus feature comes with 15 free spins that are triggered with three or more scatter symbols. During the free rounds, all winning outcomes are treated to a 3x multiplier, which I consider an added bonus to this game.

Most online slots that have a fixed multiplier amount for the free spins bonus usually have that figure at 2x the winnings. 3x sounds a lot better and can give those high-paying symbols wins a tremendous boost.

I like it that the scatter is a paying symbol too. Two of a kind pay a trifle amount, but all other outcomes can make a difference for the outlook of your balance. Five scatter symbols pay a pretty sum of 10x your bet.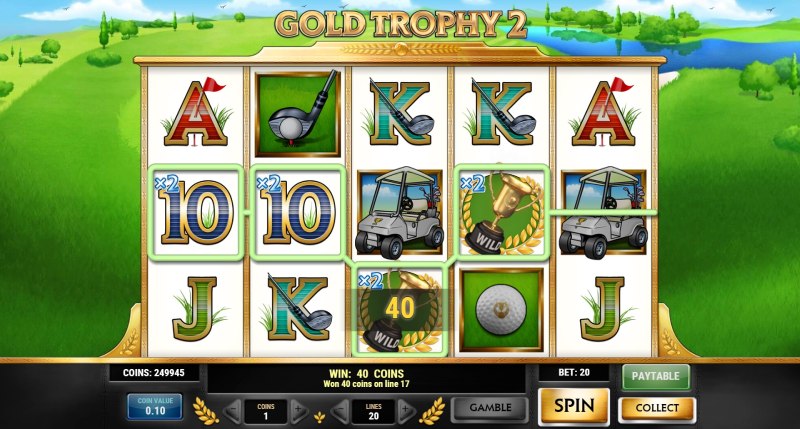 Bets and Payouts
As I emphasized earlier, Gold Trophy 2 is an older release, so the layout of the buttons and how these work may appear unusual to players who are new to the world of online slots.
So, just in case, the way to fine-tune your bet is by pressing the Coin Value button, which lets you designate the stake per payline, where amounts range between one and 25p. If you wish to play higher stakes, use the Coins setting to have the total bet amount multiplied by the number that's showing on the display.
In terms of payouts, I'd mentioned that the wild is the most anticipated symbol on the reels, but there are few other high-paying symbols.
Both the flag in a hole and the man in a golden sparkling suit pay the same amounts for three, four and five of a kind: 1.25x, 12.5x and 37.5x your bet. If it matters to anyone, these symbols can pay for two of a kind, but the winnings are minute.
Conclusion
Gold Trophy 2 is a high variance game so be prepared to see a greater number of low payouts. I can tolerate the amounts brought by three matching card symbols because the rest of the paytable is quite decent. The base game may shake out some quality wins, primarily consisting of wilds and high-paying symbols, however, it is the bonus feature where players can see Gold Trophy 2 at its best.