Dr. Toonz brings us another instalment of the Reactoonz universe, where we are confronted with strange alien beings that appear in different shapes and colours. This game includes a doctor as well as cascading reels, multipliers and random wilds.
Just like the other games in the series this slot comes from Play 'n GO and was released in 2021. A lot of the elements will be familiar to long-time fans of the series, with the characterful Reactoonz themselves being represented once again. The slot is built around a 6-reel, 4-row playing field. Using consecutive reels there are 4,096 paylines on which to get a win.
The look and feel of the game also stays close to the originals, with the same art style and attention to detail. Players who enjoy colourful slots with cartoon graphics and lots of animations will feel right at home. The game is set in the laboratory of the titular doctor, seemingly set deep in the ocean. We can see a giant dome in the background, as well as various laboratory equipment.
Thankfully, the creators didn't forget the soundtrack. We're treated to a very high-quality upbeat pop song that sounds like it could play on the radio. There's a lot of energy and it fits the wacky atmosphere of the setting very well. At the same time, the sound effects from the game itself don't clash with the music.
Symbols
Dr. Toonz makes use of mostly familiar symbols that are related to the strange creatures that we've come to know. Most of the symbols are the Reactoonz themselves, slightly updated with sharper images and smoother animations. There is a Wild symbol now that looks like a nucleus. The downside is that it's unclear what the value is of the different symbols, so players have little idea if they're about to win big or small.
Players can pick a bet between $0.20 and $100 as they play, but have to keep in mind the High Volatility. This game has an RTP of 96.25% which would be considered about average. I felt that the game would award the player with wins quite regularly even though they would obviously often not be very high. The slot does expect people to get wins on multiple paylines at the same time, so a single payline pays very little.
It's possible to get a maximum win of up to 22,000x your bet which is obviously quite massive. I don't think I've seen a lot of other slots that offer anything close to that number, apart from some progressive jackpots. However, we have to be realistic and stay aware of the fact that it's an extremely unlikely event to actually win it.
The symbols in the game include:
DNA: Scatters can appear anywhere on the screen. If 3 or more are present, the free spins mode is activated.
Wild: Wilds substitute the regular symbols in the game. Max. 2x your bet with six-of-a-kind on a winning payline.
Purple Toon: Max. 0.75x your bet with six-of-a-kind on a winning payline.
Orange Toon: Max. 0.6x your bet with six-of-a-kind on a winning payline.
Blue Toon: Max. 0.5x your bet with six-of-a-kind on a winning payline.
Pink Toon: Max. 0.3x your bet with six-of-a-kind on a winning payline.
Red Toon: Max. 0.3x your bet with six-of-a-kind on a winning payline.
Green Triangle Toon: Max. 0.25x your bet with six-of-a-kind on a winning payline.
Yellow Toon: Max. 0.25x your bet with six-of-a-kind on a winning payline.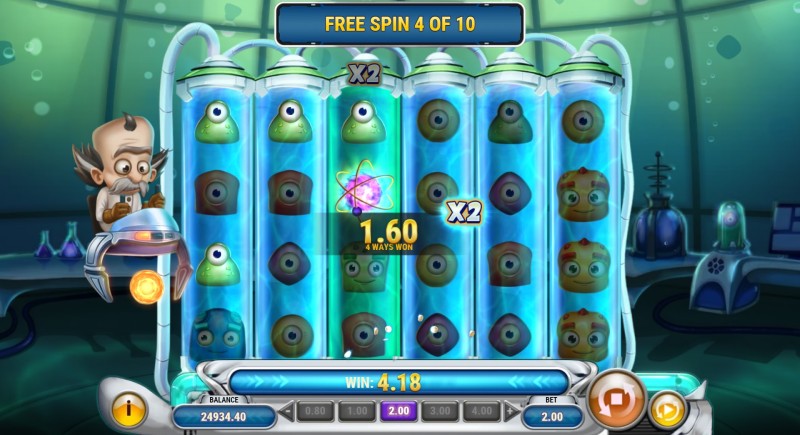 Features
Dr. Toonz has a number of features that players will likely be familiar with. The biggest change to the standard slot gameplay is probably going to be the cascading reels. This feature is quite common nowadays, but isn't often combined with a standard slot. Usually, it would involve the Megaways function or a non-standard playing field.
The features in the game are:
Consecutive Reels: Wins are calculated whenever a symbol appears on consecutive reels from left to right.
Cascading Reels: Whenever there's a win, the winning symbols disappear and are replaced with new symbols.
Wilds: Wilds appear randomly on the screen and replace all symbols except the scatter.
Free Spins: With 3 or more scatters on the screen the free spins mode is triggered.
Multipliers: During the free spins mode, 1 or more reels are selected and receive a 2x multiplier. Any symbols part of that reel that are included in a win will have the multiplier applied. Up to 6 multipliers can be activated.
While I was playing the game, I spent most of the time in the base game. This is obviously to be expected. Triggering the free spins mode wasn't especially easy but it did happen a few times. As such, it felt like a part of the game and not some feature most players will never get to see. That's a problem I find to be included in several other slots.
Meanwhile, the gameplay is simple but has some nice surprises. Getting a series of wins in a single spin will trigger one of the special features, like adding random wilds to the screen or converting some symbols into the same symbol. This helps increase the likelihood of getting a win. Payouts are unfortunately quite low, so even bigger wins are unlikely to help much with making a net win.
Conclusion
Dr. Toonz feels like a worthy successor to the original Reactoonz slots. It updates the graphics slightly and introduces a new setting. The titular doctor also fulfils a new role in the game that adds some excitement. All of it looks absolutely brilliant and I was especially pleased with the sound design.
The gameplay probably won't surprise a lot of people. I thought the different features included in the game activate often enough to feel like they have a part to play. None of them is excessively difficult to activate. As such, I think there's something to do for both high rollers and casual players.
Perhaps the biggest downside I could find is that the payouts are very low. Even when getting a number of wins or activating the free spins mode it might not be enough to compensate for the spins themselves. I would probably recommend playing with smaller sized bets for that reason.