Alice Cooper and the Tome of Madness puts the famous rocker into a dark setting with a definite horror twist. The game brings to life not only his persona but also adds different features to the game. Players will have to deal with free spins, cascading reels and random wilds.
The game was developed by Play 'n GO and released in 2021, making it an excellent way to see what this developer is currently up to. This slot looks absolutely stunning, with some amazing graphics and a lot of animations. Alice Cooper obviously takes up a big part of the game, being on the screen for most of the time.
When it comes to the gameplay, the slot is built around a 5-reel, 5-row playing field that uses the Cluster Pays mechanic. Anytime a player gets 4 or more matching symbols to touch either horizontally or vertically, a win is triggered. Much of the game also relies on getting multiple wins in a single spin, filling up a special meter that will unlock other features.
Since the game draws such heavy inspiration from Alice Cooper it makes sense that his music is also heavily featured. Oddly enough, that's not really the case. During the base game, we hear some soft gothic music in the background but not much more. We do hear his actual voice commenting on the game itself though, connecting him to the slot.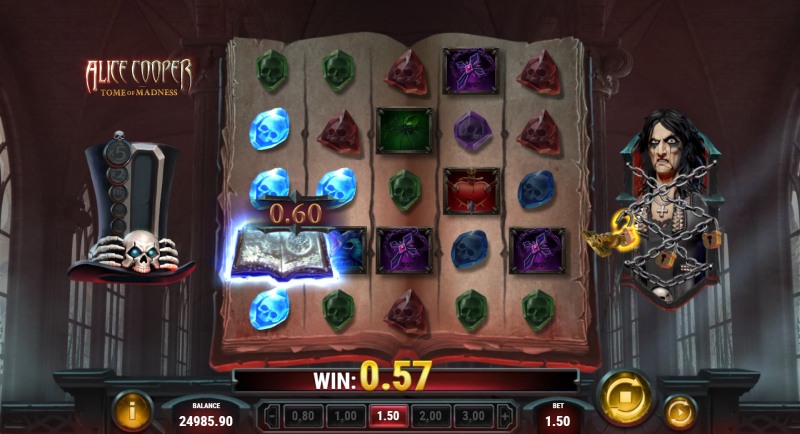 Symbols
Alice Cooper and the Tome of Madness is set in a dark castle where we see how the famous rocker is chained up. This also means that the designers were pretty free to decide how they would fill the reels. Fortunately, they chose to use some creativity. Even though the symbols might not be the most original with their selection of skulls and gems, they are all original and animated. They look very good.
The game has High Volatility unlike a lot of Play 'n GO new slots seem to have. With an RTP of 96.2%, it actually does stay on par on that level. While playing I felt like the slot awarded wins pretty regularly but they were often not very big. As a result, my funds largely stayed the same, only slowly going down after a lot of time playing. An excellent game for those that enjoy spinning a lot without risking much.
Players who would like to either increase or decrease their investments can pick a bet between $0.10 and $100 per spin. The game further included a maximum win of 3,000x your bet. That's a nice sum to look forward to, although obviously, most players won't be getting their hands on it.
The symbols in the game include:
Alice Cooper (Wild): Wilds substitute all other symbols in the game.
Key (Scatter): Collect 3 keys to unlock Alice Cooper.
Heart: Max. 200x your bet with 15-or-more symbols in a cluster.
Snake: Max. 120x your bet with 15-or-more symbols in a cluster.
Cross: Max. 80x your bet with 15-or-more symbols in a cluster.
Spider: Max. 40x your bet with 15-or-more symbols in a cluster.
Red Gem: Max. 10x your bet with 15-or-more symbols in a cluster.
Blue Gem: Max. 8x your bet with 15-or-more symbols in a cluster.
Purple Gem: Max. 6x your bet with 15-or-more symbols in a cluster.
Green Gem: Max. 4x your bet with 15-or-more symbols in a cluster.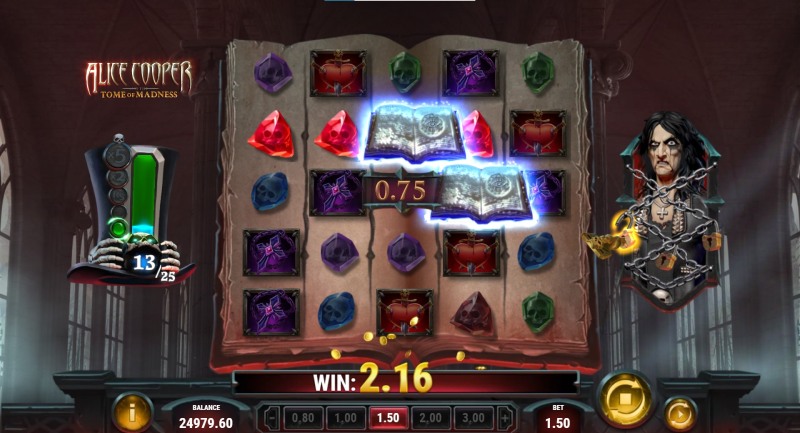 Features
Alice Cooper and the Tome of Madness actually has quite a few features that augment the gameplay experience. These include:
Cluster Pays: Wins are calculated by having the same symbol touch in clusters of 4 or more.
Cascading Reels: When there's a win, the winning symbols disappear and are replaced with new symbols.
Wilds: Wilds substitute all regular symbols in the game.
Scatters: Keys appear randomly on the screen. With 3 keys the Alice Cooper Wild is unlocked.
Walking Wilds: The Alice Cooper Wild will walk towards the opposite side of the screen with every spin.
Stacked Wilds: The Alice Cooper Wild covers an entire reel.
Re-Spins: As long as Alice Cooper is on the screen, the game re-spins the reels.
Free Spins: When there's a spin with no win, the free spins mode can randomly trigger. Players get to pick 1 of 4 different modes.
Random Symbols: Symbols are turned from low-paying to high-paying symbols.
Random Wilds: Symbols are randomly transformed into Wilds.
Matching Symbols: All high-paying symbols are turned into the same high-paying symbol.
Multipliers: With multiple wins in a row the game can unlock other features, including a 2x or 5x multiplier.
Although there are a lot of features, I felt the game did a good job at keeping them clear. The Alice Cooper Wild is a definite highlight for me, as it shows off the famous rocker as well as being very helpful. This Wild can even appear during the free spins mode, making that mode even more lucrative.
The free spins mode is activated randomly whenever the player doesn't get a win. This can take a long time or it can happen a few times in a row. I wouldn't say I saw it trigger often but it was frequent enough to feel like part of the slot.
Conclusion
Alice Cooper and the Tome of Madness feels like a loving tribute to Alice Cooper. The rocker plays a big part in the slot, both when it comes to his visual appearance as well as his voice. It's a bit odd they don't use any of his music but that might be a copyright issue. The visual style works really well and there is a tonne of details to be found.
I found the gameplay to be very solid, with a lot of features that augment the gameplay in big and small ways. Unlocking Alice Cooper's walking wild will always be beneficial. When the free spins mode is activated, players can pick 1 of 4 different modes that help them in a variety of ways.
Slot purists might feel the game to be too overwhelming. The features aren't all introduced at the same time but there are still a lot of them. For people that enjoy an entertaining and stress-free experience where a limited budget can still offer hours of entertainment, I would definitely recommend it.