Double Dragons features fierce mythical monsters fighting ferociously at the top of the world. I'm going to see if these dragons are also hoarding gold.
If you're a fan of the classic 1987 arcade game Double Dragon, I'll have to disappoint you immediately. This is not a reimagining of that famous dual-stick fighting game. Instead, Yggdrasil released a slot in 2016 that's literally about two dragons, one ice and one fire, that inhabit the top of a mountain range.
Anyone who starts up this slot will immediately notice the amazing graphics. With a 5-reel, 3-row playing field and 20 paylines it might follow the standard slot layout. The graphics elevate this game to another level, however.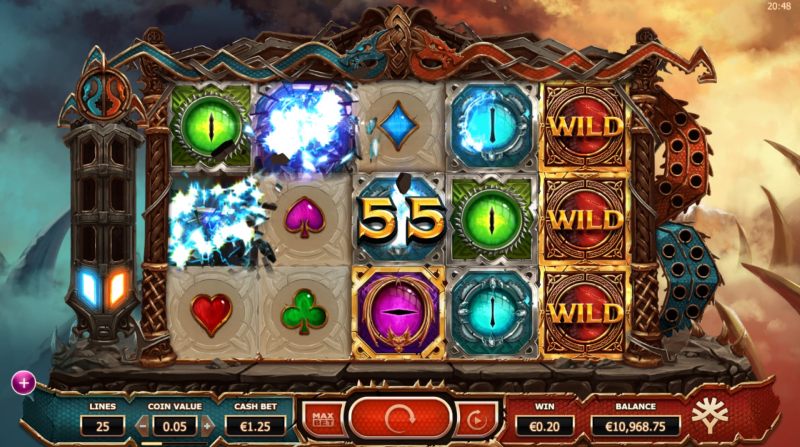 Yggdrasil has put a staggering amount of detail in this game. The background has us at the top of a mountain, half-covered in ice and half-covered in dust and fire. Clouds ominously hover far above. The frame of the reel is decorated with artistic representations of the dragons as well as lots of angular shapes. I felt like I was standing in front of a shrine worshipping these mythical beasts.
At certain points in the game, the dragons themselves make an appearance. Both are beautifully animated and look suitably scary. They reminded me of Smaug, the dragon in the Hobbit story.
While playing, the soundtrack doesn't hold back either. It has strong, bombastic music that you'd expect in a game about dragons. The reels drop down with a notable impact and when one of the dragons appear they do so with a mighty roar. I can't be any more impressed at how much effort the creators put into setting the mood, and they definitely succeeded.
Symbols
As you might expect, the symbols are all also beautifully made. Unfortunately, I have to make a small comment here, because the symbols aren't that clever. You have the low-paying card suit symbols that look pretty but haven't been made to look especially within the theme either. The high-paying symbols look like dragon eyes and although these too look good, I think they could have done better.
Maybe the symbols could have been actual dragons? I feel like they took a shortcut with this. Then again, I should mention all the different symbols are sufficiently unique that it's easy to tell when you're close to a win.
The symbols are from highest to lowest:
Free Spins: There are two Free Spins symbols, an Ice Dragon head and a Fire Dragon head.
Pink Dragon Eye: Max. 125 coins with five-of-a-kind on a winning payline.
Orange Dragon Eye: Max. 100 coins with five-of-a-kind on a winning payline.
Blue Dragon Eye: Max. 90 coins with five-of-a-kind on a winning payline.
Green Dragon Eye: Max. 80 coins with five-of-a-kind on a winning payline.
Spade: Max. 50 coins with five-of-a-kind on a winning payline.
Heart: Max. 50 coins with five-of-a-kind on a winning payline.
Diamond: Max. 40 coins with five-of-a-kind on a winning payline.
Club: Max. 40 coins with five-of-a-kind on a winning payline.
Wild: Substitutes all other symbols in the game, except the Free Spins symbol.
As you can tell, even with the free spins there are 2 types of symbols. There is the Ice Dragon and Fire Dragon variant. Get the Ice Dragon and you'll receive a 2x multiplier to your next win. When you get the Fire Dragon he'll place 2 or 3 random Wilds on the playing field. I thought it was a nice little extra but usually only has limited effect.
Features
Double Dragons has a few different features that are worth going over:
Avalanche Re-Spins: Anytime you get a winning payline the winning symbols explode and the affected reels fill up with new symbols. This can trigger a new winning payline which repeats the process.
Double Dragons Feature: During the base game, getting 4 consecutive wins activates this feature, adding 2 stacked wilds. During Free Spins mode you only need 2 consecutive wins.
Free Spins: Get 9 Free Spin symbols and you'll trigger the Free Spins mode with 5 free spins.
Stacked Wilds: During the Double Dragons Feature, the dragons will fill 2 random reels with Wilds.
Random Wilds: When getting the Fire Dragon Free Spins symbol they'll add 2 or 3 wilds to the playing field.
Multiplier Wilds: When getting an Ice Dragon symbol, they'll add a 2x multiplier to any wins.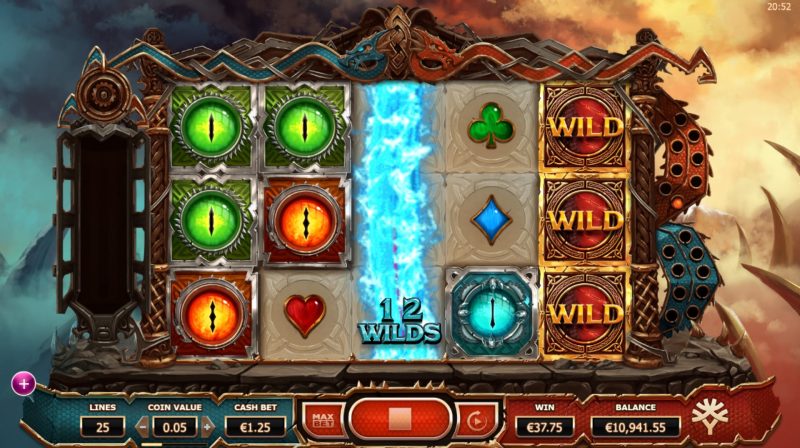 During my time playing, I focused mostly on two features in the game. The first to discuss is the Double Dragons feature. With the Avalance Re-Spins, it's possible to get multiple wins in a row and that is what the Double Dragons feature is all about. When I managed to get 4 wins in a row that would trigger this feature, adding 2 stacked reels of Wilds to the game. These can be of different 'lengths', meaning the reels would stay stacked with Wilds for a longer or shorter amount of time.
The second one is the Free Spins mode. Unlike most other games you don't have to get 3 or more Free Spins symbols on the screen at the same mode to trigger the Free Spins. Instead, there is a tracker on the side of the playing field that keeps your Free Spins symbols stored indefinitely.
If you get 9 Fire or Ice Dragon symbols, the respective Free Spins mode activates. During this mode, you get 5 free spins and you only need 2 consecutive wins to trigger the Double Dragons feature. I thought it was a lot of spinning for only 5 Free Spins and the effect of the Double Dragons feature was limited but it could also result in a big payout.
Conclusion
When I first played this game around the time it originally came out I couldn't believe what Yggdrasil had managed to create. Even now the graphics and sound hold up amazingly well and will put newer games to shame.
For me, Double Dragons is a slot I mention when I want to explain how much the look and feel of a slot can add to the enjoyment of playing it. Comparing it to other dragon inspired games like Dragon Island by Netent you can tell the difference in graphics is quite apparent.
I think the features are alright but they require you to play for quite a long time. The Free Spins tracker is nice because if you play long enough you will trigger the Free Spins mode eventually. At the same time, it's a way to keep playing when you might not want to because you'll feel like you're wasting the Free Spins symbols you already collected. It's definitely something to keep an eye on.
With the ability to choose a bet between $0.25 and $125 and with Medium Volatility, it is possible to choose a type of play you're comfortable with. The prospect of a max. win of 20,000x your bet is definitely enticing but I have to admit I kept playing the slot mostly for the looks and not so much the gameplay.