Free Reelin' Joker is a slot that harkens back to the classic fruit machines of old. This is where they had only a single payline and symbols didn't always stop in the right place. However, the game also adds some new features such as expanding reels.
This game was released in 2021 and was made by the developer Play 'n GO. It will be immediately obvious to anyone who boots it up that it is based on classic fruit machines. The graphics are made to resemble a normal one-armed bandit. There is no real background to speak of. And we can see that there are only 3 reels and 1 row.
When playing the game, players can only get wins on the 1 payline the game has. There are only a few different symbols that will be all too familiar to anyone that's ever played a slot. The game also has the distinct feature that symbols might not stop exactly on the payline, meaning that there will be no win at all.
As far as the looks go, the presentation is fine. There is only a single uniquely designed symbol which is the Joker itself. There are some small animations here that liven things up but as the game itself is pretty basic, these don't really add much.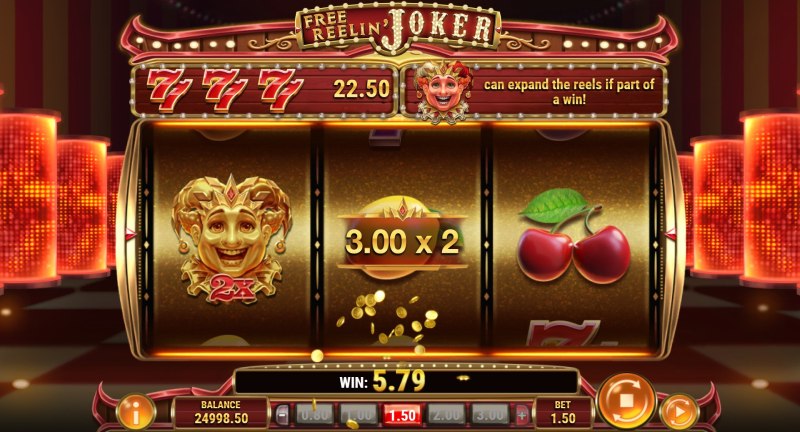 Symbols
Free Reelin' Joker stays very close to the classic look of the game so there aren't a lot of symbols here. The ones that are included are also not very original. There is the usual collection of Sevens, lemons, plums and cherries. The Joker is the wild of the game and comes in 2 variations. The normal one and the golden one, which counts as a 2x multiplier.
As far as the gameplay goes, the slot has an RTP of 94.2% and Medium Volatility. I have to say I didn't really notice this volatility as I mostly lost during my time playing. To be fair, it wasn't a fast decline but more a gradual one. Players can pick a bet between $0.10 and $100 per spin to help balance things out.
Players that stick with the game might get to see the maximum win which is 1,000x your bet. This will hit whenever the game expands the maximum number of reels to 6. This happens whenever a Joker is part of a win. If the game is showing the maximum number of reels, and in the last spin the highest possible symbol appears with a 2x multiplier joker you will receive the jackpot.
I thought the difficulty of getting this jackpot is not really balanced by the size of the win. This is because other medium volatility slots usually have jackpots that are at least double the size of this one.
The symbols in the game are:
Joker: Counts as a Wild. The Golden Joker adds a 2x multiplier to any win it is part of. Max. 500x your bet with six-of-a-kind on a win line.
Double Seven: Max. 250x your bet with six-of-a-kind on a win line.
Seven: Max. 100x your bet with six-of-a-kind on a win line.
Cherries: Max. 40x your bet with six-of-a-kind on a win line.
Lemon: Max. 30x your bet with six-of-a-kind on a win line.
Plum: Max. 20x your bet with six-of-a-kind on a win line.
Also, note that there are some combinations possible. If you get any combination of 7s this will count as a win. Similarly, any combination of fruits also counts as a win.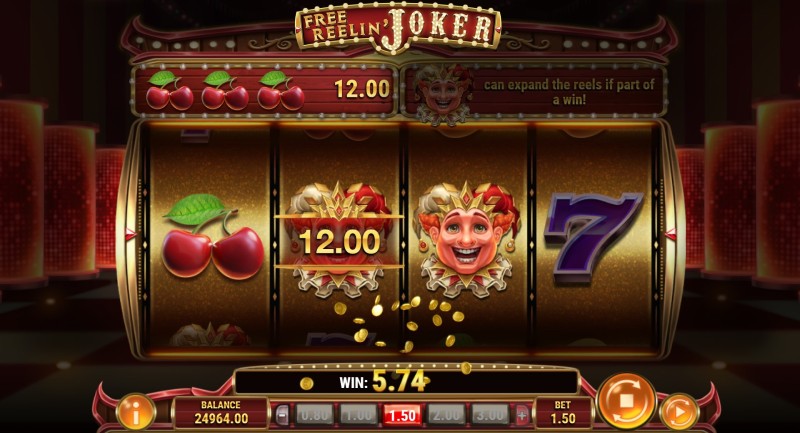 Features
Free Reelin' Joker is by and large a standard slot that draws inspiration from the classic fruit machine. There really is only 1 feature worth mentioning that changes up the gameplay. The total list of features includes:
Wilds: The Joker symbol counts as a Wild.
Multiplier Wilds: When the Golden Joker appears, it will double any win it is a part of.
Mixed Wins: 7 and 77s, as well as any combination of fruits, will count as a win. Note that mixed wins can't trigger expanding reels.
Expanding Reels: Whenever a Joker or Golden Joker is part of a win, this will add 1 reel to the playing field.
Re-spin: Whenever an extra reel is added to the screen a re-spin is activated. If a new joker appears on the screen and is part of a win, another reel is added. This can happen a maximum of 3 times.
The expanding reels feature is clearly the most important part of the game. Not only is it mentioned in the name, but it also makes the slot stand out from the classic fruit machine concept. That doesn't mean it's a feature that will appear very often though. In my experience, although the joker appears frequently it will rarely be part of a win.
Players will quickly notice that even with a single payline it's still hard to get symbols to line up when playing this slot. I found that you're more likely to have winning symbols appear just above or below the win line. This is especially frustrating since it feels like it only exists to make winning harder.
Once you do get a joker on the win line with other winning symbols, you can see the joker freak out before adding a reel to the right of the playing field. This will also trigger a re-spin. During my time playing, the maximum number of reels I managed to add is 2. Even then, the wins are relatively low since it still matters which symbols are on the win line.
This resulted in me slowly bleeding coins over time as the volatility is a bit too high and the rewards a bit too low to compensate. The few times I managed to add extra reels rarely paid off enough to make back the money I had spent.
Conclusion
Free Reelin' Joker is a slot that clearly draws inspiration from the older slots and it isn't afraid to show it. The game looks fine if somewhat simple, but fans of the classic fruit machine might enjoy that. It still looks colourful and crisp, which I liked.
The gameplay is largely exactly what you'd expect from an old-school one-armed bandit. There is a single win line that you need to get the right symbols on. These symbols are familiar to anyone and offer no surprises.
While I did like the concept of the expanding reels, it felt too difficult to get them to appear. Even when they did, they were rarely worth the effort and only barely made any coins back. Coupled with the mediocre jackpot I can't really see how many people will spend a lot of time with this game.