If your merchant ship is ready for her maiden voyage you can stop-by this Play'n GO game and unfurl the Sails of Gold. The game takes you to the time of discovering new worlds. You'd be cruising on a layout of three reels, five rows and 10 paylines which click together for a simple gameplay.
Sails of Gold was made in 2016 but it lacks the kind of detail that may make it a potential pick. On the other hand, I can say that being simple is its strong side, and the fact it has low volatility.
The reason I think that is because low volatility slots are like the thing of the past – you'd find only a few are released each year while most are in the realm of medium to high variance.
This is a game that fits that profile. The paytable structure is quite good and there are few symbol combinations that can pay for two of a kind. On the other hand, the base game is quite placid which may chase away players who are seeking the excitement of bigger waves.
Sails of Gold comes equipped with a free spins bonus that can save the day when you need a patch of dry land.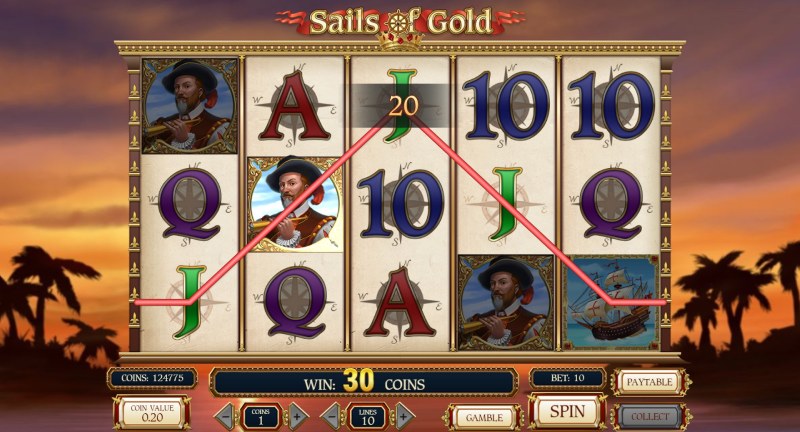 Theme and Design
Slot players shouldn't expect much of the graphic design. The animated effects can barely cause a splash and the soundtrack would have qualified as a hit – at the court of Queen Isabella of Castille.
I find the picture symbols to be drawn and rendered well. They do show some character and fit the sea-faring theme, but the only animated effect they do is throb and shimmer.
Overall, in terms of the graphic design, Play'n GO could have done much better, but it looks like they saved their finer tricks for games that come with more than one bonus feature.
I made a hint about the base game and it holds. There is nothing that can give the gameplay a sudden jolt. Sure, the payout frequency is decent and the Wild symbol can pay up to 5,000x your payline bet, but there is only one bonus feature.
Three galleons and you are at sea with 10 spins. I've played a few Play'n GO games from the same period as Sails of Gold and noticed they have one common detail: free spins winnings get a default 2x or 3x win multiplier. Not this game.
The detail that can save it from being lost at sea are the Golden Ship wilds. Frankly, it doesn't do anything else but substitute for all other symbols, however, in my experience it landed on the reels frequently enough to grace the 10 paylines with some decent payouts.
Ah yes, the bonus symbol can land in any three positions and give you another round of free spins. This is the only way in which Sails of Gold can arrange for a surprise.
Bets and Payouts
If you really want to know how dated Sails of Gold is, you can look below the reel set and find a setting that lets you select the number of paylines. You can play the game on as little as one payline and even bet one penny per spin.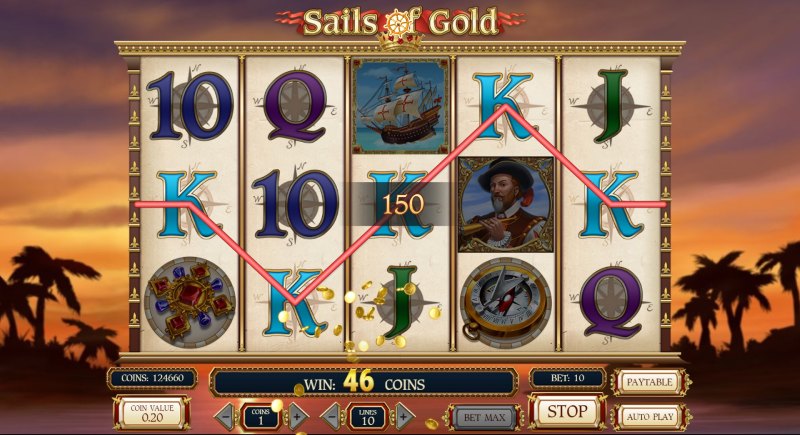 I certainly prefer playing with all ten paylines active, which doesn't make Sails of Gold a lot more expensive if you are betting one or few pennies per payline.
Coin values are between one penny and one dollar, giving the player a wide selection of betting amounts. In the bottom-right corner of the screen are the buttons for Paytable and Spin.
As for the paytable, it reflects values that are quite common in older Play'n GO games. For example, the base game Wild symbol can pay handsome amounts. It can even pay for two of a kind, which still has to land left to right, starting on the first reel.
In terms of the symbol values, they are expressed as multipliers to the payline bet and go as follows:
10 card: 5x, 20x, 100x
Jack: 5x, 20x, 100x
Queen: 10x, 40x, 150x
King: 10x, 40x, 150x
Ace: 10x, 40x, 150x
The high paying symbols are
Compass: 5x, 15x, 75x, 250x
Brooch: 5x, 25x, 100x, 500x
Coat of arms: 5x, 50x, 200x, 1,000x
Explorer (Wild): 10x, 100x, 1,000x, 5,000x
Conclusion
My opinion about Sails of Gold is partial to a thumbs down. The game has its place and purpose, but the lack of extra features has nudged it on a voyage towards the Bermuda Triangle.
Although the theoretical maximum is a six-figure amount, this is only possible by retriggering the free spins bonus for an unbelievable number of times. I would have considered playing again if the bonus feature was boosted by a, say 2x or 3x win multiplier.