The Divine Showdown online slot brings together four mighty gods that go into fierce battles to help you win cash. This face-off between gods takes place on the reels of a 5×3, 20 payline slot with high volatility, heroic reel modifiers, divine multipliers and Herculean Free Spins. The Divine Showdown Play'n Go slot also boasts godlike graphics and an epic soundtrack that matches the heroic theme.
Do Thor, Athena, Anubis and Wukong deliver a superhuman experience on the Divine Showdown slot? Or do they lose the war to other mythical-battle slot games? Join me and the divine crew for a clash on the reels and let's find out!
Theme and Graphics
For quite some time now, Swedish game developer Play'n Go has been known for its brilliant slot design which includes spectacular visuals and an extraordinary attention to detail. I am happy to say that Divine Showdown's design is no exception to the excellence we became used to seeing from Play'n Go.
The backdrop of this fantasy-themed slot immediately sets in you the mood with a forbidden city nestled between snowy mountains. Adding more to the feeling of a looming battle, giant swords are stuck in the mountains. So before I even took the first spin on the Divine Showdown slot, I was in no doubt heading into combat.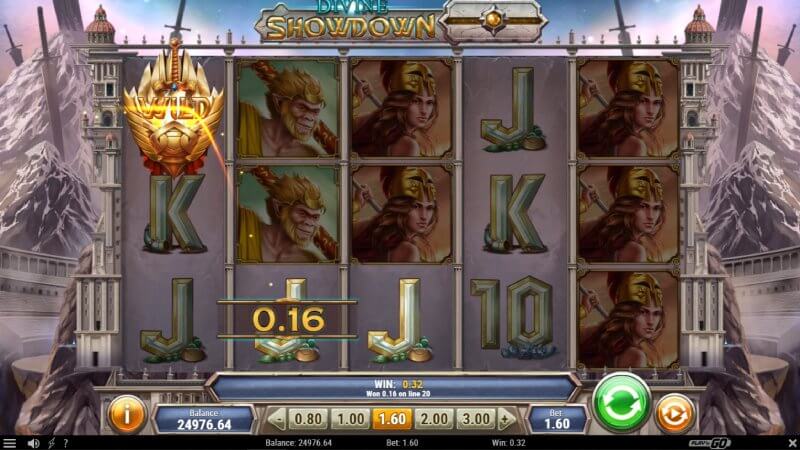 Symbols The four mighty gods are ready and waiting to fight for supremacy on the reels. But before they heroically battle each other to get us winning bonus rounds, let's get to know their symbols:
Special Symbols
Wild Symbol: A blazing sword stuck in a mount. A Wild substitutes for all symbols except for the Scatter. During bonus rounds, the Wild Symbol will expand over reels. The Wild Symbol pays max 20x with 5 on a payline
Scatter Symbol: A combination of all 4 god signs in 1 powerful symbol. 3 or more Scatter Symbols appearing anywhere on the reels will trigger Free Spins.
High Symbols
Thor: Pays max 16x with 5 on a payline.
Athena: Pays max 12x with 5 on a payline.
Anubis: Pays max 8x with 5 on a payline.
Wukong: Pays max 8x with 5 on a payline.
Low Symbols
J, 10: Pays max 1x with 5 on a payline.
Q: Pays max 1.5x with 5 on a payline.
K: Pays max 2x with 5 on a payline.
A: Pays max 2.5x with 5 on a payline.
Sounds
As if there isn't enough suspense and action on the reels of the Divine Showdown slot machine, the cinematic and powerful soundtrack takes the drama to a whole new level. With powerful adventure tunes and the noises of slashing swords, the audio of Divine Showdown builds to a climax and adds another exciting dimension to the gameplay.
Features
God Powers
Each of the gods on the Divine Showdown online slot comes with his/her very own superpower. Luckily for us, gods have big egos. So each one of our divine bunch appears randomly on the reels to show off his/her Power Spin. Every time this happens, you will get a Free Spin with one of the following modified reels:
Power of Wukong: Transforms 1 or 2 reels into Wild Reels.
Power of Anubis: Turns all instances of 1 or 2 symbols into Wilds.
Power of Athena: Synchronizes 3 reels to land on the same symbol.
Power of Thor: Transforms all other god symbols into Thor symbols for big wins.
Multipliers
The Stone frame above the reels has a diamond set in the middle of it. This turns into a multiplier meter that will become active when the gods give you a lucky break and award you with multipliers. You can get during any given spin a multiplier boost of between 2x to 10x your winning stake.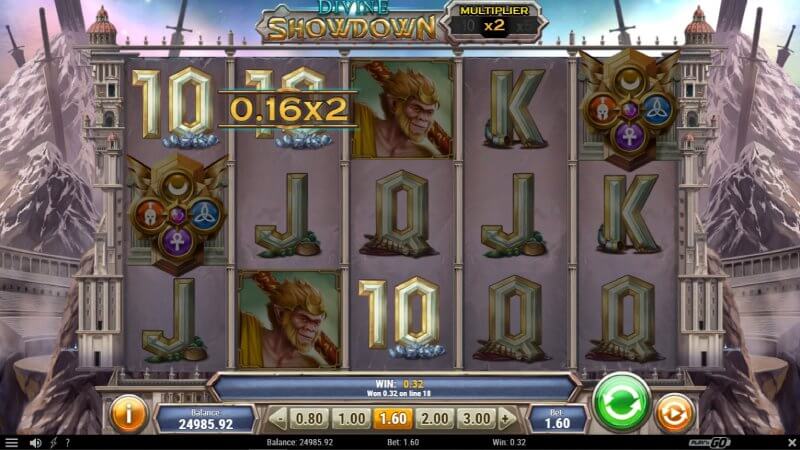 Free Spins
Landing 3 or more Scatter Symbols on the same spin in the Divine Showdown base game will trigger the Free Spins feature. You will then need to choose 1 of the 4 gods to fight for you in an epic battle that is about to erupt.
Your chosen divine warrior will stand to the left of the reels and he/she will have 3 lives to spare. The battle reel that appears on the grid will decide if your warrior will go into combat with another god, or if you get a Free Spin instead.
Going into war with another god imposes some risk. But either way, you can reap epic rewards. Power symbols for each god will fall from above and the god with the most power symbols will win the duel. If your warrior loses, he/she will lose a life and the opposing god's power is activated for the next Free Spin. If you win, your next Free Spin will be played with your god's power and a guaranteed multiplier.
Bets and Payouts
The Divine Showdown slot machine offers 20 paylines and an RTP (Return to Player) of 96.51%. The volatility of Divine Showdown is ranked at 10 out of 10 on the Play'n Go scale. So although you can potentially go through more winless spins, the rewards are pretty big once the gods of Divine Showdown give you a lucky break.
The minimum stake is $0.2 and the maximum is $100. The most you can win on this slot is 5,000 times your stake, which is pretty decent even for a highly volatile game. If the gods shine upon you from above, you can potentially win up to $500,000 on one divine spin.
More Divine Slots
If you liked clashing swords with the warrior gods of Divine Showdown, why not join Thor and his friend for another godly slot adventure? Try the Vikings Gods Thor & Loki slot by Playson. This medium volatility slot has an RTP of 96.88% and gives you a chance to win 485x your stake. It also features Colossal Symbols, Free Spins, Sticky Wilds, Random Wilds and Stacked Wilds.
Final Thoughts
If you don't have the patience and guts to withstand fierce battles and winless spins, the Divine Showdown slot is probably not for you. But if you are brave enough to take upon a divine clash on the reels of a beautifully designed, action-packed slot machine with tons of exciting features – come and join the warrior gods for a showdown that is guaranteed to be divine!