The Emirate is a game by developer Endorphina that takes the special country of the UAE as a source of inspiration. The game features highly detailed graphics and Scatter symbols to help the players get immersed.
The slot was released in 2014 and is one of the simpler slots in the developer's library as it has almost no features at all. That is compensated somewhat by the nice graphics on the 5-reel, 3-row playing field which is sharp and highly detailed. I also appreciated that they were all original and fit the theme of the game.
There's no real background to speak off, maybe showing what seems to be a window in a large building but it's not very distinct and offers no extra interaction. The slot has 5 paylines which is quite low for a slot this size, but the game still only has Low Volatility. Whenever there's a win a brief animation plays that gives the game some movement but these animations aren't very intricate and only play for a second to keep the slot moving at a steady pace.
Unlike other Endorphina slots, The Emirate has its own soundtrack that plays continuously during the game. It is a modern take on classic Arab music. On the other hand, the sound effects are a mixed bag. Some of them are clearly original and belong with the theme while others are stock sounds that can be heard in other games by this developer.
Symbols
With its low volatility and only 5 paylines, The Emirate can't use too many symbols and that is correct. The game has a small number of different, original symbols that are all designed to fit the setting.
The symbols include:
Flower (Scatter): Max. 50x your bet with five-of-a-kind on the screen.
City: Max. 1,000x your bet with five-of-a-kind on a winning payline.
Man: Max. 100x your bet with five-of-a-kind on a winning payline.
Woman: Max. 100x your bet with five-of-a-kind on a winning payline.
Teapot: Max. 40x your bet with five-of-a-kind on a winning payline.
Dagger: Max. 40x your bet with five-of-a-kind on a winning payline.
Waterpipe: Max. 40x your bet with five-of-a-kind on a winning payline.
Truck: Max. 40x your bet with five-of-a-kind on a winning payline.
Even with only a few symbols it still proved rather difficult to get a win which is why the bet awards are quite high. Even the lowest paying symbol pays out more than a single spin with a three-of-a-kind win. This means any win will award enough to make back at least its own spin.
Features
The Emirate is a slot with a rather unique small number of features. Even though most Endorphina games don't have a lot of features either, there are usually 2 or 3. The Emirate only has 1:
Scatter: The Scatter Symbol counts towards a win regardless of their position on the screen.
This feature appeared quite often and triggered a decent amount of wins in my experience. Overall, I found the game to be rather good at granting wins although most of them were smaller. My funds either went well above or well below my starting line, which felt like the game was a little more volatile than it is portrayed.
The game felt rather bland because of the few features, with it also not being made a huge deal when the Scatter symbols appeared on the screen. The symbols simply lit up for a while and then the game continued as normal.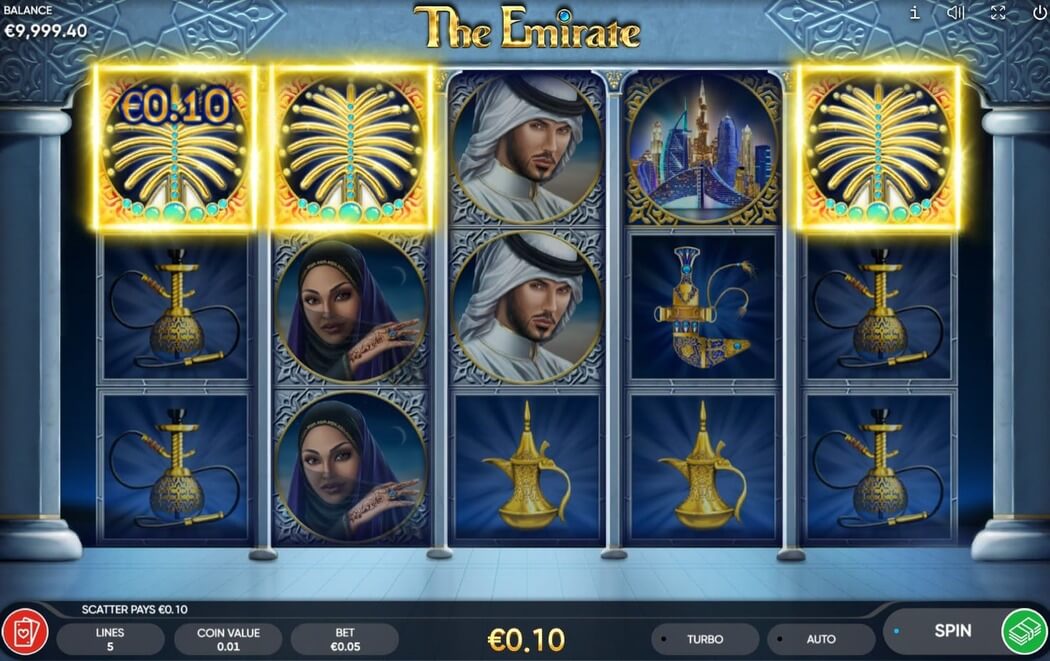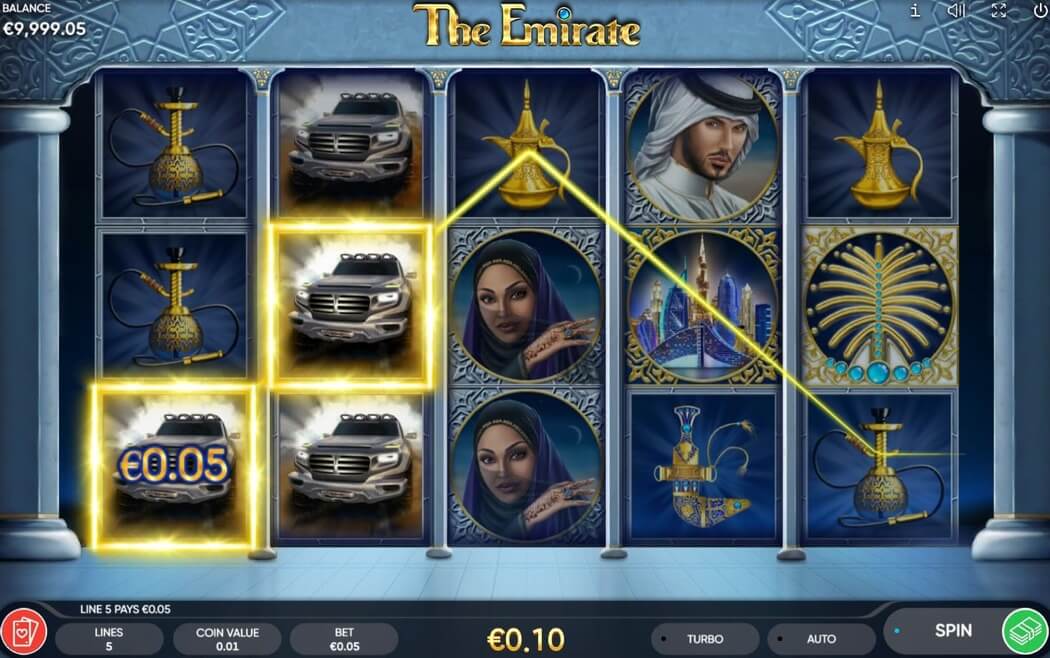 All in all, The Emirate feels pretty devoid of features and is only really meant for people that prefer their slots to only offer the base gameplay and really nothing else. I assume there are players that prefer games like this, but there won't be many.
Conclusion
The Emirate is a rather odd duckling when compared to other Endorphina slots. The low volatility and a small number of features imply it is only intended for the casual players. At the same time, it offers a max. win of 5,000x your bet, with the ability to change your bet between $0.05 and $50 per spin.
On the other hand, the game has one of the best graphics when compared to other slots that came out in the same time period, and there is a lot more attention put into the appearance and setting. This would suggest that the developers were aiming to draw in a large crowd of people.
In the end, the game kind of stays in the middle. It looks good and plays fine but offers only the most basic gaming experience. I don't think high rollers or modern players will get much enjoyment out of the slot, which only leaves either beginners or very casual players that will enjoy The Emirate. It's a shame because visually it's definitely one of the better slots in my opinion.