Wolf Hunters are the brave heroes that head into the night to fight the werewolf as it preys on the innocent villagers. Through blood and sacrifice, the Wolf Hunters try to stop this horrible beast!
This game is quite a departure from Yggdrasil's usual themes that focus on whimsical fun and colourful slots. Instead, Wolf Hunters was a 2018 release that seems to relish its dark setting and blood-soaked reels as it shows us combat between man and beast in brutal detail.
Playing on a 5-reel, a 3-row field with 20 paylines, players are exposed to the tools of the trade that Wolf Hunters use, as well as the actual fight to the death between these mortal enemies. Everything is drawn in great detail with the background showing us a Victorian village at night where everyone has boarded themselves inside to keep the monster at bay.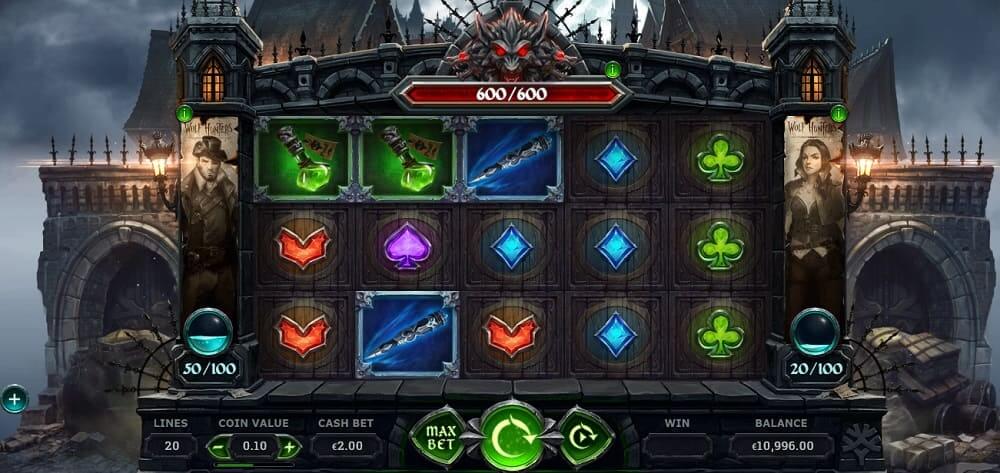 There aren't a lot of similarly dark-themed slots that spring to mind, but there are a few. A big one is Mythic Maiden by NetEnt which also took a horror theme as inspiration for their slot. The Dark Joker Rizes by Yggdrasil itself takes a darker approach but still keeps it brightly coloured and cartoony.
I found the soundtrack to fit the game well, especially during the free spins mode. There was dramatic gothic music playing with an actual orchestra while the fights rang out with screams and roars as blood was spilt. It all felt pulse-dollaringly real and elevated the sense of action and danger to a new level. The only thing that didn't fit was the happy jingles when I got a win.
Symbols
The symbols in Wolf Hunters are drawn in great detail, as I've come to expect from Yggdrasil. Most of the symbols aren't animated except for the special combat symbol where we see the hunters fight the werewolf. The other symbols in the game only move slightly when part of a win. I did like the way a bloody slash ran across the screen to show the payline of a win.
The symbols are from highest to lowest:
Bonus: Get a Bonus Symbol on reels 1 and 5 to trigger the Free Spins mode.
Wild: Substitutes all regular symbols in the game.
Werewolf: Fight the werewolf. Winning turns the symbol into a Sticky Wild and triggers a re-spin. Max. 500 coins with five-of-a-kind on a winning payline.
Beartrap: Max. 250 coins with five-of-a-kind on a winning payline.
Poison: Max. 200 coins with five-of-a-kind on a winning payline.
Stake: Max. 150 coins with five-of-a-kind on a winning payline.
Heart: Max. 70 coins with five-of-a-kind on a winning payline.
Spade: Max. 60 coins with five-of-a-kind on a winning payline.
Club: Max. 50 coins with five-of-a-kind on a winning payline.
Diamond: Max. 50 coins with five-of-a-kind on a winning payline.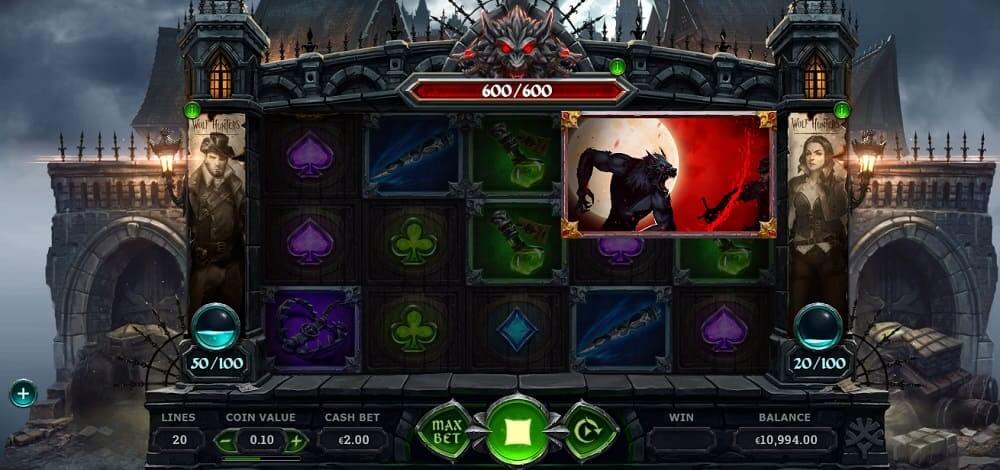 Unfortunately, Yggdrasil opted to fill the low-paying symbols with the usual card suits. Even though they're made to fit the style of the slot they don't fit the theme and took me out of the game a little bit. They don't look like they belong in an edgy slot about a werewolf.
Features
Wolf Hunters has several features that we've seen before and after in Yggdrasil games. Vikings Go To Hell is probably the most recent example of a slot with a similar Rage mechanic as we can find here.
The features are:
Wilds: Wilds substitute all symbols except the Bonus Symbol in the game.
Sticky Wild Re-Spin: When a Wild appears in the playing field, it turns into a Sticky Wild and a Re-Spin is triggered.
Werewolf Symbol: A Werewolf Symbol starts a fight between the werewolf and a hunter. When the werewolf wins, nothing happens. When the hunter wins the symbol is turned into a Wild, the hunter's rage goes up by 1 and the wolf's health goes down by 1.
Free Spins: When Bonus Symbols appear on reel 1 and 5 Free Spins mode is triggered with 10 free spins.
Rage: The 2 hunters both have a Rage meter. Once either Rage meter fills up to 100, Hunter Free Spins are triggered. Wolf Health: The Werewolf has 600 health. When it's depleted, it activates 10 Slayer Free Spins.
As you can probably tell a major part of the features involves the fight between the Werewolf and the Hunters. This is symbolised by the Werewolf Symbol, which triggers a quick animation showing the fight. Getting a Hunter to win causes the symbol to turn into a Wild, becoming Sticky and triggering a Re-Spin. It also fills the Hunter's Rage meter and depletes the Wolf's health by 1.
The goal is to both fill the Hunter's Rage meter to 100 and get the Werewolf's health down to 0. Both will trigger a special Free Spins mode with 10 free spins.
Hunter Free Spins play out as regular free spins. Slayer Free Spins will make all Werewolf symbols automatically turn into Sticky Wilds and then expand. During Free Spins mode, each Hunter has a tracker. Getting 3 Bonus Symbols of that specific hunter during Free Spins Mode activates the Hunter Upgrades, which awards 2 extra free spins as well as expanding any Wilds that appear.
If you're worried this is very complicated, don't be because all of this unlocks very slowly. During my time playing, a Werewolf symbol would appear about once every 3 spins, and the Hunters would win roughly half the time. That meant that filling up a Hunter's rage meter to 100 would take about 300 spins since it starts at 50. Getting the Werewolf's 600 health down to 0 would take about 3600 spins!
I thought that was a crazy amount of spins for something that couldn't possibly pay off in the end, plus quitting the game before getting there would undo all your progress. I don't think many players plan on playing for multiple hours on end to unlock one of the features, so it's best to ignore its existence.
Conclusion
Wolf Hunters is a beautiful slot with atmosphere oozing out of its pores. Everything in the game, except the low-paying symbols, are made to enforce the idea that we're following a pair of wolf hunters fighting a werewolf to the death.
Unfortunately, the features leave a lot to be desired. Although they are presented in an attractive way and it was immediately clear to me what the goal was, this seems so far fetched it's practically unobtainable by nobody but the most dedicated players. Expect to play for multiple hours just to reduce the Werewolf's health to 0, with no guarantee the free spins you unlock at the end will be worth it.
The game lets you pick a bet between $0.10 and $100 per spin, and its High Volatility makes it a real drain on your funds as you watch the hunters regularly get beaten by the Werewolf. Getting the Sticky Wild Re-Spins was nice but they only rarely paid off.
I would say Wolf Hunters is eye-candy for players that are looking for something beautiful to look at when they have some time to pass. Don't expect this to really satisfy your gaming needs and definitely don't think there is some shortcut to reduce the wolf's health without making several thousand spins!