Brazil Bomba brings us to the beaches of Brazil but instead of celebrating carnival, we go back in time where the ancient cultures still existed. This Yggdrasil slot offers players a non-standard playing field, cascading reels, free spins and multipliers as the bombs fly!
This slot was released in 2020 and it shows in the graphics. Everything looks crisp and colourful with a lot of attention put into the background. The playing field is a massive 6-reel, 8-row size but it does not use paylines, but instead is going for the Cluster Pays mechanic. The background shows us the famous Sugarloaf Mountain by Rio de Janeiro, as well as a sprawling beach.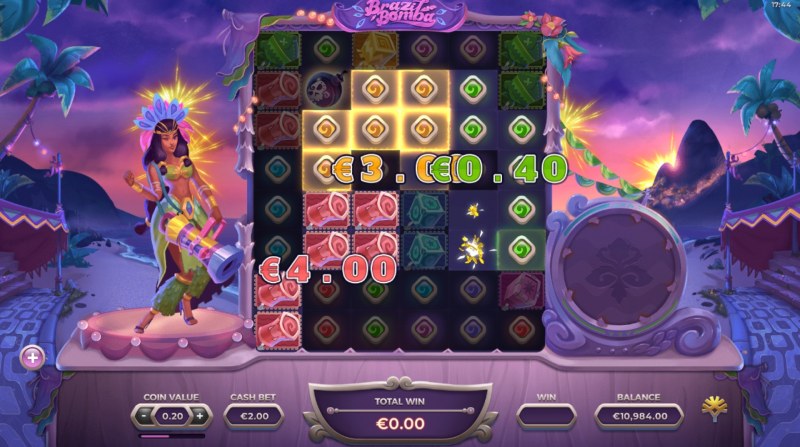 Next to the playing field is a woman in classic garb and a massive cannon she uses to destroy winning symbols and trigger the cascading reels. On the other side is a massive multiplier counter that goes up by 1 every time the cascading reels trigger an additional win.
Everything looks great even though the symbols are kept rather simple, but I think that was a good choice considering the size of the playing field and the limited room for the different symbols. I liked the explosions though, making them seem really impactful and with some beautiful fire effects.
Brazil Bomba Highlights
Non standard reels: Non-standard layout can feature varying reels/rows or a different winning mechanism.
Cascading reels: Cascading reels explode the winning symbols and drop down more to fill the gaps.
Multiplier: In Brazil Bomba, the winnings can be multiplied by different multiplier mechanisms.
Freespins: You can get in-game free spins in Brazil Bomba.
Scatter symbols: Collect scatter symbols to get free spins and/or cash prizes.
Symbols
The symbols in the slot can be split among the usual high- and low-paying divide. The low-paying symbols are simple small gems in different colours but they're otherwise completely alike. It makes it easy for the eye to track where there's a cluster but it's obviously also a little more boring. The high-paying symbols are rather abstract items that are most distinct in their colours and not so much in their shape.
The symbols are:
Free Spins: Get 3 or more Free Spins symbols on the screen to activate the Free Spins mode. Players receive a maximum of 20 free spins with 6 symbols.
Bomb: The Bomb symbol will explode all reel positions in a star formation, clearing up to 16 tiles.
Red Scroll: Max. 1,000x your bet with 48-of-a-kind on the screen.
Yellow Box: Max. 800x your bet with 48-of-a-kind on the screen.
Pink Box: Max. 600x your bet with 48-of-a-kind on the screen.
Purple Cylinder: Max. 400x your bet with 48-of-a-kind on the screen.
Green Fish: Max. 300x your bet with 48-of-a-kind on the screen.
Blue Box: Max. 200x your bet with 48-of-a-kind on the screen.
Red Gem: Max. 100x your bet with 48-of-a-kind on the screen.
Yellow Gem: Max. 100x your bet with 48-of-a-kind on the screen.
Pink Gem: Max. 100x your bet with 48-of-a-kind on the screen.
Purple Gem: Max. 100x your bet with 48-of-a-kind on the screen.
Green Gem: Max. 100x your bet with 48-of-a-kind on the screen.
Blue Gem: Max. 100x your bet with 48-of-a-kind on the screen.
Even though the maximum values are high, it's obviously very unlikely you'll have an entire screen full of the same symbol. Nonetheless, the payouts were rather high but the number of different symbols balanced it out, resulting in a Medium Volatility. While I was playing Brazil Bomba I noticed the occasional big win but overall I would slowly lose funds and never get back to my starting position.
Features
Brazil Bomba takes some steps away from the classic slot format and doesn't use too many other features. This keeps it from becoming too complicated. The features in this slot include:
Non-Standard Reels: The game has a 6×8 playing field.
Cluster Pays: Wins are counted when the same symbol touch in groups of 6 or more. These can touch horizontally, vertically or diagonally to count.
Cascading Reels: Whenever there is a win, the symbols involved disappear and are replaced with new symbols. This can repeat indefinitely.
Multiplier: Whenever there is a win, the multiplier goes up by 1. Every time the cascading reels trigger another win the counter goes up.
Bomb Symbol: Whenever the Bomb symbol is on the screen, the woman on the side shoots a bomb at it, causing it to explode and make room for new symbols to drop in.
Free Spins: With 3 or more free spins symbols on the screen the Free Spins mode starts.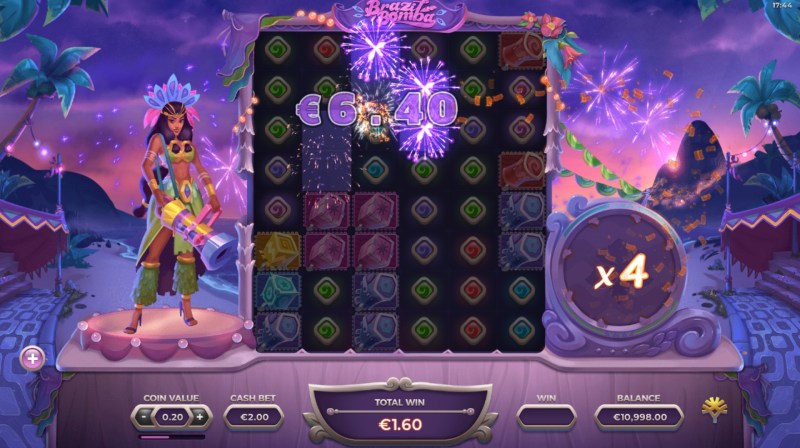 Players with some experience with cascading reels and cluster pays won't find any surprising elements here. The goal is to get a cluster of at least 6 symbols together. What I did think was unique to this slot is that symbols that only touch diagonally also count towards the cluster, making it a little more likely to get a win.
New players will probably need to get used to the gameplay itself before they can begin to enjoy themselves. The cascading reels are another element that you won't find in classic slots. Even though I think it explains itself as you play the game, it is a departure from the normal gameplay.
The Free Spins mode triggers the same way as in other slots, and the mode itself also works the same way. It's essentially the same as the base game, except that the multiplier counter does not reset with every spin. This can result in the multiplier going above 10x your bet, making this part of the slot the time to get really big wins.
In my experience, it did often play out that way but even then the wins weren't enough to compensate for my losses. As a result, I found my funds to drop rather steadily over time.
Conclusion
Brazil Bomba is a great looking slot that gets bonus points from me for being set in Brazil and not using carnival as its source of inspiration. Instead, it uses some classic South-American garbs to create the idea we're back in time and coupling it with a gameplay feature.
Players that are looking for a beautiful game that doesn't rely on the usual classic slot elements will have a good time with this game. The different mechanics explain themselves and I didn't need to look at the paytable to figure it out.
The game allows players to pick a bet between $0.10 and $50 per spin. The maximum win of 8,975x your bet is quite sizeable but I never felt like I was close to winning it. Players that are looking for a purely classic slot will not find it here, but if you're in an adventurous mood I would definitely recommend it.