Pumpkin Smash mixes Mexican folklore and Halloween into a special whimsical slot where players can win bonus coins and free spins from smashing pumpkins!
This game was originally developed and released by Yggdrasil in 2017, appearing on my radar quite early in its life cycle due to the great graphics. It reminded me a lot of Esqueleto Mariachi by Red Tiger Gaming, using the familiar cartoony look for the skeletons and the art in general.
Pumpkin Smash is seemingly set at the gates of a quaint Mexican town that's decorated with candles and pumpkins. The 5-reel, 3-row playing field is filled with skeleton symbols as well as card suits and the obvious pumpkins. I thought the art was really good, although it's a little uncanny how close it resembles that other slot by a different developer. I understand they both drew inspiration from an existing art-style but it seems neither injected much of their own unique interpretation into the design.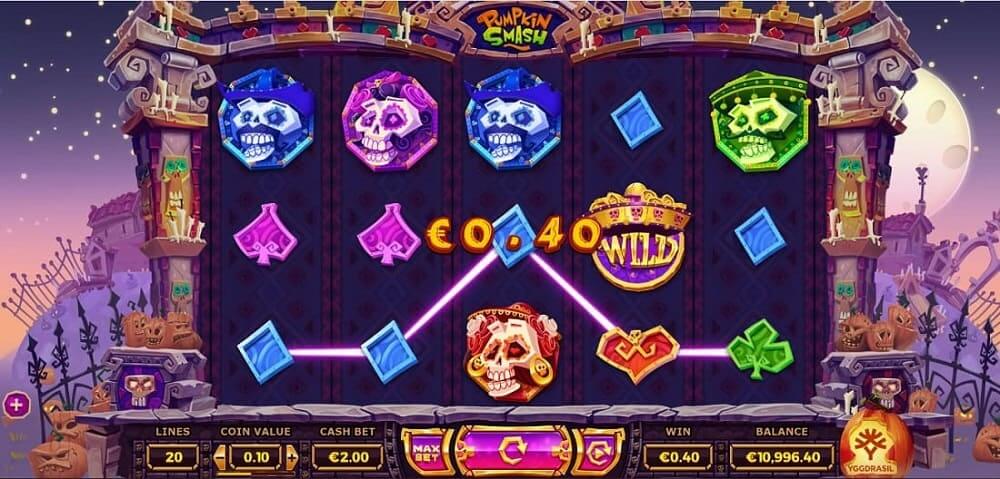 There are quite a few animations in this slot, from the bonus symbol laughing to the different symbols moving when they're on one of the 20 paylines. There's even a short intro cinematic that gives us a quick look at the pumpkins literally shooting out of a grave!
The sound design is similar to the graphics: very high quality but also quite uninspired and familiar. There is a mariachi band playing as the reels spin and any wins are amplified with a happy jingle. It sounds great but at the same time doesn't add anything new.
Symbols
All of the symbols in the game fit the style of the slot very well, but the low-paying card suits don't really fit the theme. The high-paying symbols are different coloured skulls with some characterisation between them but not enough to really tell them apart easily.
The symbols are from highest to lowest:
Pumpkin: With 2 on the screen at the same time the bonus game starts. During the free spins mode, it requires only 1 Pumpkin to activate the bonus game.
Wilds: Substitute all other symbols in the game except the Pumpkin symbol.
Red Skull: Max. 1,000 coins with five-of-a-kind on a winning payline.
Purple Skull: Max. 800 coins with five-of-a-kind on a winning payline.
Green Skull: Max. 600 coins with five-of-a-kind on a winning payline.
Blue Skull: Max. 500 coins with five-of-a-kind on a winning payline.
Heart: Max. 100 coins with five-of-a-kind on a winning payline.
Club: Max. 90 coins with five-of-a-kind on a winning payline.
Spade: Max. 80 coins with five-of-a-kind on a winning payline.
Diamond: Max. 70 coins with five-of-a-kind on a winning payline.
As much as I liked the design of the symbols, I do wish the developers would have tried a little harder to leave their mark on the slot. It just looks really familiar and that makes it hard for this game to set itself apart.
Features
Pumpkin Smash is rather light on features but that doesn't mean they aren't good.
The features are:
Wilds: Wilds substitute all other symbols in the game except the Bonus symbol.
Bonus Game: With 2 or more Pumpkins during the regular game or 1 or more Pumpkin during free spins mode, the bonus game Pumpkin Smash starts. Here, the Pumpkins are smashed to reveal their content.
Free Spins: When a smashed Pumpkin has free spins in it, this will trigger the Free Spins mode.
The main feature to be on the lookout for is the Bonus Game, which triggers whenever you get 2 or more pumpkins on the screen at the same time during the base game. When that happens, the game switches to a special room where the pumpkins are opened one at a time. A pumpkin can contain either a coin win or free spins.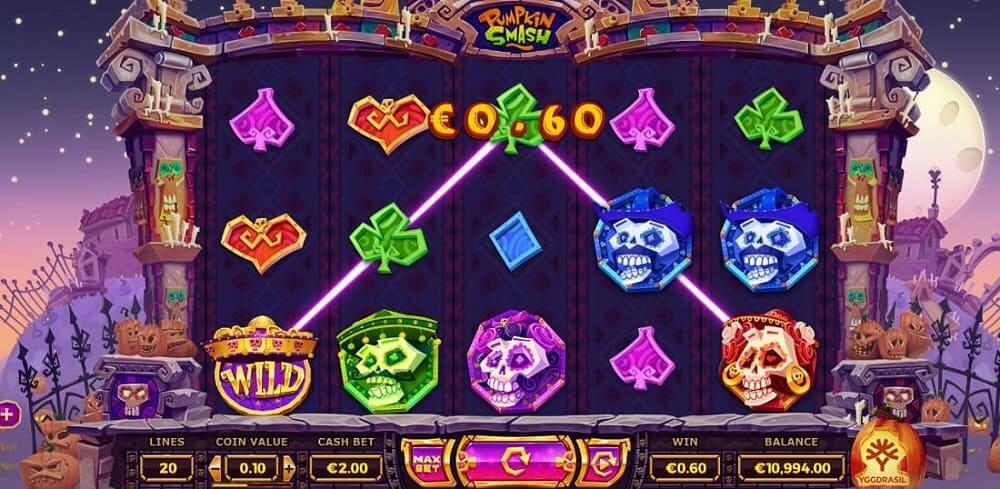 I found the bonus game to trigger fairly regularly but it would almost never have free spins in them. It meant getting a nice coin injection every so often but what I really wanted was to get the free spins. That's because the pumpkins work slightly different in the free spins mode.
When in free spins mode, a single pumpkin will trigger the Bonus Game. Now, a pumpkin can contain a coin win and additional free spins, but also multipliers for all symbols in the game. That means that, for example, the red skull can get a 2x multiplier for every win during the free spins mode. This effect stacks, so if there is another pumpkin it may contain another 2x multiplier for the red skull, giving it a 4x multiplier.
In my experience, getting the free spins mode was very lucrative since there was only 1 pumpkin needed for a Bonus Game. There could be as many as 5 or 6 multipliers, coin wins and extra free spins in a single pumpkin. Playing with a low coin bet, you can choose between $0.10 and $100 per spin, got me a lot of bang for my buck. With Medium Volatility, I found a higher bet per spin drained my funds quite rapidly, especially considering the low number of appearances by the free spins mode.
Conclusion
Pumpkin Smash is an attractive slot that hits all the right notes when it comes to sound- and graphic design. Unfortunately, those notes are also quite easy to hit if other games by other developers are anything to go by. If you like a brightly coloured, Mexican-folklore based slot than this slot should definitely be on your list!
The Pumpkin Smash feature was quite appealing but I found the low occurrence of the free spins mode a drawback. I understand why Yggdrasil was conservative with it because the free spins would often be very lucrative, but as the highlight of the game, I would have liked to see it more often.
If you're a player that enjoys beautiful but rather simple slots with not a lot of features, I would recommend Pumpkin Smash. Just keep in mind that the free spins mode is rather rare and using bets that are too big might deplete your funds faster than you'd like.