Tesla Jolt is a slot game that promises its players an electrifying experience. Just like Nikola Tesla you're given the opportunity to turn electricity into something tangible. Brought into a gloomy, cartoon-style laboratory, you get to see the science at work.
The slot was released in 2018 and consists of 5 reels and 20 paylines. You can choose the size of your bet, ranging from $0.20 to $100 per spin. The maximum win is a jolting $100,000! So what are you waiting for? Let's do some research.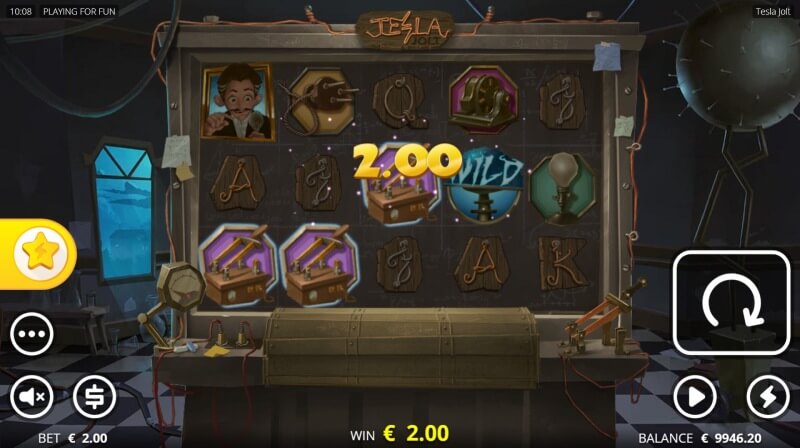 Graphics
The first thing that's striking about Tesla Jolt is the graphics. It's a unique cartoon style which resembles the soft Gothic taste of classic black & white horror movies. Not that this game is scary. If anything, it's based mostly on reality. Sure, I doubt Nikola Tesla did his experiments on a slot machine, but it looks effectively grounded enough to give you the sense you're really doing something scientific.
Of course, a game called Tesla Jolt can't go without a variety of electric effects and those look gorgeous. Bright blue and white bolts shoot across the screen when you have a combination. Random Wilds pop into life with a jolt from a Tesla orb and so on. Outside of the reels, you'll also find small details, like the voltage meter in the corner that does a little jump every time you get a win, or the lightning outside the window during the free spins phase.
Music & Sound
Tesla Jolt has a calm, rather monotonous tune playing during the game itself. It's not much more than a few basic notes playing in a loop. Once you hit three Tesla symbols you enter the free spins phase and the music immediately picks up. It's now upbeat and at a higher tempo, making you feel like something interesting is happening. Once you're out of free spins however, this tune stops and it goes back to normal. I wish they kept it playing because the standard song is pretty dull.
Another sign that the developers thought of the details right through is the range of little sound effects for what's happening on screen. From the myriad of lighting bolts crackling to the special Wilds countertop creaking open and closed; I really appreciate that they put the time and effort into implementing this.
Symbols and Features
Rather than dazzling you with a lot of different modes and features, Tesla Jolt keeps the number of extras pretty low. But that doesn't mean the game isn't exciting. During my time playing, I regularly hit the free spins phase, and with low volatility, you can count on small payouts almost all the time.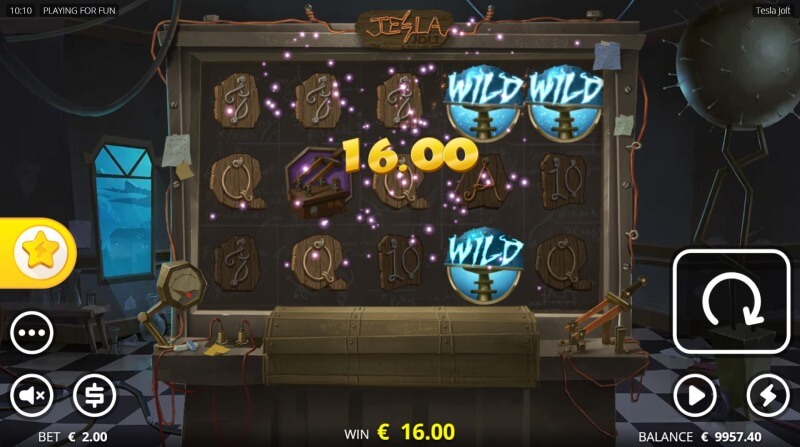 Let's just take a quick look at the different symbols and features:
Random Wilds. During base play, after a spin a random symbol can be turned into a Wild.
Wilds. Like most slots, this slot can have one or more Wilds per spin. Extra Random Wilds can still appear though!
Scatter Symbols. Land three Scatter Symbols anywhere on the reels to activate the free spins phase.
Free Spins. Prepare for a bigger payout when you activate the free spins.
If you hit 3 Scatter Symbols on one spin, it activates the free spins phase. You'll receive 10 free spins and every Wild on the first and fifth reel you get during this phase will add another two free spins. You'll also have the chance it activates additional Charged Wilds that add more Random Wilds.
As you can see, they really maximized the features they included! I feel like I hit this free spins phase enough times to keep it interesting.
Conclusion
Tesla Jolt is one of the favourites in the No Limit City stable and it's easy to see why. Gorgeous, fitting graphics. Quick playtime with frequent payouts and a free spins part that acts like a lightning rod for excitement. The music is good but not great and the slot has enough features that allow you to play how you like.
I played this slot a lot longer than I intended to for this review, simply because I was drawn in by the steady stream of payouts and the enticing look of the game. I kept noticing new little details in the background or hit the free spins phase right as I was ready to check out. If there's any commendation that I can think of showing the quality of a slot, I think it's that one!
I would definitely recommend this slot for anyone looking to play a nice, relaxing slot with plenty for the eyes. In my experience, you can't go wrong with Tesla Jolt. Just be ready to get jolted!