You can be in the company of comely vampires and stay beyond the crack of dawn with the Blood Lust slot. The game features three rows, five reels, and 99 paylines, which can create more winning combinations than one might imagine. Exploring this world requires only 20p per spin and may result in a sudden alignment of fully-stacked reels translating into big wins. I appreciate what ELK Studios has done with this title, which is furnished with an interesting gameplay model and a high volatility engine.
Theme and Design
ELK Studios has tapped into the inexhaustible potential of the chic-vampire theme. It is impossible to separate this from the love intrigue that's always part of the plot of movies about vampire romance. Even though I am not a big fan of this genre of film or literature, I can relate to Blood Lust simply because ELK Studios has nailed the graphic design and the features. The symbols aren't too impressive, but the overall dynamic of the reel set definitely is. Close-calls and winning outcomes are made known in a flamboyant visual effect. There is a lot of liquid-electric-fire type of movement surrounding the reels, symbol stacks, and individual symbols. All of this makes Blood Lust fun to play. There is an audio track that loops on and on, but the melody and the mood have been matched so well that you don't even notice it.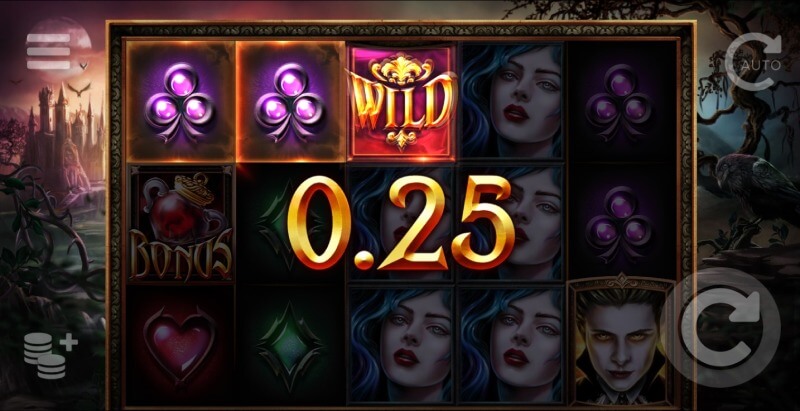 Blood Lust Highlights
Blood Lust comes with several highlights, including:
Paylines from both sides: The paylines in Blood Lust go from left to right and right to left.
Sticky wins: Sticky wins leave your winning combination on the reels for one more spin.
Freespins: You can get in-game free spins in Blood Lust.
Wilds: Wilds substitute any standard symbol and help create more winning combinations.
Scatter symbols: Collect scatter symbols to get free spins and/or cash prizes.
Blood Lust comes with three special symbols: the Wild, Respin, and Bonus symbols. In addition to the features related to these symbols, Blood Lust can do symbol upgrades and stacked reels. All of this clicks together pretty well when it does.
Symbol Upgrade: Each vampire symbol that lands on the reels automatically fills a gauge on its respective meter. When the meter gets filled, that symbol is replaced by the game's highest-paying Dracula symbol. This element of the gameplay is pretty beneficial when it combines with respins and boosted stacks.
Respin: The respin symbol can land on reel five only. When it does, it triggers a respin that comes with a high probability of posting high-paying symbol stacks.
Boosted Stacks: I like this feature because it can turn up a random number of boosted reels. In other words, you can get one vampire symbol kind to replicate on one, two, or more reels. With a Wild in the right place – that's first or second reel as the most preferred outcome – this feature can make some pretty decent winnings.
Free Spins: The bonus symbol is a scatter and can land on any of the five reels. You need three to trigger eight spins. This number can grow bigger if you land extra bonus symbols on the reels. Each bonus symbol during the free spins comes with +1 spin. These can add extra notches to your tally, but it gets better when you have a +1 symbol adjacent to +1 Bonus symbols. In this case, the number of free spins is greater than one.
Bets and Payouts
If you are new to online slots and see that you can only win 5p from a one-dollar bet for three matching card suits' symbols, you might think there is something wrong with the game. So how can a game that starts out really low have a maximum payout potential of $250,000? Upon closer inspection, the payout structure on Blood Lust is well-balanced thanks to the 99 paylines and an ingenious probability machine. All of the low values can add up when you land blocks or matching symbols or general winning outcomes that draw across more than one winning payline. It doesn't take too many spins to realize that the features kick in quite regularly. Getting three of a kind across two paylines and a wild or a booster may bring that spin closer to winning back your full wager or getting more. The bets on Blood Lust range between 0.20p and $100.00, which covers well the low, medium, and high stakes aspect of playing a slot game.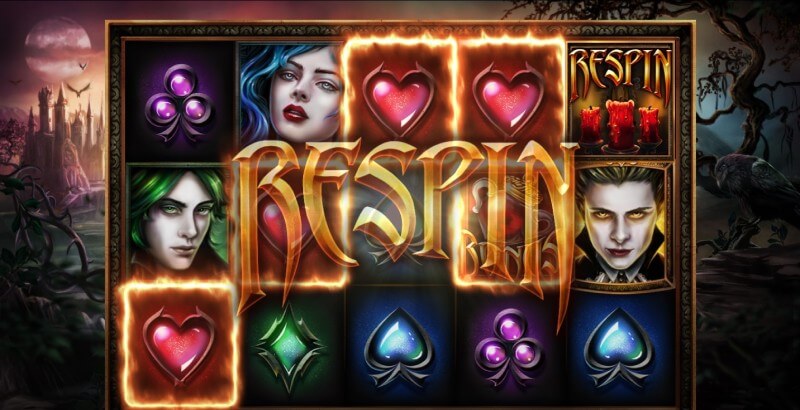 On another note, for those who don't know, games by ELK Studios come with their unique bet-sequencing apparatus accessible from the menu. You can choose one of the modes to enable the game to change the size of the bet according to a specific pattern. In my experience, this feature hasn't contributed to the gameplay, but it may be a matter of personal preference.
Conclusion
Those of you who are into the vampire romance theme will find Blood Lust enjoyable. I can't emphasize enough how entertaining the gameplay is – the graphics, the sound design, the overall mood – all of it. The other plate on the balance scale is for the features and gameplay, both of which are well-placed within the context. And lastly, the volatility. Blood Lust plays across a highly-volatile engine manifesting through a hit frequency of 23.5%. It is not impressive, but it is obvious that the potentially huge payouts (up to 2,500x your bet) are like "freak accidents" – they may occur on any spin.
Pros
99 paylines: Creates more winning combinations.
Theme and design: ELK Studios has nailed the graphic design and features, making Blood Lust visually appealing and enjoyable to play.
Interesting features: Blood Lust offers several highlights such as paylines from both sides, sticky wins, free spins, wilds, and scatter symbols, which increase the chances of winning.
Cons
Audio track: The audio track loops continuously, which might be annoying for some players.
Low initial payouts: The game starts with low payouts, which may be discouraging for new players.
Bet-sequencing apparatus: ELK Studios' unique bet-sequencing feature may not be useful or appealing for all players.