Fate of Fortune is a slot that will try and decide what your fate will be. A very interesting premise, especially considering the fact that fate can decide whether or not you get to benefit from its non-standard reels, Pays Both Ways mechanic and free spins.
The game was developed and released by Elk Studios in 2021, showing off the type of game they are able to make. As it turns out, they're quite good at making beautiful slots now. The game is built around an oddly shaped playing area. It has the usual 5 reels, but each has a different number of rows. Reels 1 and 5 have 5 rows, reels 2 and 4 have 3, and reel 3 is only a single tile. If you consider a rough H-shape to the reels you have a good idea of what you'd be looking at.
Fortunately, this doesn't impact the ability to get a win too much since wins are counted from both sides. Another element that increases the likelihood of a win is the fact the game only comes with 6 different symbols and the Wild and Scatter symbols. With 81 paylines you're looking at a decent possibility of winning some coins.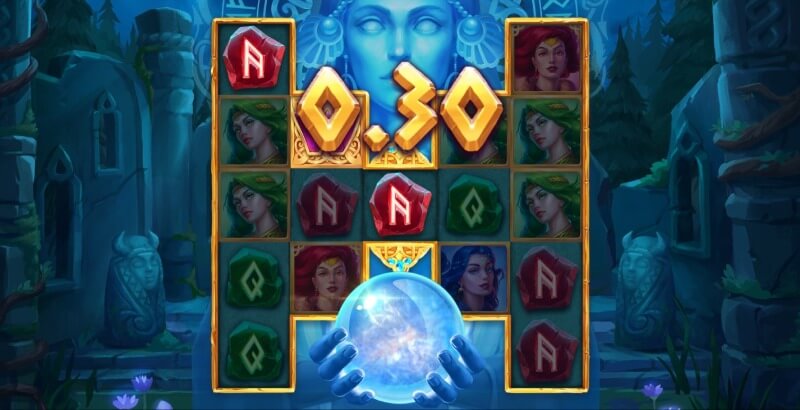 All of this is presented with some stunning graphics. The 3 Ladies are drawn in a realistic but cartoony style that fits well with the aetherial vibe. Meanwhile, the background shows us what seems to be some sort of outdoor offering shrine, with various small statues and decorated pillars. It all looks great, with a style that really appeals to me.
Symbols
Fate of Fortune only uses a handful of symbols to fill the reels. This is a good thing considering the odd shape of the playing field. The symbols are divided between the 3 Ladies that count as high-paying symbols and 3 runes that pay out significantly less. There aren't a lot of animations whenever there is a win, but if you activate the free spins mode you will be treated to some nice effects.
Players will have to prepare for the game's High Volatility. During my time playing, I found it quite hard to get a win and the payouts are not terribly large either. This meant that even when I did get a win, I rarely made my bet back. This is compensated somewhat by the features I'll dive into later. It's also why the RTP is listed as 95%, which is one of the lowest I've seen.
It is possible to negate the risks somewhat by picking a lower bet. For this, players can choose a bet between $0.20 and $100 per spin. On the contrary, power players might opt for bigger bets to increase the size of their winnings. Something to consider is the jackpot of 10,000x your maximum bet!
The symbols in the game are, from most to least important:
Bonus: Get 3 Bonus symbols on the screen to activate the free spins mode.
Wild: Wilds substitute all regular symbols in the game, except for the Bonus symbol. Wilds can have a multiplier associated with them.
Red Lady: Max. 2x your bet with five-of-a-kind on a win line.
Blue Lady: Max. 1.5x your bet with five-of-a-kind on a win line.
Green Lady: Max. 1x your bet with five-of-a-kind on a win line.
Red Rune: Max. 0.5x your bet with five-of-a-kind on a win line.
Blue Rune: Max. 0.5x your bet with five-of-a-kind on a win line.
Green Rune: Max. 0.5x your bet with five-of-a-kind on a win line.
Features
Fate of Fortune compensates for its smaller playing field and low payouts by including more features. This should help the player get bigger wins. If it really pans out that way is impossible to tell.
The features include:
Non-standard reels: The game has 5 reels with the reels having a different number of rows.
Pays Both Ways: Wins are calculated from left to right and vice versa.
Wilds: Wilds substitute all regular symbols in the game, except the Bonus symbol that acts as a Scatter.
Walking Wilds: Wilds that appear on reels 2 and 4 will move to the outer reels with every spin.
Random Symbols: Mystery Symbols can turn into the same symbol, helping to create a win.
Multipliers: Wilds can have a multiplier. During the free spins mode, these multipliers will be increased.
Free Spins: With 3 Bonus symbols on the screen the free spins mode is activated. During the free spins mode, every spin increases the multiplier. Every spin, mystery symbols will be nudged down.
Buy Bonus Game: With the X-iter feature, it's possible to activate the free spins mode manually. This does require an up-front cost.
While I played the game, the slot proves to be very dependent on the features that are included in the game. The base payouts for bets are very low, even a five-of-a-kind of the highest paying symbol only pays out 2x your bet.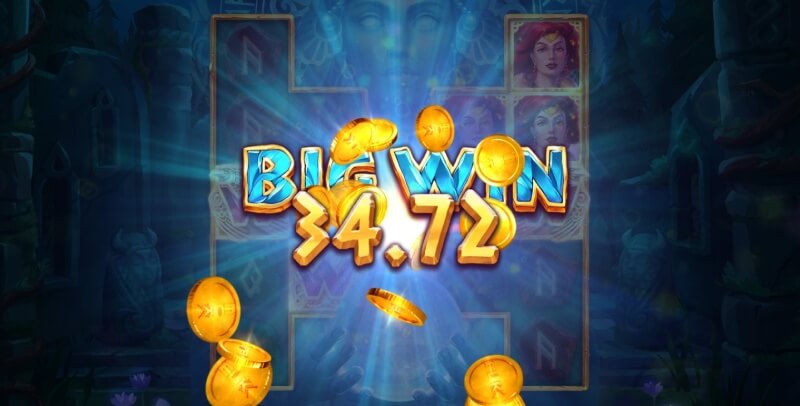 This means that without multiplier wilds or multiple wins, you are extremely unlikely to make back your bets. As a result, I saw my funds drain as I played with only very rarely getting a win. Even when I did get a win it was not enough to come back into the positives. The few times I got a bigger win, it was too little too late. This is something that especially casual players need to keep in mind.
Conclusion
Fate of Fortune brings the player into a magical looking world with some amazing graphics. The attention to detail is certainly commendable. I appreciated the way it was presented, and everything looks crisp and sharp. The setting feels appropriately mystical. The designers for Elk Studio clearly put a lot of effort into this.
I was not as excited about the gameplay. The non-standard reels didn't bother me that much and the different features are interesting enough. The problem for me was that they didn't have enough of an impact on the game. Even with all the features, the player is left to sit and wait for anything bigger than a win that pays out less than your bet.
As a result, this game feels very much like it's geared towards power players. People that can afford to set the bets on high and wait for a big win, even if it takes a few hours to play. This might be fun for them, but for the vast number of casual players, it's unlikely to be very appealing.