Xmas Joker is full of Christmas spirit. Relax and enjoy this heart-warming slot, which brings you the magic of Christmas.
Play'n GO released Xmas Joker at the end of November in 2015 and it was an instant hit. The game is a simple three-reeled, Christmas-themed slot, which is both a strength and a weakness.
Xmas Joker is a re-skin of Play'n GO's earlier fruit machine, Mystery Joker. That slot didn't make waves, but adding some Christmas magic made it popular. Sure, Xmas Joker might be a seasonal thing, but people still play it.
Graphics and sound
Xmas Joker doesn't go easy with the theme. The slot is green and red all over and the first thing you hear is some beautiful and relaxing music, which is an amalgamation of multiple Christmas carols.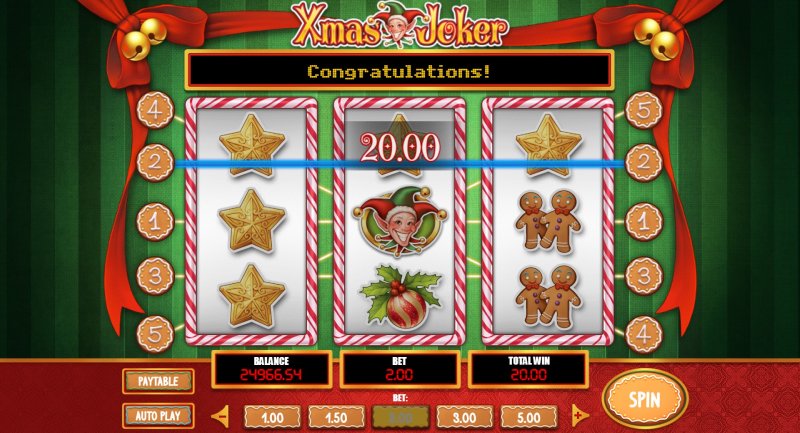 Sure, the slot may look like a shop window in December, but that's what we seem to want. The red ribbons surround the reels, golden bells are hung in the corners and Christmas biscuits mark the paylines. The slot has aged surprisingly well and even now, years after its release, the game still looks nice.
The theme is basically what makes this slot so good. I won't even consider playing it normally, but when December rolls in, I'm game. I'll just rummage through my decoration boxes, blow the dust off and enjoy every Christmas-themed slot I can find.
Symbols and wins
This game isn't littered with too many symbols. There are actually just five regular ones and two special symbols, of which one only appears in the Free Spin feature. You certainly won't get overwhelmed by these.
The regular symbols are Christmas biscuits, candy canes, baubles, bells and a star. The elf is a scatter symbol that can activate the Free Spin feature, and during those spins, you can get your gifts. The gift box is a special symbol that can give you a cash prize or extra spins.
The slot has three reels and only five paylines. The paytable is also very easy to understand, as there is only one possible win for each symbol. You just need to fill the entire payline with the same symbol to win.
The game is very simple, but in this case, that is a positive thing. You can really enjoy the mood for long even if you are playing with a smaller bankroll. The slot has medium volatility and a nice 96.98% RTP, which means that even the lesser wins can keep your bottom line in black.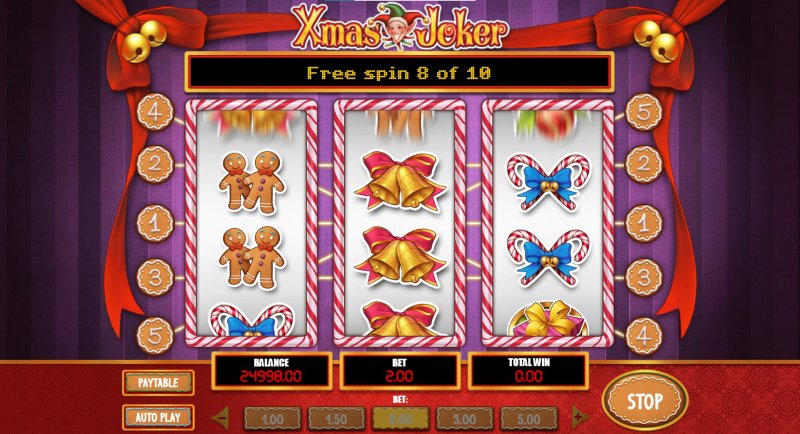 Features
Free Spins: Find the elves and play for free
The elf is a scatter symbol and you need at least three of them to activate the Free Spin feature. You get 10 spins, which have one extra symbol, a gift box. This is a gift from Santa and can have nice things in them.
You can re-activate the free spins. Just get at least three gift boxes on the reels and you will win 10 extra spins. The maximum amount of spins that you can have is 50.
Xmas Gift: Santa left you some sweet gifts
The gift boxes appear only during the Free Spin feature. They have two possible gifts for you, cash or more free spins.
If you get two gift boxes, you get a gift of 1-100 times your wager. If you get three boxes, you get an additional 10 extra free spins.
Final Thoughts
Xmas Joker is one of my secret vices. We can all see that the slot isn't anything to write home about. It doesn't have any really interesting features or huge wins, but what it has is spirit. This is a feel-good slot for me and that is enough.
If you compare Xmas Joker and Mystery Joker, you can see that one of these gets played and one doesn't. They are the same slot, but one feels aged and the other has a little magic in it.
No matter how much I criticise this slot, I will still play it in December. It is a part of my Christmas traditions, just like many other Christmas-themed slots.