Lucha Maniacs looks at the art of freestyle wrestling from Mexico, taking 4 of its characters and throwing them in the spotlight as they fight for fame and fortune!
The name Lucha Maniacs comes from Lucha Libre, which means freestyle wrestling in Mexican and is considered an important part of their culture. It is a form of professional wrestling where show and style count and it's not so much a competitive sport.
Yggdrasil took the clever decision to take inspiration from this fascinating aspect of Mexican culture and turn it into an engaging slot. Released in 2018 the game follows 4 wrestlers as they fight each other and hopefully make it in the big city!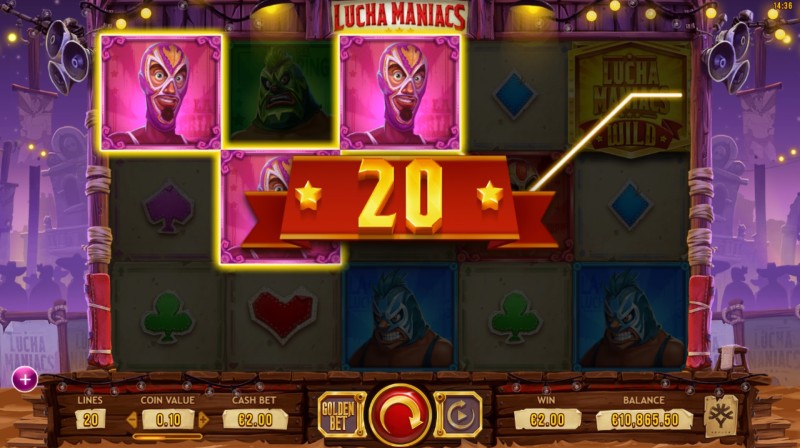 The slot used the classic 5-reel, 3-row playing field with 20 paylines to show us the action. Everything was beautifully drawn, with especially the characters having a lot of personality. As the game progressed we're treated with a cinematic to see their rise to success! Here, the background changed from a poorly looking backyard to a clean and crowded stadium.
Luckily, the sound design was on par with the graphics. There was a pleasant Mexican tune playing as we fought the reels and playful jingles sounded when there was a winning payline. I would have expected to hear crowds cheer as this happens because of the setting but they omitted that.
Symbols
All the art in the game was extremely well-drawn and the symbols were no exception. The game used card suits as the low-paying symbols which was a little disappointing but they were still drawn in such a way that they fit them. They looked like they were stitched onto the cloth, keeping with the low-budget setting of backyard wrestling.
The symbols are from highest to lowest:
Wild: Substitutes all regular symbols, not the Bonus Symbol.
Bonus: Get 2 on the screen to pick an extra bonus. Get 3 or more on the screen to activate the free spins mode.
Red Wrestler: Max. 200 coins with five-of-a-kind on a winning payline.
Purple Wrestler: Max. 200 coins with five-of-a-kind on a winning payline.
Red and Purple Wrestlers: Max. 200 coins with five-of-a-kind on a winning payline.
Green Wrestler: Max. 175 coins with five-of-a-kind on a winning payline.
Blue Wrestler: Max. 175 coins with five-of-a-kind on a winning payline.
Green and Blue Wrestlers: Max. 175 coins with five-of-a-kind on a winning payline.
Heart: Max. 70 coins with five-of-a-kind on a winning payline.
Spade: Max. 60 coins with five-of-a-kind on a winning payline.
Club: Max. 50 coins with five-of-a-kind on a winning payline.
Diamond: Max. 50 coins with five-of-a-kind on a winning payline.
The symbols were animated. While the card suits were pretty simple, the high-paying symbols with the characters showed a more elaborate reaction when they were part of a win.
Features
The game had only a few features but it gave the game enough of a unique style to set itself apart. What also helped was that there was a lot of randomness in which features were activated during the game, especially the free spins mode.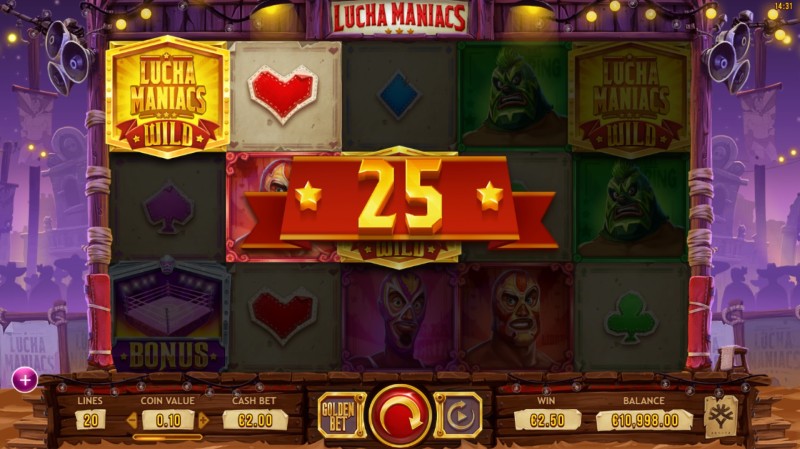 The main features were:
Wilds: The game adds wilds to the reels, substituting all regular symbols.
Free Spins mode: Getting 3 or more Bonus symbols on the screen activates the free spins mode.
Golden Bet: Activate this to increase the cost per spin with +5 coins but you get to pick an additional feature during free spins mode.
These were the basic features you would play with during the game. However, when you entered the Free Spins mode you got to pick 4 random features which could include the following bonuses:
Extra free spins: You get +2 or +4 free spins on top of the free spins you get from getting 3 or more Bonus Symbols.
Random Wilds: An additional 1 or 2 random wilds each spin.
Sticky Wilds: Adds Sticky Wilds to reel 2, 3 or 4.
Merge: 2 High-Paying symbols merge into 1, combining their features and payouts.
High-Symbol Wild: A High-Paying symbol turns into a Wild.
High-Symbol Stacked: A High-Paying symbol is stacked on the reels.
High-Symbol Multiplier: A High-Paying symbol gets a 3x multiplier.
Finally, there was the occurrence where you got 2 Bonus Symbols on the base game. This lets you pick 1 of 4 cards, which could contain:
Bonus Symbol: An extra Bonus Symbol, which starts the Free Spins mode with 7 Free Spins and 3 features (or 4 with Golden Bet activated).
Coin Win: You win either 20 or 80 coins.
As you can tell that was quite a lot of features but luckily they're mostly hidden behind random choices. You simply picked blindly when getting 2 Bonus Symbols or the Free Spins mode triggered and the game would apply the bonuses automatically.
I found it to be a nice way to create some randomness to the game, having each free spins mode play differently because of the different combination of features. I'd suggest you enable the Golden Bet feature as I noticed a marked difference between 3 and 4 choices, but it obviously comes at an extra cost per spin which is something to keep in mind.
Conclusion
Lucha Maniacs is a fun, light-hearted game that takes an interesting concept and turns it into an enjoyable game. It stays pretty close to the classic slot gameplay while injecting quite a lot of features that make every playthrough different.
If you're the type of player that enjoys beautiful games that allow a lot of randomisation but don't go too far from the classic slot experience, Lucha Maniacs is for you. There is plenty to see and do, and even after playing for several hours, I was surprised by the different combinations of features in the free spins mode.
Finally, the game offers the ability to pick a bet between $0.08 and $125 per spin. The game's High Volatility gives rather impressive wins but also pretty spaced out which necessitates some care when placing bets. The max. win of 600x your win isn't that impressive but considering the higher regular wins, it doesn't have to be the goal.