In this sleepy town, the mosquitos are the lesser evil of the flying, blood-sucking creatures! In the slot Wild Blood, you're investigating the odd cases of disappearances and strange markings on found victims' necks. It almost looks like someone has sucked all the blood out of them, but vampires are only a legend, aren't they?
You soon take an interest in a newcomer. He's a tall, handsome guy with strangely enchanting eyes. When you offer him a glass of wine in a bar, he says that he doesn't drink… wine. Soon, it's clear that he's the culprit you're after – but catching him isn't an easy thing to do when he has already gathered a pack of vampires to protect himself.
Play'n GO released Wild Blood in 2013. Even if vampires are immortal beings, sadly, the game is not. The age has gnawed the slot with its pointy teeth here and there, and the slot feels a bit clunky and worn. However, the game works just fine even when the visuals and features aren't quite up to today's standards anymore.
Graphics & sound
As I've stated in many cases before, I love everything horror-related and especially supernatural horror – so vampires are pretty high on my list. But, I think Wild Blood definitely has the vibe of a TV show for tweens, as I realised that the slot reminded me of Vampire Diaries. And I, for one, prefer Stoker's Dracula over those insanely good-looking and broody beings of tight muscles and full lips.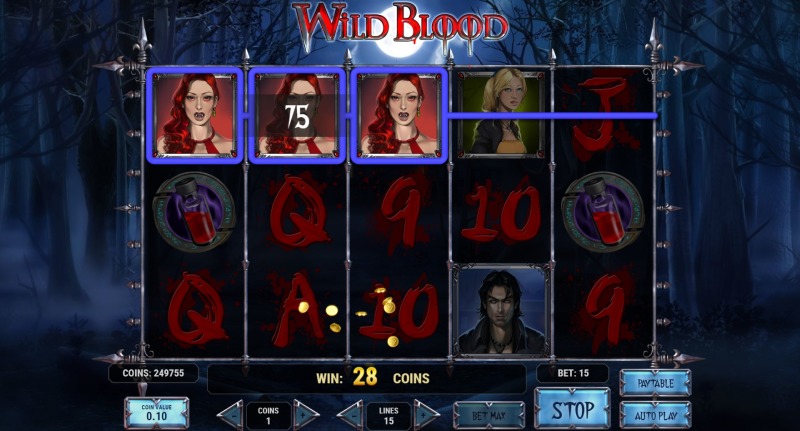 Anyway, Wild Blood does still have at least some of its charm, even if it has the slight scent of decay on it (like I imagine a vampire would have). The game interface is the old model Play'n GO was using back in the day and the animations of the game might have been nice in 2013, but nowadays they look a tad rustic. Like the blood that's dripping from the title, which resembles the old gifs we all used in our crummy web pages in our teens.
The slot is full of blood spatters and the game is surprisingly gory – with the characters having blood trickling from their mouths, and the symbols shining bright red. So, if you're not a fan of seeing blood it might be best to avoid this one.
I do like the background music and together with heartbeats of the reels, it's almost relaxing. The sound effects, however, did annoy me just enough for me to turn the volume off.
Symbols & wins
Wild Blood is a slot game with five reels, three rows and 15 paylines going from left to right. The minimum bet for a single spin is 1 coin per payline, so 15 coins if all of the paylines are active.
The wins are announced in coins. You can adjust the number of coins per payline (from 1 coin to 5 coins) and the value of a single coin in actual currency. Also, in Wild Blood, you're able to deactivate the paylines if, for some reason, you don't want to play with all 15 of them.
I don't recommend deactivating any of them, though, because the best chances of winning come with all of the paylines being active. However, if you're looking for a game where you can spend those last coins, then Wild Blood is a good option next to Book of Dead.
During the game, it's possible to collect Scatter wins, trigger re-spins with a sticky Wild and activate free spins by landing three blood vials.
High paying symbols:
5 x red-haired woman pay 750 coins
5 x brown-haired woman pay 500 coins
5 x blond-haired woman pay 250 coins
Low paying symbols:
5 x A or K pay 150 coins
5 x Q or J pay 125 coins
5 x 10 or 9 pay 100 coins
Special symbols:
5 x Wild pay 2,500 coins. Substitutes all other symbols except the Bonus, the re-spin symbol and Scatter.
5 x Scatter pay 50 coins. During the free spins, two or more Scatters raise the win multiplier by one and up to 5x.
Blood vial (Bonus) doesn't pay anything on its own. Three Bonus symbols trigger the bonus game where you can win free spins.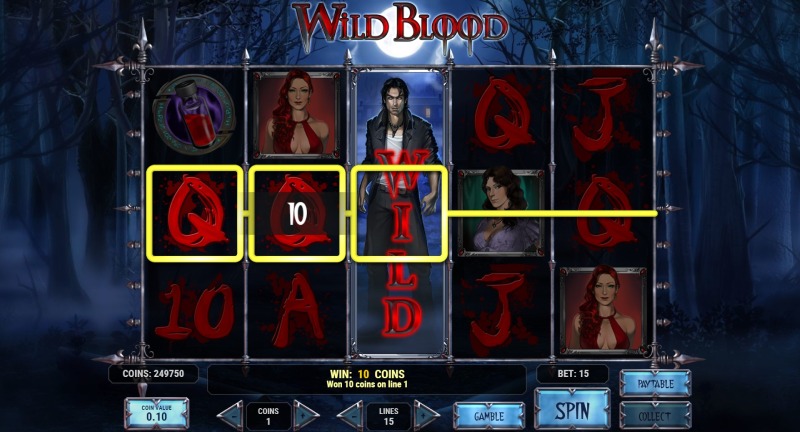 Features
Expanding wild: The Wild of the third reel can grow to a stacked Wild if it can create a winning combination.
Re-spins: You win 5 re-spins if you manage to stop the re-spin symbols on reels 2 and 4, plus the expanding Wild on reel 3.
During the re-spins, the expanding Wild sticks to its place as a stacked Wild. It's possible to win two extra spins by landing the re-spin symbols again on the reels 2 and 4.
Bonus: The blood vial on reels 1, 3 and 5 activates the bonus game.
In the bonus game, the objective is to choose one vial at a time. There are six vials in total, and they contain either coin wins or free spins. The game ends when you choose the vial that turns black after shaking it.
Free spins: The free spins start if they're won from the bonus game.
The free spins automatically have 2x multiplier on all wins. Landing two or more Scatters adds plus one multiplier, but the maximum is 5x.
You can also retrigger the bonus game by collecting three blood vials and choosing the bottles containing more spins.
Double-up: You may choose to double-up instead of collecting your wins.
Selecting double-up takes you to a mini-game of guessing the card. If you guess the colour right you get 2x your win and guessing the suit right awards your win multiplied by 4. A wrong guess means you lose everything you are returned back to the main game.
Final Thoughts
I can't remember the last time I had to spend so many spins and so much time to try to trigger any of the game features. So, despite having medium volatility, Wild Blood can be very stingy when it comes to the re-spins or free spins.
When this happens, the base game and spinning without activating anything does get tedious. The base game isn't really that interesting and only with 15 possible paylines, the basic wins can be a chore to come by. Because of this, Wild Blood does feel more like a highly volatile game instead of what it is.
Play' n GO did release a sequel to Wild Blood in 2020. In comparison, Wild Blood 2 is far more interesting and has more diverse features – which is why I much rather play it over this one.