If you ask me what WiXX means, I have no idea. But somehow the name is fitting for the slot it represents. It has a distinct neon-aetherial style with a suiting electronic soundtrack to accompany it. More on that later.
WiXX has been created by Swedish software developer No Limit City and was released in 2017. The slot has a rather unique 4 reels and 81 paylines. Players can win up to a maximum of $100,000 and can choose bets between $0,10 and $50, so you're free to decide how much you want to spend.
The game comes with some quality of life features, such as Autoplay and Quickplay. Should you want to walk away from the keyboard for a minute but not interrupt your game, or maybe you're in a rush and just want to get some spins in, WiXX has got you covered!
Graphics
As usual, I'll start with the graphics. WiXX is pretty abstract in how it's presented. It uses neon colours and a series of gems to represent the different symbols. The background pulses with every spin and winning combinations come with a flurry of colours and animations. Triggering a big win where you're 'WiXXed' earns you a nice graphic.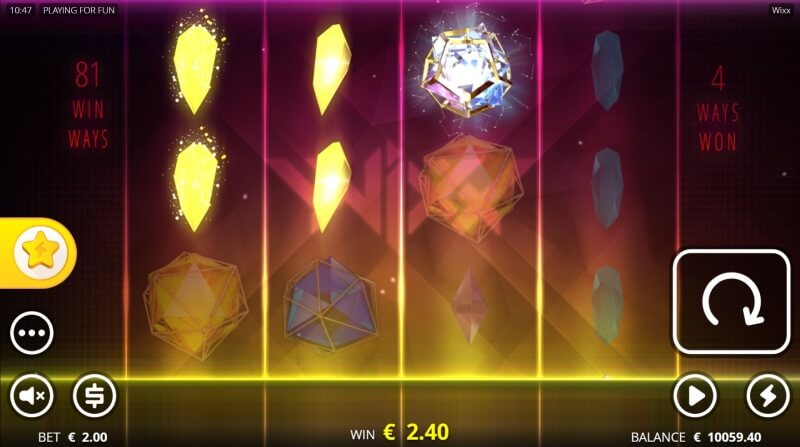 That said, upon closer expectation the graphics disappoint. The gems look pretty flat and on bigger screens, the resolution doesn't keep up. It depends on what you expect from a slot game, but in my opinion, it might've profited from some extra flourishes.
Sound
The WiXX slot comes with an energizing upbeat synth beat that perfectly fits the style of the game. It sounds like a song from outer space and the quality was especially good. I'd recommend turning up the music to listen to it if you enjoy this style!
Other sound effects fit the music and the graphics well. I sometimes even confused the effects as part of the song since they blend so well together. Depending on the size of a win, the effects get more extravagant to emphasize your good fortunes.
Symbols and Features
At its heart, WiXX is a pretty classic slot. Paylines go from left to right and you're looking to get the maximum amount of the same symbol on any of the 81 paylines. Where it differs the most is the fact that the slot only uses 4 reels. That means a couple of things.
The first thing is obviously that it's impossible to get 5-in-a-row. The highest combination is four. The second thing is that with 81 paylines, the odds of you hitting a payline is much higher since there are only four reels on which symbols can appear. I believe it evens out quite well. In my time playing it, I had semi-regular smaller wins and the occasional bigger win with the aid of the Wilds.
In total you'll find 8 symbols in the game. Depending on if you get three or four-of-a-kind, they have different values. Their value is, from highest to lowest:
Ruby (0.5x – 5x)
Topaz (0.5x – 3.5x)
Sapphire (0.5x – 2.5x)
Shards in blue, turquoise, purple, and yellow (0.2x – 0.3x)
The last symbol to mention are the white crystals which are Wilds, but they have no value by themselves.
The main feature I'll take a look at are the four-of-a-kind wins. Depending on which symbol you get a combination with, you'll get a unique type of win. Let's go over them one by one.
Ruby Booster Respin: Four Rubies in a row activates this feature. The Rubies transform into Stacked wilds and give you a free spin.
Topaz Booster Respin: Four Topazes in a row activate this win. All crystals turn into boosted symbols with a 5x multiplier. Here too you'll receive a free spin to profit from this win.
Sapphire Booster Respin: When you land four Sapphires on a spin, the Sapphire will get stacked and you'll get a fourth reel filled with Sapphires during the free spin.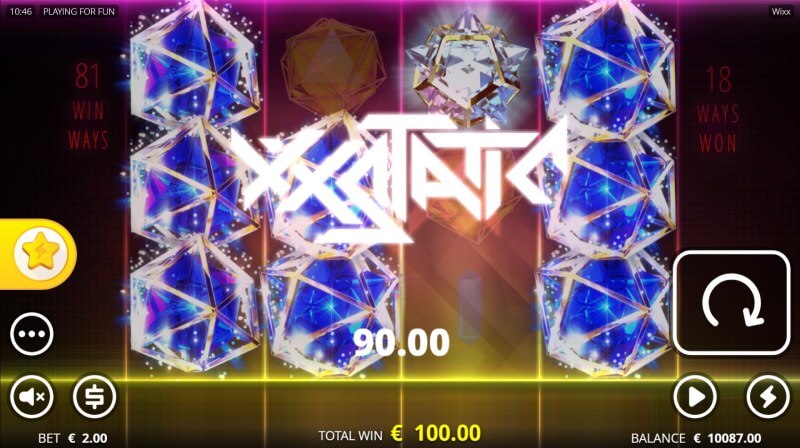 That's not all though. If you're somehow lucky enough to get two four-of-a-kind wins at the same time, you'll activate other bonuses.
Ruby and Topaz. Get these two together and it will turn all Rubies and Topaz crystals into stacks, as well as any Wilds that appear. That's not all, it'll also add a 5x Multiplier too.
Ruby and Sapphire. The Rubies turn into Wilds and the other symbols appear stacked. Again, you'll receive more with reel 4 being filled with Wilds.
Topaz and Sapphire. These give you a respin with sapphire, ruby and topaz symbols all stacked. You'll also get a 5x multiplier.
Conclusion
The WiXX slot is a nice little game if you're looking for something that's not exactly simple but which also does not overwhelm you with an avalanche of features and special bonus actions. All you really have to do is choose your bet and start spinning!
The slot has a high volatility, which means that you're going to get less payouts but they will on average be higher. Games like WiXX are for players that are looking for some more excitement and don't want a steady trickle of lower payouts.
I like the graphics although they're a little simple and the music is a really good fit. I even had the sound on for most of my time playing which is not something I normally do. The quality of the game itself is good and does everything as it should.
I would recommend WiXX for players that are maybe looking for a variation on the standard 5 reel slots without immediately heading into the more abstract slots. Instead this serves as a good middle ground that still adheres to the basic rules and modes of a slot.