Legends say that Louisiana mangrove swamps are full of gold and zombies. Can you get the treasure and make it out alive?
A foreboding green mist covers the swamps, as the treasure hunter Kane makes his way to the shaman's hideout. This is where the gold should be, but this is a dangerous place. Even the dead won't stay dead in these parts.
ELK Studios released Voodoo Gold in the fall of 2019 as a part of their Gold series. It follows games like Tahiti Gold and Ecuador Gold, which all share similar mechanics.
Voodoo Gold is based on folklore from the Deep South. The mythical customs of the Haitian people mixed well with the swamp folk and created a strange brew. Do you dare to venture deeper into the unknown and find out what goes on in there, or will it become your watery grave?
Graphics and sound
ELK Studios is known for their amazing visuals and great music. Their games are often thought to be one of the best-looking games on the market and I wholeheartedly agree. Voodoo Gold is also a great example of that.
The game just looks gorgeous. The theme plays a vital part and you actually feel like you have a reason why you are spinning the reels. ELK paid attention to every little detail, including the symbols and the animation. For example, the skulls that are carved on the trees grow as your playfield grows and light up when you activate the Free Drop feature. This is totally unnecessary for the gameplay, but it makes the game feel more alive.
And then there is the music. You can't have a swamp setting in Louisiana without a lonesome steel guitar. The eerie sound is a sign of danger and you know you are in way over your head. It's not a duelling banjo, but it's close.
Symbols and wins
If there is one thing I love in slots, it's when all the symbols actually look like they belong in the game. That is the case in Voodoo Gold, where everything fits the theme.
The symbols are divided into three tiers, which have the same or similar payouts among them. The surprising thing is how low all of the wins are across the board. The low-tier symbols only give you back 20% of your bet at best. This is because of how the game works, as you can get multiple wins on a single spin.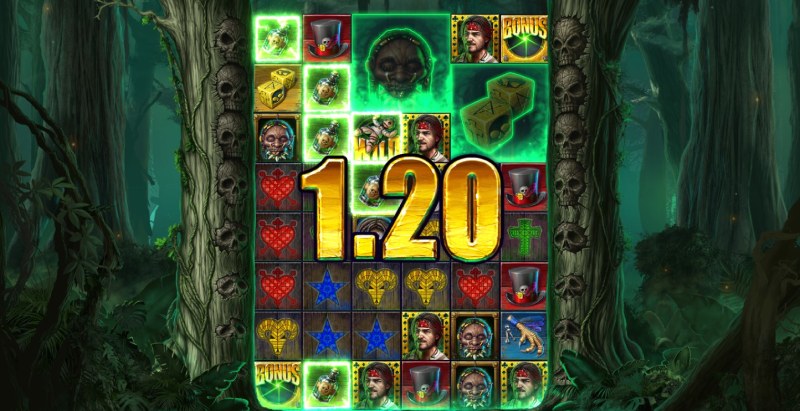 To start off, the game has no paylines and you can win any way. Then there is the Avalanche feature, which destroys all the winning symbols and drops new pieces down to fill the gaps. The last thing is that the playfield grows with every win, so you get even more symbols on the screen at once. Add all of these together and you start to see why the paytable looks so weak.
One thing that makes winning a bit easier, is the special Free Drop feature. If you get at least three bonus symbols on the screen at the same time, you get to play for free. What makes it special, is that wilds are now sticky and you get to start your spins higher and higher every time.
Let's still get one thing straight, winning isn't easy in Voodoo Gold. The wins are rare, but when you do hit them, they are big. There are no in-betweens here, just everything or nothing.
Features
Avalanche: New symbols fall down and create new wins
A single win is not worth much in Voodoo Gold, but with the Avalanche feature, you can win multiple times per round. All winning symbols are removed from the reels and new symbols fall down from the top to fill the gaps. They can then create new wins and you repeat this until there are no new wins available.
Voodoo Gold has another little trick when it comes to wins. Each win will also increase the height of the game by one row. The maximum is 8 rows and the playfield will reset between rounds.
Big Symbols: A giant symbol is easy to hit
Every once in a while a gigantic symbol can fall down. Big symbols can be 2×2, 3×3 or even 4×4 and any symbol can appear as a colossal symbol. They are a bit sneaky symbols though, as they only activate if they touch the bottom of the screen.
In the meantime, if there is a gap under a big symbol where it can't fit, wild symbols then fill the space.
Bomb: Make some space with explosives
Bonus symbols are fun and exciting. They always carry a bomb with them, which will fall out and blow up some symbols around it. This will create a hole where new symbols can fall in. If there are two bombs on the reels at once, they draw a line between them and blow even more stuff.
After the explosion, the bonus symbol will stay in play. They are scatters that can activate the Free Drop feature.
Free Drop: Free spins are worth their weight in gold
Get at least three bonus symbols on the reels and you are led to the deepest parts of the swamp. Here you get to play for free and try to hit those massive wins. With three bonus symbols, you get 6 spins and getting more can earn you up to 15 spins.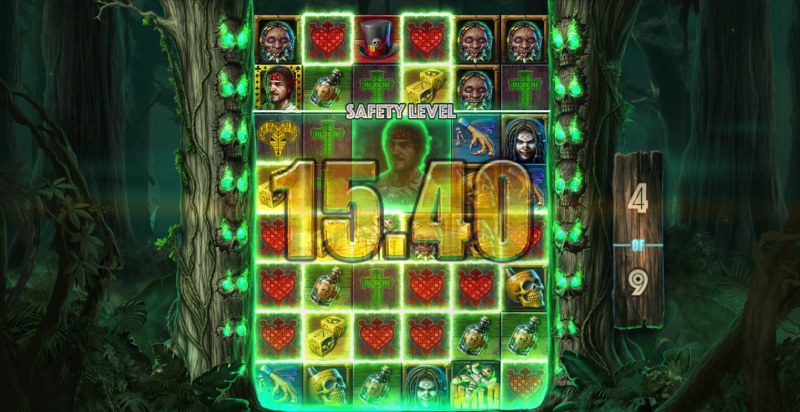 During the Free Drop feature, all wilds are sticky. They just drop to the bottom and stay there until the feature is over. You also get a safety line, which goes up with every win. It is the height where all your future free spins will start at.
Final Thoughts
Voodoo Gold looks amazing and ELK did a wonderful job once again. The theme was the thing that drew me in and got me to try it out. Unfortunately, that alone wasn't enough for me.
In the end, I was actually somewhat disappointed in the game. It has a lot going on, but the game just doesn't feel balanced. It is too volatile for my taste and winning was just too difficult. When you go through 40 spins and only once get more than you wagered, you lose interest pretty quickly.
I can easily see that some people will love this slot for the same reason why I don't love it. If you like high-volatility games that promise huge, but rare wins, then this game is made for you.