Fire Toad is a slot that will focus on a toad who is on fire. Don't worry, he doesn't seem to mind and has a good time sitting on his leaf and watching other animals that are equally on fire. Players who want to join him can also enjoy free spins and wilds as well.
This rather peculiar slot was developed and released in 2021 by Play 'n GO who have some experience with creating original concepts. The game takes a rather strange concept and runs with it, injecting a lot of details into the gameplay as we go. The main character, so to speak, is the fire toad himself. A chubby red toad with fire coming out of its forehead. How that happened is never made clear. The fact the other animals on the 5-reel, 4-row playing field also have it makes it seem like that's just how it is where they live.
There are quite a number of interesting details and fun animations to spot here. In the background we can see what seems to be a pit with magma pouring out, turning the surrounding water into steam. Perhaps that's why we got this unique combination of amphibian and fire. We can see the hot molten stone flow out of the pit, as well as the water gently moving and steam rising up.
The animal symbols also move a little, especially when they're on one of the 1,024 paylines. This will trigger them to do a little dance or twirl. The fire toad himself does a lazy but funny hop straight up. It's subtle but I felt like it added some much-needed movement to the screen, something other slots often don't do.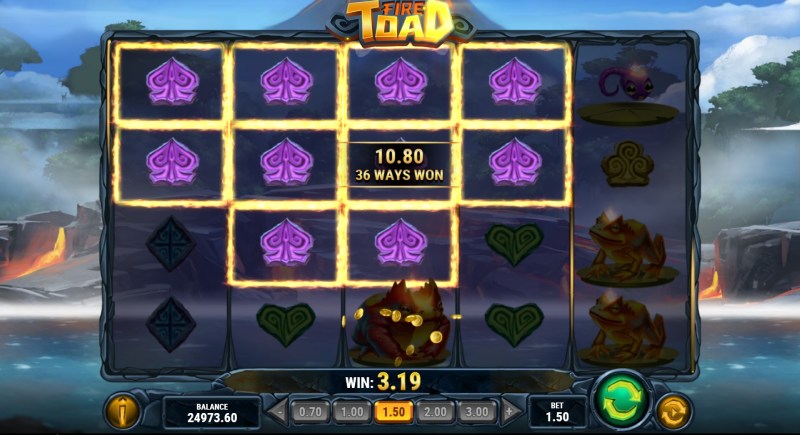 Symbols
Fire Toad features a selection of different animals as the high-paying symbols while card suits are made somewhat abstract and will take up the role as low-paying symbols. Getting a win will trigger an animation for the animals, but the suits are simply lit up. There is a dragonfly that acts as a Wild, spinning around whenever it's part of a win as well.
Speaking of wins, the game is listed as High Volatility. This is mostly due to the number of different symbols which make it harder to get a winning combination. Wilds are relatively rare, and the payouts for a win aren't very big at all. As such, the opportunities the player has at getting a big win are limited.
To deal with the risk somewhat, players can choose to change their bets. For this, the slot allows the player to choose a bet between $0.10 and $100 per spin which is the average reach. Picking smaller bets will reduce the risk of running out of coins, but it will also limit the size of your wins. On the other hand, bigger bets can be better rewarded but will also drain your funds faster.
The symbols you'll find in this game include:
Dragonfly: The Dragonfly acts as a Wild that substitutes all regular symbols in the game. Get 3 or more Dragonflies on the screen to trigger the free spins mode. Max. 50x your bet with five-of-a-kind on the screen.
Fire Toad: Max. 5x your bet with five-of-a-kind on a win line.
Orange Toad: Max. 1.2x your bet with five-of-a-kind on a win line.
Green Toad: Max. 1.2x your bet with five-of-a-kind on a win line.
Blue Toadlet: Max. 1x your bet with five-of-a-kind on a win line.
Purple Tadpole: Max. 1x your bet with five-of-a-kind on a win line.
Diamond: Max. 0.5x your bet with five-of-a-kind on a win line.
Heart: Max. 0.5x your bet with five-of-a-kind on a win line.
Club: Max. 0.5x your bet with five-of-a-kind on a win line.
Spade: Max. 0.5x your bet with five-of-a-kind on a win line.
Features
Fire Toad is similar to other Play 'n GO slots in that it includes a fair number of features but usually doesn't try to increase their complexity. Instead, the features are expanded upon slightly. In this case, the features include:
Scatter Wilds: Firefly symbols act as Wilds, substituting regular symbols to facilitate wins. At the same time, they act as Scatter symbols. Get 3 or more on the screen to activate the free spins mode.
Free Spins: During the free spins mode, additional Fireflies can retrigger free spins indefinitely.
Evolution: Both during the base game and the free spins mode, high-paying symbols can evolve, shrinking the number of different symbols that can appear on the screen and increasing the likelihood of a win.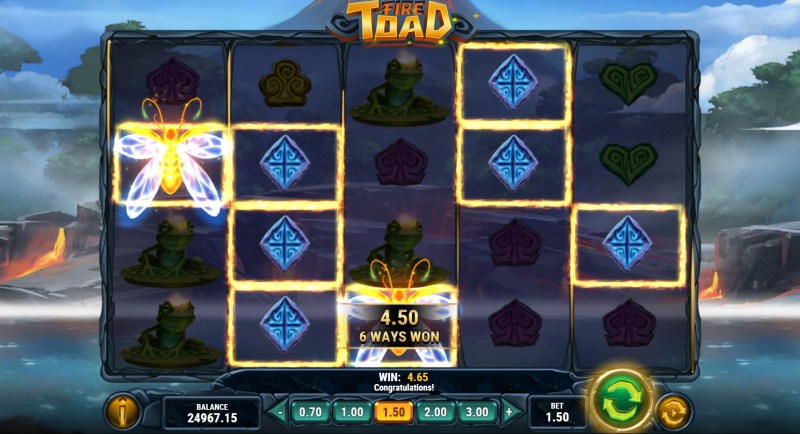 The core of the idea in this slot is that we're seeing the different stages of evolution or growth for the fire toad. He starts as the Purple Tadpole, then grows in size until he's the Fire Toad. This concept is integrated with the way the free spins mode works, and it can show up in the base game as well.
If during the base game there are 2 fireflies on the screen, a random symbol 'evolves' and is turned into the next stage in its evolution. This will increase the likelihood of a win since there will be fewer different symbols on the screen.
It works the same way in the free spins mode, except that it will happen every spin when there are 3 or more fireflies on the screen. Unfortunately, that proved rather difficult while I played the game and as a result, the free spins mode fell flat for me. It didn't really offer any better shots at getting a big win.
Conclusion
Fire Toad is a good-looking slot with some crazy inventive ideas. I don't know who came up with the amphibian on fire but it definitely makes for a memorable slot. The graphics do a lot at carrying this idea to fruition and it stayed a joy watching the animations.
When it comes to the features and gameplay I'm not quite as positive. Although the evolution idea is a nice concept, it's pretty poorly explained and it only has a limited impact during both the base game and the free spins mode.
Due to the high volatility, I would have expected some more opportunities at getting bigger wins, but the player will be quite dependent on this evolution feature activating for that to happen. The max. win of 5,000x your bet is perfectly fine considering the volatility but if the fireflies don't help, you'll be hard-pressed getting your hands on it.