They're here! Who? Aliens of course, and Elk Studio's game 'Visitors' has proof. This super colourful, 5-reel, 5-row slot is packed with cheeky graphics and even cheekier sounds. Visitors has 3,125 paylines and bet lines are paid from left to right.
The game is set in the middle of a quiet rural town. Spin the reels and the town's centre will transform, changing the position of houses, farms, crop circles with the odd UFO or Alien making an appearance. The aliens have certainly landed and it seems like they are up to no good.
Symbols
If you want a splash of colour in your life, Visitors will not disappoint. Each tile in the game is so vibrant and brings in an element of fun.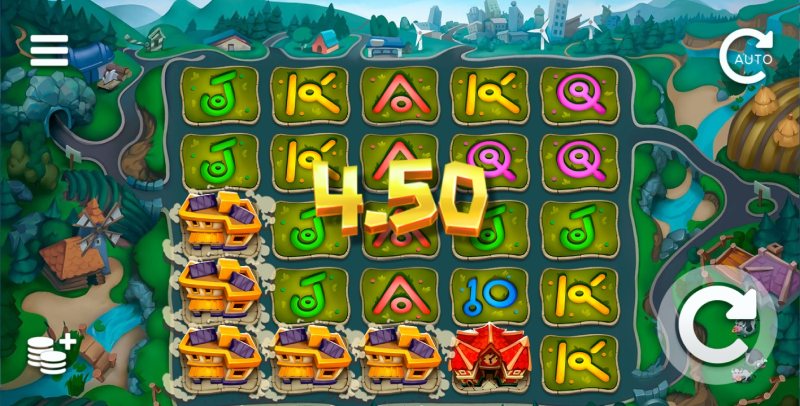 The symbols, from highest to the lowest consist of:
The bonus tile will only appear on reels 1, 3 and 5. With 3 scatters the free spins round is triggered awarding 5 free spins.
The respin tile will only appear on reels 1 and 5. This will trigger a respin which will have a large tile and multiplier attached to it.
The Wild tile substitutes for all symbols bar the bonus or respin riles. It can appear anywhere on the reels.
The red house yields 15x with 5-of-a-kind on a payline.
The yellow house yields 5x with 5-of-a-kind on a payline.
The pink house yields 1.5x with 5-of-a-kind on a payline.
The green house yields 0.8x with 5-of-a-kind on a payline.
The blue fountain yields 0.7x with 5-of-a-kind on a payline.
There are also 5 lower-paying symbols that take the form of crop circles in the shape of card suits. The A pays 0.4x, the K pays 0.35x, the Q pays 0.3x, the J pays 0.25x and the 10 pays 0.10x with 5-of-a-kind on a payline.
Features
The bonus tile will appear on reels 1, 3 and 5. When it does the bonus round will be triggered and you will receive 5 rockets which equate to spins. A rocket is only spent if no spaceships land on the reels.
In the bonus round, spaceships will try and land on the reels. When they do they are shot down by rockets to reveal the prizes. Silver spaceships will grant you a win and the tile will be walled with a multiplier. Gold spaceships will double any multiplier in play meaning any spaceship that lands on a walled tile will receive a multiplier. These increasing multipliers are said to go up to x4,096.
If a spaceship lands on an adjacent tile with an active multiplier it will join it and receive the higher multiplier.
When the two aliens make an appearance on reels 1 and 5, you will get 1 respin. Here a UFO will drop a beam which will expand a tile to 2×2 or 3×3. The UFO will then try to abduct a cow that has a multiplier attached to it.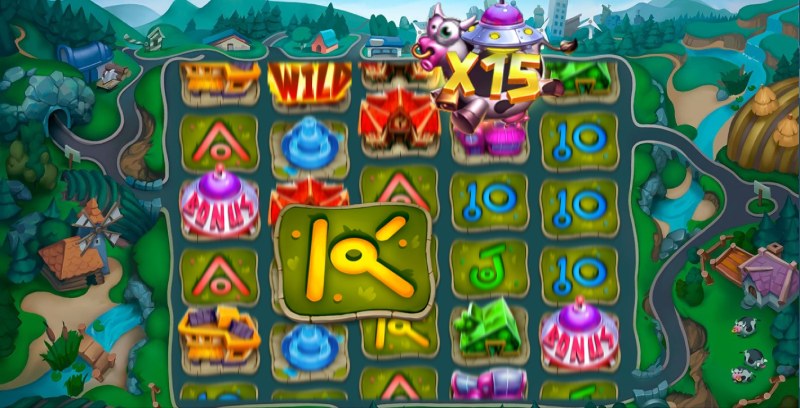 The multiplier will be active on any wins within the board, not just the one connected to the larger tile. I admit the explanation is quite boring compared to the actual animation which brings with it quite a bit of whimsy. As exciting as the bonus round is, it is the respin feature which takes the prize for most cheeky.
Conclusion
Even though Visitors has a very fun and cheeky theme, it is also incredibly volatile. I found myself losing quite a bit of money and having nothing happen during the game. Sometimes it even went over something like twenty spins and nothing happened.
These are normal with the cluster pays engine which this game makes use of. While playing you will notice that there are a few good wins to take home even on the base game. But you will certainly feel the low RTP of 96.1% taking a toll if you don't get into the bonus or respin round to replenish your funds. Even the respin feature can be hit and miss. At times I received wins around the 25x. Other times, I got nothing.
However, with high volatility also come high rewards. It's the bonus round where you will see the real winning potential of this slot. With a max win of 10,000x, this will definitely be a hit with hardcore slot players.