Tropicool combines the relaxing nature of the tropical island with the refreshing chill of the winter. Enjoy a stack of snow on your sandy beach while you engage with the non-standard reels, the cascading symbols and the free spins mode.
This slot was released in 2021 by Elk Studios, making it one of their newest releases and showing off their abilities. It's immediately obvious that the game has a lot of attention put in its graphics. Everything looks sharp and detailed, with the use of bright colours to create a summer vibe. In the background, we can see a standard tropical beach but this time it's completely covered in snow. I think it's a great way to visualize the name as well as set the mood.
The game takes place on a massive 6-reel, 7-row playing field. It still uses paylines instead of clusters, meaning there are 46,656 win lines in this game. Most of the symbols aren't terribly original though, mostly revolving around standard fruit. They are seemingly encased in ice to represent the tiles but there is no other indication that they're cold. The most interesting part of the slot are the stacked symbols.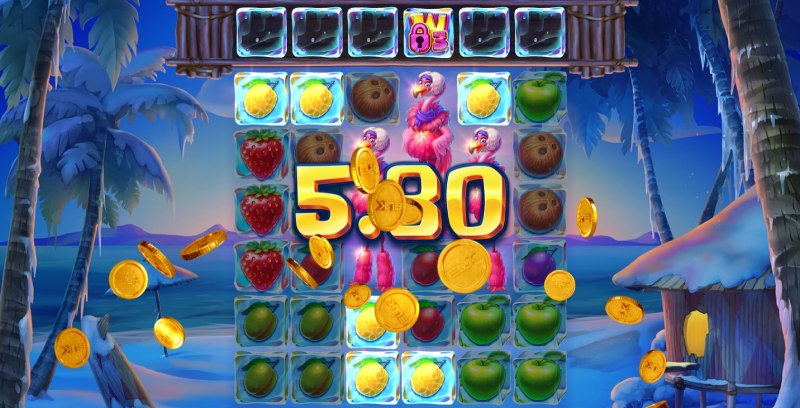 These are represented by different animals, usually birds dressed in extravagant outfits. They look a lot less realistic than the appearance of the rest of the game but they do fit well. It makes it quite clear that players shouldn't take the premise of this slot too seriously. This is further made obvious through the music which is very upbeat and whimsical.
Symbols
Tropicool has a big number of different symbols to help fill the reels. Unfortunately, there really isn't any way to tell which ones are high- or low-paying when it comes to the different fruits. As far as I could tell during my time playing, they all paid out the same amount. The exceptions were the birds. These appear on a single reel as 3 high and pay out as scatters if they're fully on the screen. You will still need 3 of them to appear on the screen though, and that almost never happened.
The game only has Medium Volatility even though it has a big playing field with a large number of different symbols that all have a low payout. Getting a big win felt quite hard and most of their spins players won't win anything at all. While I played I had my bet set pretty low but I still saw my funds drop quite fast. Speaking of setting bets, players can pick one between $0.20 and $100 per spin.
Meanwhile, players have a shot at a maximum jackpot of 10,000x their bet, which is a big step up from the average for a medium volatility slot. It even beats most of the high volatility games that are out these days, so if you're a power player it might be interesting to give this slot some extra attention.
The symbols in the game include:
B: The Bonus symbol will activate the free spins mode if 3 or more symbols appear on the screen.
W: Wilds substitute the regular symbols in the game, except the Wild feature, Bonus symbol and Row Swap symbols.
Tucan: Max. 1.2x your bet with six-of-a-kind on the screen.
Flamingo: Max. 0.9x your bet with six-of-a-kind on the screen.
Strawberry: Max. 2x your bet with six-of-a-kind on a win line.
Coconut: Max. 0.9x your bet with six-of-a-kind on a win line.
Apple: Max. 0.6x your bet with six-of-a-kind on a win line.
Red Plum: Max. 0.3x your bet with six-of-a-kind on a win line.
Yellow Plum: Max. 0.3x your bet with six-of-a-kind on a win line.
Green Plum: Max. 0.3x your bet with six-of-a-kind on a win line.
Purple Plum: Max. 0.3x your bet with six-of-a-kind on a win line.
Features
Tropicool might seem like a pretty simple slot apart from the non-standard playing reel. Through the use of various extra symbols, there are quite some features hidden here. These include:
Wilds: Wilds substitute the regular symbols in the game to help create wins.
Free Spins: With 3 or more Bonus symbols on the screen the game will activate the free spins mode.
Feature Reel: The Feature reel on top of the screen will add random features to the game.
Cascading Reels: Whenever there's a win, the winning symbols explode and cause new symbols to drop down.
Most of the base game will play much like any other slot with cascading reels. The symbols drop down and if there is a win, the game will make those winning symbols disappear to make room for new ones. As long as this continues creating new wins, the cascading reels feature will continue.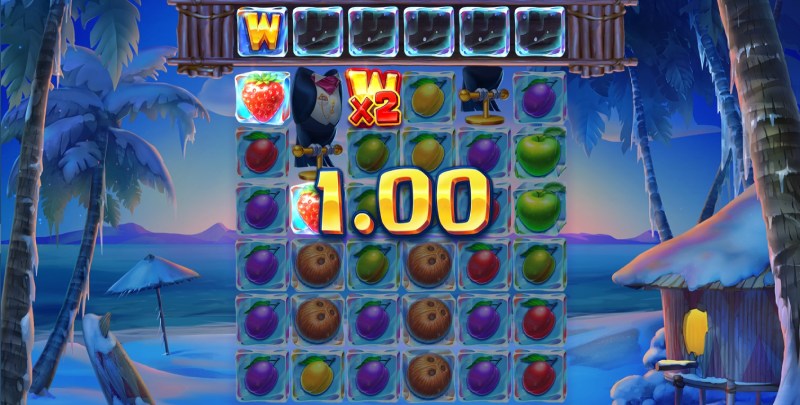 The main thing that changes up the gameplay is the feature reel. This reel on top of the screen adds random bonuses onto the playing field if there is a win on the reels below. The symbols that can be added this way include:
Wilds: Wilds substitute symbols to create wins.
Locked Wilds: Locked Wilds stay in place for a number of wins.
Multiplier Wilds: Multiplier Wilds apply a multiplier between 2x and 5x to any win they're a part of.
Row Swap: One symbol replaces all other symbols on the row.
Extra Drops: During the free spins mode, this adds extra spins.
Progressive Multiplier: During the free spins mode, increases the multiplier for the rest of the bonus game.
Conclusion
Tropicool is a nice-looking slot with some original ideas when it comes to the setting. I did feel like they missed some steps in working out exactly what is happening. The birds are never explained, and I thought the symbols were a bit too simplistic for the idea. In my opinion, the game does look great and plays very well.
There are a lot of features hidden in this game that took me quite a while to get a grasp on. You will have to deal with the larger playing field but also with the feature reel that is never really explained. Getting a win will cause these symbols to drop down and that's how they are added to the playing field.
Players who enjoy a classic slot might not be sold immediately by this game. If you're looking for something easy to get into but a clear departure from the usual gameplay, then it might be a slot to try.