Warrior Graveyard is an epic adventure of Wild multipliers, reel modifiers and a free spins bonus game that can trigger winnings of up to 9,797x your bet.
But it isn't for the faint of heart. The game, as the title suggests, takes place in the midst of bones, tombs and gnarly figures across three rows, six reels and 25 paylines.
It is a highly volatile game, just to be sure, which means you'd be betting for a chance to win big at the cost of enduring mostly small winning outcomes.
With that firmly in place, the game comes with a set of features that can all click together during the same spin. This may prove advantages to some slot players out there.
In my experience with Warrior Graveyard, the xNudge feature, which is Nolimit City's own signature mechanic, can multiply your winning outcomes for each nudge. Also, the Wild multiplier nudges can cross-multiply and increase the total amount of the win.
Essentially, the game bears the company's trademark edginess and there is the win potential to show for it too.
Theme and Design
Those who decide to give Warrior Graveyard a try will end up in the company of skeleton warriors whose expanded symbols pose a fierce presence on the screen.
I like the visual aspect of the game because there are many moving parts. Close-calls are announced accordingly and winning outcomes are wrapped in a big, orange blaze. I just love it when there is a big win across the entire playing field – it is a sight to behold.
This is only one part of the visual effects. There is plenty to see here as well as to hear because the eery soundtrack fits the nature of the beast to the last note.
Features
As I mentioned earlier, this mechanic enables the Tombstone Wild symbol to crank into full view and gain +1 for a win multiplier for each position.
Not to be outdone by other games in its catalog, Nolimit City has upped the ante for this feature when it occurs during the free spins bonus.
Landing extra Wilds increases the win multiplier by 1.
Landing three matching warrior symbols can be beneficial for improving your odds. In the event, the block of symbols gains a win multiplier on each nudge.
Again, this is the second mechanic that can contribute to big winning outcomes in unison with the Wilds.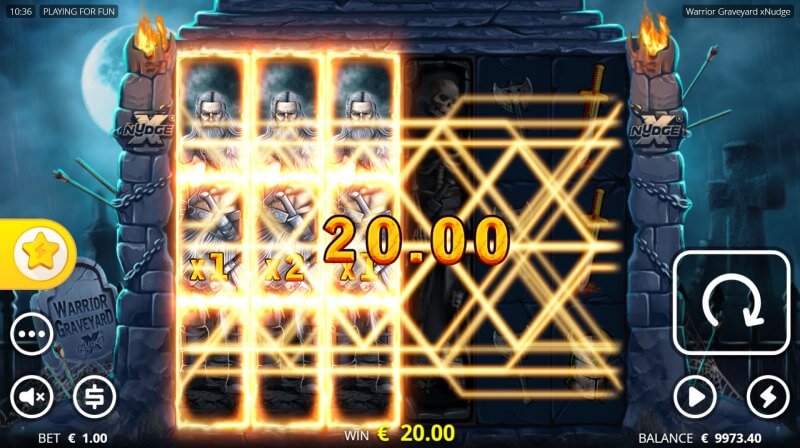 This is one of two free spins features in Warrior Graveyard. The rounds can trigger with 3, 4 or 5 scatters in exchange for 8, 10 or 12 spins.
Landing additional bonus symbols adds +1 spin and the Tombstone Wilds can award unlimited win multipliers that don't reset on the following spins.
It is extremely rare, but it can happen, getting six bonus symbols from the same spin.
In the event, the game awards you 14 spins which are boosted by the same multiplier Wild mechanic, except they become sticky, win multipliers included – for the duration of the round.
Anyone who has played Warrior Graveyard ought to know that the base game can get as exciting as either one of the free spins bonuses.
I've had multiple Tombstone Wild multipliers. Getting even 2x your win can mean a lot in view of the paytable structure at hand.
Bets and Payouts
The company has curbed the minimum bet per spin at 25p which reflects one penny per payline. In this view, the game isn't cheap to simply try. In my experience, trying is the same as actually playing for a chance to win.
I should say that the tricky part is deciding how much to wager each spin. $1.00 bets aren't necessarily steep but if your intention is to play longer and in anticipation for that one special win, your funds will take a beating in a short span of time.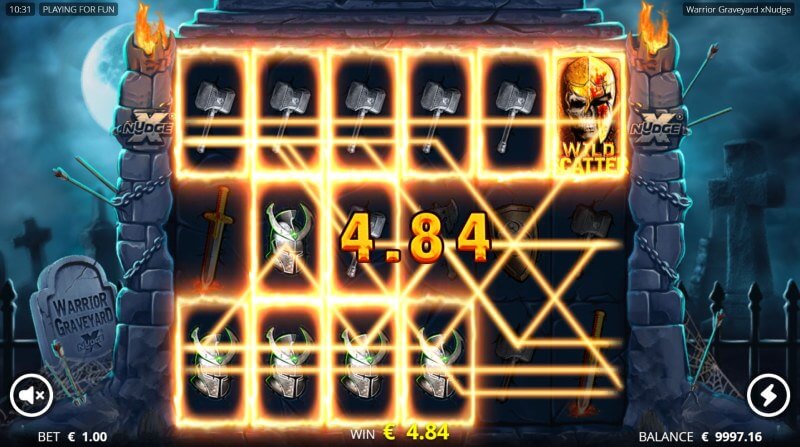 Here is why. There are 10 paying symbols and none can turn around your full bet for three or four symbols of the same kind.
In other words, without the help of the xNudge system and the Tombstone Wilds, a great number of your potential returns are going to be stiff. That's the 9 out of 10 volatility at work – all for a chance for a freak occurrence of landing a massive hit.
The paytable structure is as follows:
Hammer: 0.16x, 0.36x, 1x, 2.8x
Battle Axe: 0.16x, 0.36x, 1x, 2.8x
Helmet: 0.2x, 0.4x, 1.2x, 2.8x
Shield: 0.2x, 0.4x, 1.2x, 3x
Sword: 0.2x, 0.4x, 1.2x, 3x
Grey warrior: 0.2x, 0.48x, 1.4x, 3.2x
Blue warrior: 0.2x, 0.52x, 1.6x, 3.6x
Green warrior: 0.24x, 0.56x, 1.8x, 4x
Orange warrior: 0.24x, 0.6x, 2x, 5x
Red warrior: 0.32x, 0.72x, 2.4x, 6x
Wild Scatter: 6x for six of a kind
Conclusion
The hit frequency is about one in four spins, but see what I said above about setting your expectations.
It is fairly reasonable to expect three scatters, in rare cases four or five, near the end of 100 spins. I've played 25p per spin, saving my bigger wagers as I got near the 70-spin mark.
Graveyard Warrior is definitely fun to play. It is an eyeful of visual events that take place in unison with the extra features.
Bottom line, you will get a kick out of it and perhaps land two or more Tombstone Wilds at the right moment.