You could be happy to know that The Royal Family from Yggdrasil doesn't concern itself with Queen Liz, Prince Phillip and the finer points of Megxit. If you were thinking that this slot concerns itself with wrinkly queens and balding princes – think again.
Here's a game that transports you to a fairytale kingdom. Where fluffy clouds meet, our regal stars of the show wouldn't look out of place in the animated feature Despicable Me.
On SlotoTimes, our reviews give you, the player, the lowdown on slot games with complete honesty. So, will The Royal Family amuse and delight or be sent straight to the gallows? Let's court the game and find out.
Hey, Good-looking
If you've never visited the magical kingdom of Disneyland, The Royal Family slot gives you the chance to save on the flights and extortionate ticket fees.
Theme-wise, Yggdrasil has really nailed it with The Royal Family. While most slots use royals as filler symbols, here they take centre stage. Each character oozes personality and is so earnestly crafted that it seems this very well could be a spin-off from an actual box-office-smash-hit animation. Every character symbol, each with their own distinct nuances is testament to the superb design team at Yggdrasil.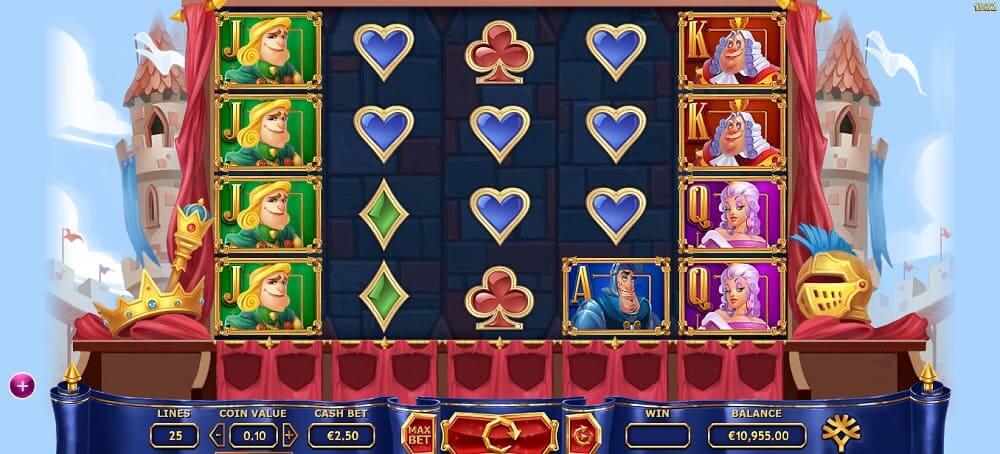 Game providers rarely – if ever – produce their own game music in-house, opting instead for licence-free library music. Sourcing and finding quality tunes for slots is, in itself, a massive challenge. The Royal Family bed music and features music is indeed fitting for a king or queen. A minor gripe is that the sound effects aren't particularly suitable; they could be levelled down slightly and be a touch more fitting with the majestic theme of the game.
The Royal Coffer
The Royal Family brings players a decent amount of features. Not as feature-rich as other Yggdrasil outings such as Double Dragons or Vikings go Berserk, The Royal Family is a bit more conventional but has its own demographic sweet spot. That said, players can enjoy the following features in The Royal Family:
Bonus Game
Multipliers
Bonus Symbols
Free Spins
Sticky Wilds
Players will need the patience of a saint to unlock the royal chest (you know, like a box, not the other kind). Once the royal chest finally creaks open, players are greeted with a follow the queen-style game where they have a chance to choose a face-down card, each with a corresponding bonus. They look like this:
$10
$20
$25
$30
Up to 24 Free Spins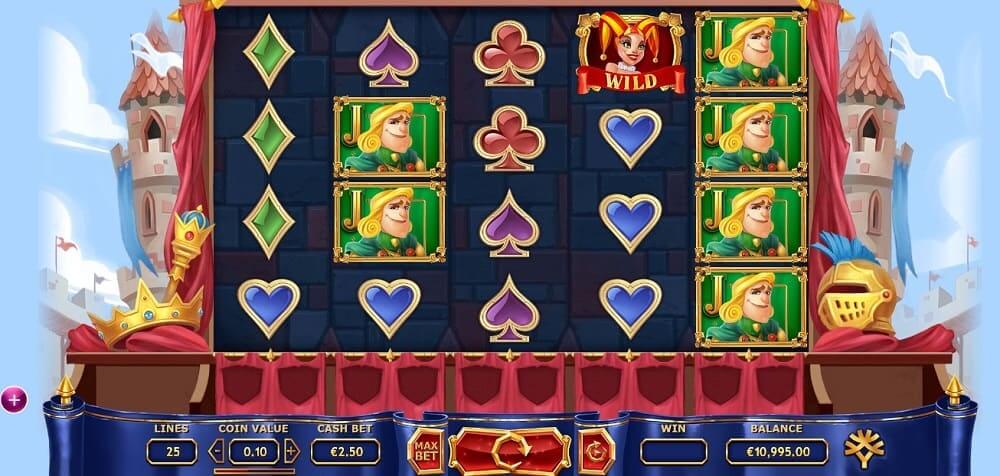 The Free Spins round steps up the action and players are invited into the inner sanctum of the royal household. Resplendent with stained glass windows and vaulted arches, here's a Free Spin round fit for a king. Any feature prize can be collected on a single reel, adding more majestic mayhem to your gameplay.
Family Fortunes
A high volatility 96.1% RTP slot on a 5×5 grid, The Royal Family is more action-packed than Jason Statham going on a rampage in Buckingham Palace. The lowest paying symbols are brought to you in the classic form of hearts, clubs, diamonds, spades. Higher paying symbols are presented as a member of the royal household, namely the Ace, King, Queen and Jack, paying from highest to lowest.
Members of the proletariat can wager as little as $0.1, while those with blue blood have the chance to bet up to $200 per spin. Maximum win potential stands at an exalted 3,500x, giving players the (very slim) chance to pocket up to $750,000. Guilt-free winnings without having to burden the taxpayer in the slightest.
A Sovereign State of Affairs
Yggdrasil is renowned for their graphics and The Royal Family is yet another feather in their proverbial cap. While some games will have either great graphics or an interesting game mechanic, The Royal Family has both.
The only concern I have for this game is that, from a demographic perspective, it's hard to nail down who exactly this is aimed at. Monarchists? Daily Mail readers? Royal Families themselves? While there's so much going for this game, stylistically, it's a very niche affair that won't appeal to the largest audience.
I enjoyed the game design and the bonus features in The Royal Family were a ball. Style-wise, The Royal Family isn't really my bag but it could certainly appeal to players that like an animation-style slot.
There is indeed an escapist element to the game and this could be where Yggdrasil is heading with this title. While they say every girl dreams of marrying a nobleman, The Royal Family could, unfortunately for many players, turn out to be the prince-to-be frog found in countless fairytales.