Cloud Quest takes us high into the skies where we find a fantastical city that levitates high in the sky, populated by heroes as they defend it from strange monsters.
This game was produced and released by Play 'n GO back in 2016, even though its age definitely hasn't started showing yet. With a 5-reel, 5-row playing field and cascading reels the game offers a very modern playing experience to players who enjoy that sort of thing. The graphics are great, starting off with an impressive background. There are also different characters that keep you company as well as adding extra features to the slot.
The different symbols in Cloud Quest are all somehow related to the setting, including the 3 characters, different weapons and other futuristic-looking items. There is a lot of creativity on show here. At all times during the base game, you'll have 1 of the 3 special characters standing next to the reels. They don't do much but they do move as if they're breathing and waiting, giving the game some extra animation.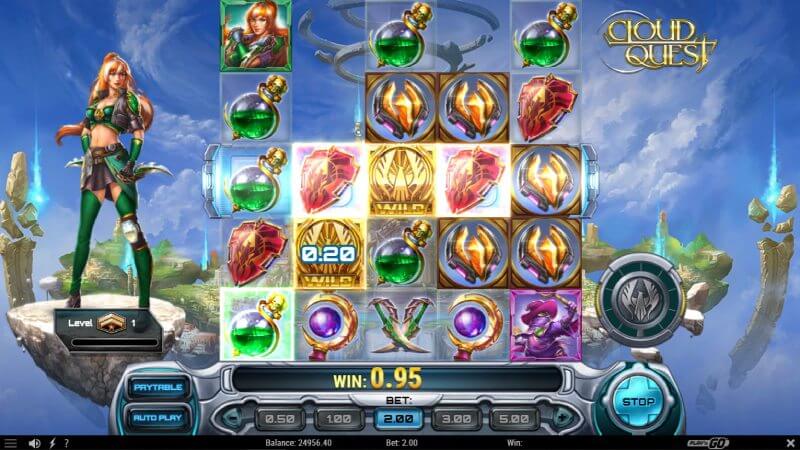 The music is suitably futuristic and heroic, consisting of grandiose orchestra music and even a real choir during the basic spins. When the reels drop we're treated with the sound of the tiles being slashed as they drop away. All in all, a really great effort to making the music fit the theme of the slot.
Symbols
Cloud Quest has a large number of symbols to fill the bigger playing field but through the cascading reels mechanic, as well as an overabundance of Wilds the game, sticks to a Medium Volatility. I found almost every spin to trigger at least 1 or 2 wins and through the tiles dropping away and making new lines, this could quickly ramp up. It does mean that the payout for a single payline isn't that high.
Wild: Substitute all other symbols in the game. Max. 150x your bet with five-of-a-kind on a win line.
Red Hero: Max. 50x your bet with five-of-a-kind on a win line.
Green Hero: Max. 20x your bet with five-of-a-kind on a win line.
Purple Hero: Max. 8x your bet with five-of-a-kind on a win line.
Sword: Max. 5x your bet with five-of-a-kind on a win line.
Daggers: Max. 4x your bet with five-of-a-kind on a win line.
Staff: Max. 3x your bet with five-of-a-kind on a win line.
Shield: Max. 2.5x your bet with five-of-a-kind on a win line.
Potion: Max. 2x your bet with five-of-a-kind on a win line.
Book: Max. 1.5x your bet with five-of-a-kind on a win line.
Power Stone: Max. 1x your bet with five-of-a-kind on a win line.
The game works with cascading reels which means there aren't any set win lines. Instead, any 3 or more similar symbols touching horizontally, vertically or diagonally will count as a win. These tiles will then drop away and cause the other symbols to drop down.
Features
Cloud Quest comes with a rather large assortment of features that are luckily spaced out a bit to keep things clear. The features include:
Wilds: Wilds substitute all other symbols in the game.
Cascading Reels: Whenever there is a win, the winning tiles disappear and cause the remaining tiles to drop down.
Super Stone: The super stone is charged by getting Power Stones on a win line. Once a section is filled, different features are activated randomly.
Free Spins: When the word BONUS behind the playing field is completely exposed, the Free Spin mode starts with a random number of free spins.
The Super Stone plays an important role during the base game. The game has a Super Stone divided into 10 parts which fill up with every spin. The more parts are filled up, the more special features are activated. The possible features are:
Multiplier: All wins are multiplied by 5x.
Sticky Wilds: Wilds remain on the screen until part of a Wild-only win.
Random Scatters: All symbols act as scatters. Random Wilds: Wilds are added whenever there is a win.
While playing the base game, the features aren't activated all at the same time. Usually, the main feature that is enabled is the creation of a Wild in the middle of any win while the original symbols drop away.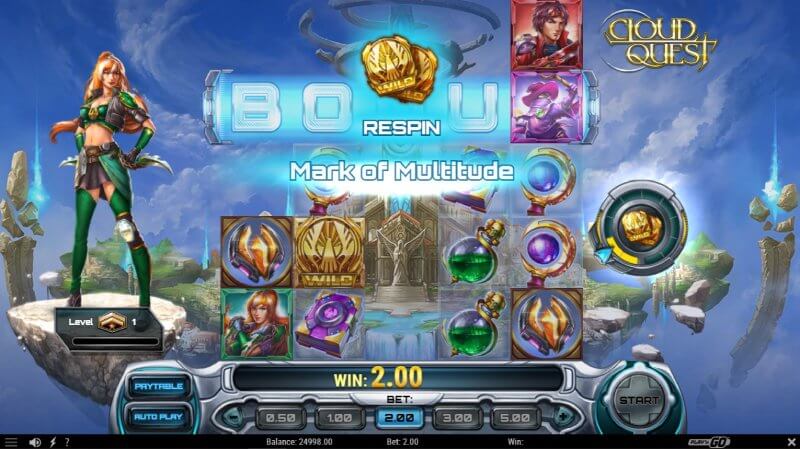 The other features weren't as common, depending on the Super Stone filling up to the point that they were enabled. Once they did, they had different levels of effectiveness but in general, they can be considered a good addition to the gameplay.
Another big feature is the Free Spins mode. Every spin, the game shows the letters BONUS behind the tiles. The objective is to have the tiles clear out in front of them in order for the Free Spins mode to activate. During the Free Spins mode, the game is changed to show a simple 1 payline fruit machine. The player picks 1 of the 3 heroes to fight a series of monsters.
The fruit machine has a small selection of symbols and every time there is a win, it deals 1 damage to the monster the hero is fighting. The starting monster has 2 health but this increases by 1 for every new monster that appears. Whenever a monster is defeated, the player gets another 3 free spins. Once you run out of free spins the mode ends and you are awarded the total coins!
I thought this was a fun change, especially considering the big difference between the base game and this free spins mode. It doesn't just use a mechanic to fight a monster but also switches to a standard fruit machine layout.
The free spins mode is really quite volatile. The first time I triggered it I defeated about 5 monsters in a row, but the times afterwards I didn't get further than monster 3. So it really depends on how the fruit machine works in your favour.
Conclusion
Cloud Quest gives players that are looking for something new and original an at times overwhelming experience. There are a lot of graphics to look like, there is a great amount of animation and even the soundtrack is bombastic. Meanwhile, the game offers different bars and trackers that fill up almost randomly.
For that reason, I wouldn't recommend this game to players that enjoy a more relaxed, laid-back experience. The game doesn't demand much in terms of active interaction from the player but keeping track of the different features does require you to pay attention.
The game lets you pick a bet between $0.10 and $100, with the possibility of winning a max. win of 2,500x your bet. Even though that never felt like it was within my grasp, it is a good incentive to keep playing. The pretty steady supply of smaller wins during my time playing also helped at keeping my attention.