Put on your sunglasses, because this slot is full of sunshine. Hop on and join the fun in a relaxed game at the beach.
Sunny Shores is a simple game full of happiness. The sun is shining in this little paradise and everything is mellow. Even the slot itself is easy to learn and fun to play. There is no stress here, just a sunny day in paradise.
Yggdrasil released Sunny Shores in May of 2017. It is a beginner-friendly slot that anyone can learn in seconds. There are no complex bonus features or even proper free spins. This is also why it excels as a mobile game.
The slot is a bit unusual but in a good way. There are five reels, but each of them is five symbols tall. You have 27 paylines, can win both ways and the low volatility makes the slot an easy experience.
Graphics and sound
The sky is bright blue, waves are calmly rolling, waterfalls are cascading from the cliffs and everything is idyllic. The sun is hopping down with a smile on its face ready to brighten up your day.
Sunny Shores has a cartoonish style, which suits the theme perfectly. Everything is pristine and beautiful. The game is trying to depict a paradise-like scenery and it is working.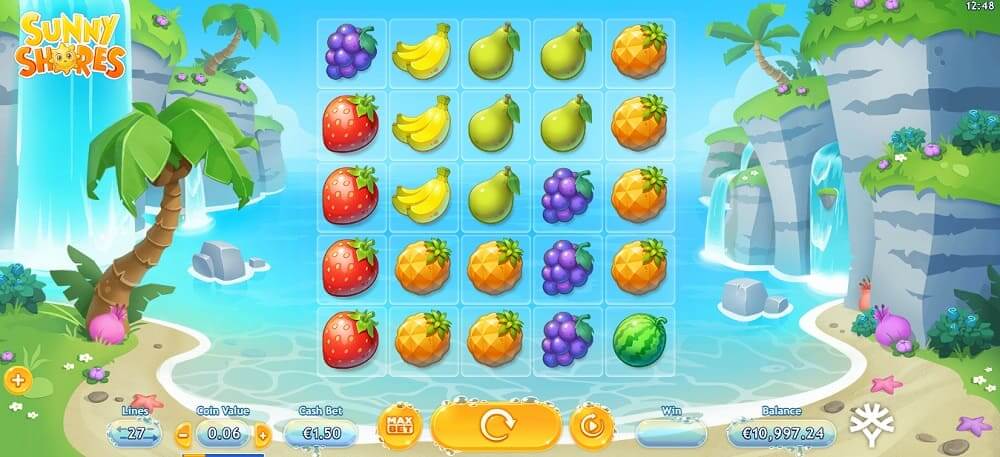 The music is happy and adventurous. It won't ramp up as you play, but rather stay as a calming element. You are not supposed to get your blood pumping and adrenaline flowing while playing Sunny Shores. You just need to relax.
If I could choose a game world to live in, this one would be high on that list. A warm beach nestled between cliffs seems like a dream.
Symbols and wins
In a colourful and bright world, you need colourful and bright symbols. The game has seven regular symbols and a special one, the sunny wild. Of course, the normal symbols include some of the fruits of this tropical paradise.
The regular symbols are very distinct and easy to tell apart. You find pears, melons, grapes, bananas, strawberries, pineapples and a pearl oyster to top it all off. The regular symbols appear stacked on the reels, so it is easy to fill a reel with a single symbol.
The sun is the wild and the thing you are looking for in this game. It substitutes all the other symbols and has some special powers. The sunny wild can expand up to five squares and will activate the re-spin feature.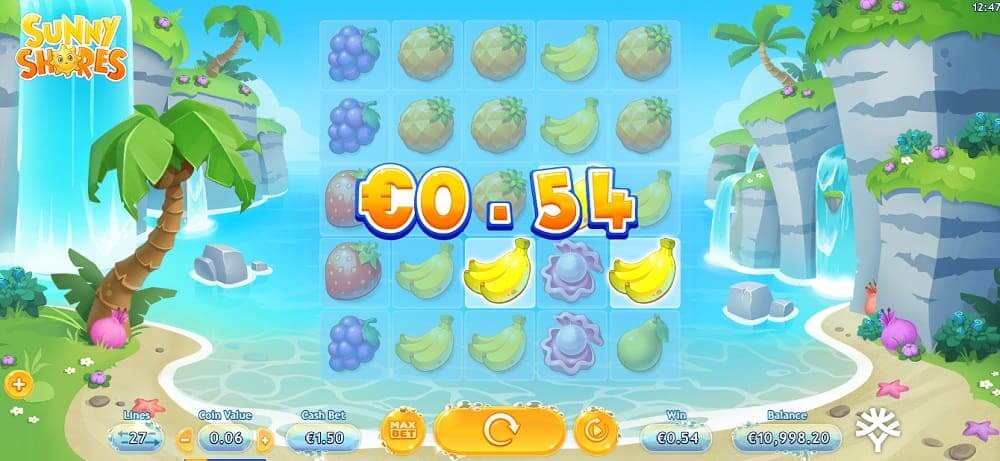 The wins are decently balanced. You can win with the low-paying symbols, but you might need a few more of them. The largest single win is 12 times your wager and if you are really lucky, you can get that on 27 paylines.
The game is fairly straightforward when it comes to wins. There are decent small ones, but you are looking for those sunny wilds. When I played, I found that the regular wins were able to keep my bankroll somewhat levelled, but I needed a sun to really push forward. The wilds are luckily not a rarity, but a little more often wouldn't hurt.
Features
Win Both Ways: Left or right, doesn't matter
Winning combinations can come from both ends of the board. It doesn't matter if you get the symbols on the left side of the reels or the right side, you still win. A payline can have only one winning combination. So, if you get five of the same symbol, you only win once.
Expanding Wilds: Sunshine is contagious
Sunny wilds are special and they immediately expand as they show up. They randomly choose from four directions and add two or four new wilds to the field. If this would cause a wild to appear outside of the game, then it wraps around and goes to the other end instead.
Sunny Re-spins: Sunny days just keep on coming
Every time you get a wild symbol on the reels, you get a free re-spin. The wilds get sticky and stay where they are for the re-spin.
Final Thoughts
Playing should be fun and feel like a chore. In some cases this comes easier, like with Sunny Shores. The relaxed atmosphere and the happy-go-lucky style make it hard to frown.
I found the game to be easy-going and very beginner-friendly. It is just so simple, that this could be the first slot you play in your life and you would learn it in a matter of seconds. Even the more experienced players need to cool down from time to time and this is a good slot for that.
We do need to address the elephant in the room, and that is the wins. This is a low-volatility slot and it shows. You can spend a long time wagering the same money over and over, as the game just gives you back what you paid. Some people might hate this, but you might want to keep this in mind the next time you need to fill the wagering requirement of some casino bonus.