Freya, the powerful Valkyrie and her band of she-warriors are ready to slash their way to the potential winnings on this 1,024 win-way game.
Valkyrie was made by ELK Studios in 2018. Three years later, the game can stand its ground thanks to a set of extra features and fun-loving gameplay on four rows and five reels.
I like the Norse look and feel of this ELK release. It is only natural for them to have created it because they are based in Sweden. The game art reflects heroines who are at their best in looking pretty and ready for battle.
A maximum win potential of 5,000x you bet is a hugely appealing possibility. Quite aware that this is a theoretical maximum, I can't help but imagine the potential payout made from getting even half of that amount.
This is only possible from the Valhalla free spins bonus, which is the main event in this game, and in my experience, one that can be worth playing for. Is it the only feature? Not by a long shot.
I've thoroughly enjoyed the game thanks to the reel modifiers that can unleash on any spin.
Theme and Graphics
ELK's visual artists have had fun making the game. That's obvious judging from the high-quality art seeping from every single symbol on the paytable. They wanted to grasp the mood of a Viking-era mythological event, and they succeeded at that.
My favourite part in terms of graphics is the visual effects that come with the reel modifiers. In addition, to help you land bigger winning outcomes, they can light the reel set ablaze and it just looks pretty darn cool.
I am on the fence about the music, however. There are moments in it that are epic – the part with thundering drums, and there are moments that downshift the mood towards calmer waters.
I would've enjoyed a relentlessly energetic track, but that's just personal preference. In objective terms, the idea and execution of the sound design are top-shelf.
Features
The main bonus feature is the key to unleashing Valkyrie's big win potential and that can be possible with the help of the random reel modifiers.
You need to get three Free Spins symbols on the three reels in the middle to get five spins. In this mode, Valkyrie will award you at least one reel modifier.
I never won more than five free spins at the outset, but the gang can also award 7 and 10 free spins modes with at least two or three reel modifiers.
This is possible upon landing the three initial bonus symbols. In the event, Freya can add one or two additional Free Spins symbols on reels one and five. Needless to say, this can improve your odds in winning more from the game.
The three-reel modifiers in the base game are triggered when you land three Bonus symbols. In the Free Spins bonus, one is selected to appear at least once.
Up to three Wilds expanded across four rows can land randomly on reels two, three and four.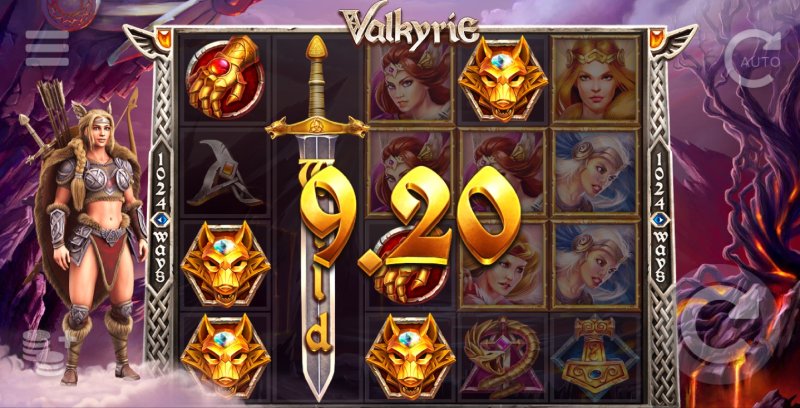 Valkyrie unleashes a rain of golden shield symbols. Some of them remain on the reel set to convert those positions into Wilds.
This feature entails a cool visual effect of a random number of fire arrows hitting the reel set. Every arrow that stays on the screen is converted into a big symbol (2×2, 2×3 or 3×3) of the same kind.
Bets and Payouts
The payout system of Valkyrie is win-ways and that means matching symbols need to land left to right on adjacent reels.
I like this system because it usually makes for more dynamic gameplay compared to games with standard paylines.
Another notable detail that's part of the gameplay is the multitude of symbols. A total of 12 paying symbols plus the Wild and the Scatter/Bonus symbols is enough to fill up the 4×5 layout.
Payout-wise, Valkyrie does poorly on a spin to spin basis. The low and medium symbol categories can create winning outcomes between 0.10x and 2x your bet.
I find this range hardly impressive, considering the fact that you need five matching symbols, starting with the first symbol in the medium category, to gain more than you bet on that spin.
This is where the reel modifiers and big symbols step in. A single big symbol landing on reels one-three can link with multiple matching symbols on adjacent reels. Valkyrie offers a delicate balance to offset the payout structure in this manner.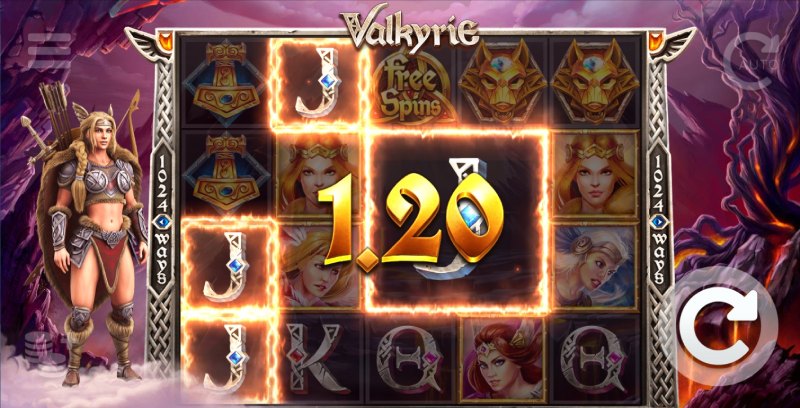 The winning combinations are as follows:
Jack: 0.10x, 0.15x, 0.25x
Queen: 0.10x, 0.15x, 0.25x
King: 0.15x, 0.25x, 0.50x
Ace: 0.15x, 0.25x, 0.50x
Sword sheath: 0.3x, 0.6x. 1.25x
Wolf head: 0.45x, 0.9x, 1.75x
Snake: 0.35x, 0.7x, 1.5x
Gauntlet: 0.5x, 1x, 2x
Blonde Valkyrie: 0.6x, 1.25x, 2.5x
White Valkyrie: 0.75x, 1.5x, 3x
Red Valkyrie: 0.9x, 1.75x, 3.5x
Freya: 1x, 2x, 4x
Conclusion
I found Valkyrie to be enjoyable across the board. Both ends of the game, the base game and free spins feature, are well-positioned to provide dynamic gameplay and surprise big payouts.
One caveat that I'd like to share with other players is that the reel modifiers aren't overly common in the base game.
At times I went dozens of spins without getting one and sometimes I'd get two or even three within a short number of spins. But overall, Valkyrie is a superb gaming experience and the free spins bonus can well justify the effort.