DJ Wild takes the concept of disco and puts it into a vibrant, futuristic-looking slot. Get ready for a game with electrifying graphics, a booming soundtrack, Stacked Wilds and Re-Spins.
The game was developed and released in 2015 by Elk Studios, who have shown themselves to be quite capable at coming up with unique themes. This game also shows off their knack at design, with many of the symbols looking like low-polygon versions of themselves. It's a nice change from the usually highly detailed and very sharp images that fill most slots.
The game has a 5-reel, 3-row playing field with 20 paylines that pay both ways. There's no real background that gives us an idea of where we are but the high-paying symbols tell us anyway, consisting of keyboards, sound mixers and speakers. We're in a club and the crowd is going wild! So are we, by the way, with the DJ Wild symbols acting as wilds. There aren't a lot of animations in the game but I did like how coin wins are shown on what appears like a sound visualiser.
I can't really write a review of DJ Wild without addressing the music. As to be expected, the soundtrack features a thumping electronic bass track that plays most of the time. It drowns out most other sounds including spinning the reels. Getting a win adds a jingle that meshes well. I did find it annoying how the track sometimes skips around, going from up-tempo down to the lower speed with a hard cut. I feel like they might have done a better job at the transitions.
Symbols
The symbols in DJ Wild all have their own distinct look. The high-paying symbols are mostly related to actual DJ'ing while the low-paying symbols are low-poly versions of different fruits. Even though the fruit doesn't really fit the setting, the fact they are designed in a special way does help to integrate them. There aren't many animations while playing except for paylines being highlighted when there is a win and the coin win showing.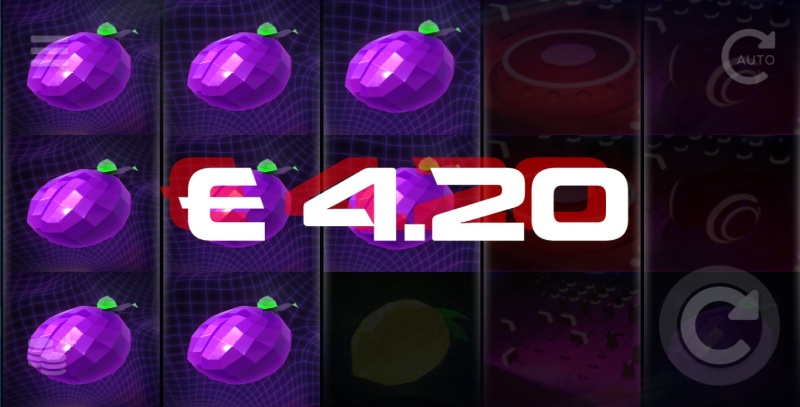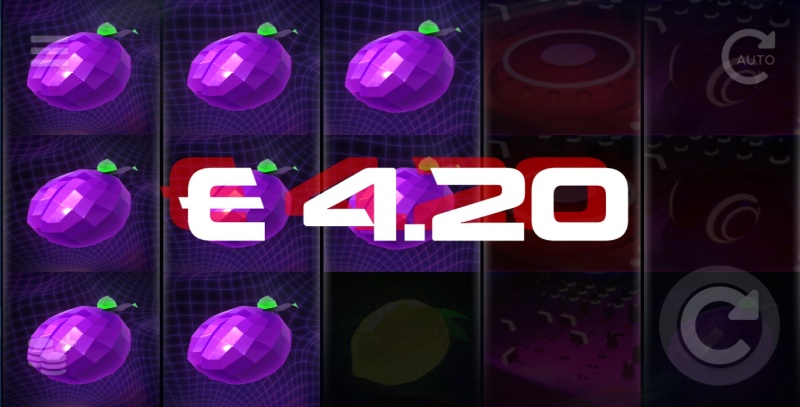 The symbols are:
Jackpot: Get the Jackpot Wild on the middle reel to win the jackpot.
Wild: All DJ Wild symbols expand and trigger a re-spin bonus game.
Keyboard: Max 10x your bet with five-of-a-kind on a winning bet line.
Sound Mixer: Max 5x your bet with five-of-a-kind on a winning bet line.
Speakers: Max 3x your bet with five-of-a-kind on a winning bet line.
Headphones: Max 2x your bet with five-of-a-kind on a winning bet line.
Grape: Max 1x your bet with five-of-a-kind on a winning bet line.
Watermelon: Max 1x your bet with five-of-a-kind on a winning bet line.
Melon: Max 0.8x your bet with five-of-a-kind on a winning bet line.
Berries: Max 0.8x your bet with five-of-a-kind on a winning bet line.
The game is similar to other Elk Studios slots with its small collection of symbols but a High Volatility. I found DJ Wild to space out the wins quite a lot, with only the occasional small win in-between. Most of the big wins have to come from the Wilds becoming Stacked and Sticky Wilds before getting the right symbols. Players have the choice to bet between $0.25 and $100 per spin to balance this somewhat.
Features
DJ Wild takes place mostly during the base game, with the different features keeping the player there. The game does make mention of the Re-Spin bonus game but this is not a separate part of the slot.
Pays Both Ways: Paylines on DJ Wild count both from left to right and vice versa.
Wild: Wilds substitute all other symbols in the game.
Stacked Wilds: Any Wild that appears on the screen becomes stacked, filling another tile on the reel or row, depending on the type of Wild.
Sticky Wilds: Wilds that become Stacked also become Sticky, staying on the screen while re-spins are active.
Re-Spins: When a Wild becomes Stacked and Sticky, it triggers a re-spin. If another Wild appears on the screen, this will grant another re-spin.
Jackpot: When the Jackpot Wild appears on reel 3, players are awarded the jackpot of 1,700x your bet.
An important thing to note is that DJ Wild has different Wilds, each with its own colour. This also affects how they behave when they appear on the screen.
Purple Wild: Expands one tile vertically.
Grey Wild: Expands 1 or 2 tiles vertically.
Orange Wild: Expands to fill the entire reel it is on.
Green Wild: Expands to fill the entire row it is on.
Blue Wild: Expands one tile horizontally.
Every time a Wild appears on any of the reels it will trigger a re-spin, making the Wild Sticky and any other Wilds on the screen too. If during a re-spin another Wild is added it will also spread, become Sticky and trigger another re-spin. This can continue for as long as new Wilds appear on the screen.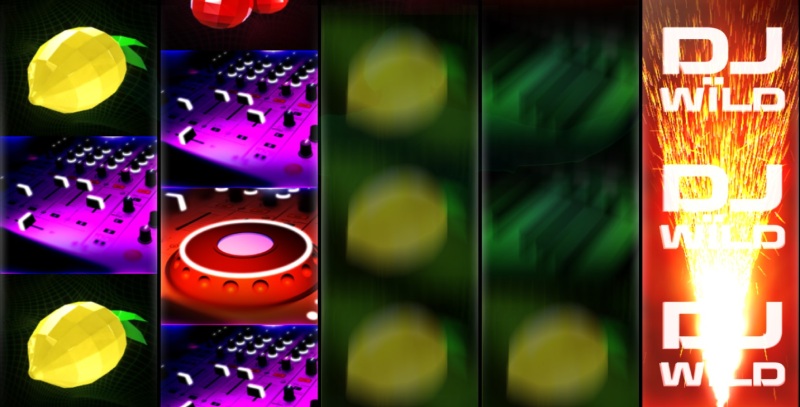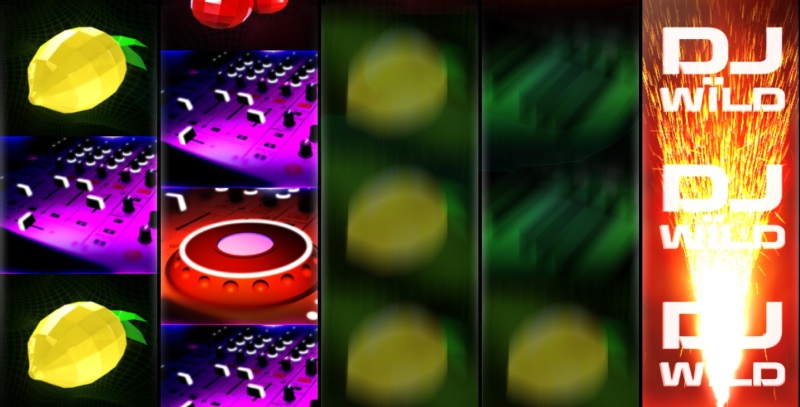 While I was playing Wilds appeared reasonably often. It was also quite frequent that additional Wilds would appear, along with their extra re-spins. The effectiveness was quite dubious, however, sometimes only walking away with a handful of coins and other times getting a big win. It all depended on the other symbols on the screen.
I thought these features were fun and quite interesting while keeping the gameplay confined to the base game. The Jackpot Wild I obviously never saw, and I expect it to be extremely rare. I think the idea of having a single symbol act as the deciding factor to getting the jackpot is an odd choice but it does make it possible for anyone at any time to get the big win.
Conclusion
DJ Wild is a simple but slick-looking slot with some simple and effective features. The game is perfect for people that enjoy a music-heavy game that brings out the club atmosphere. I did find the payouts for wins to be rather low, even with longer and bigger payouts. Only the highest-paying symbols were really worth the effort.
The game has a lot of colour and animation when it comes to flashing lights but there aren't a lot of moving parts. I feel like a background of a club might have added to the ambience somewhat, as well as the sound of people cheering. These are just details though.
Players that are looking for a slot with a lot of special features won't find those in DJ Wild, but for everybody else, I think this game can offer some good times. The gameplay is relaxing even though the music is very energetic, and the general payouts were frequent enough to make it worth sticking around.