Button bashers unite for Rage to Riches from Play'n GO. If you're looking for some retro video game action while taking down potentially massive wins, Rage to Riches delivers.
Join the monster mash with stars of the old school: King Kong, Godzilla and Werewolf. Smash up buildings! Fend of flying helicopters! Roar your way to wins! Land 'the woman drying her hair' symbol…
An 8-bit Odyssey
All blocky visuals and 8-bit inspired audio, Rage to Riches is a homage to platform games, with an urban makeover. The 5×3 grid is sprayed with Funky-coloured graffiti tags – it seems we're hanging with the cool kids now.
The setting of a warehouse with an apartment building backdrop feels like something you might see in '80s science fiction/action classics like Predator II or Robocop. Play'n GO has successfully created a game that is part slot, part movie and part video game. The beast is alive.
Characters are a decidedly nostalgic mashup, creating an anarchic crossover between horror and sci-fi. What some might see as a bit of a stylistic muddle, I revelled in the joyful lawlessness of this slot. It subverts genres, gives it a video slot makeover and makes it it's own.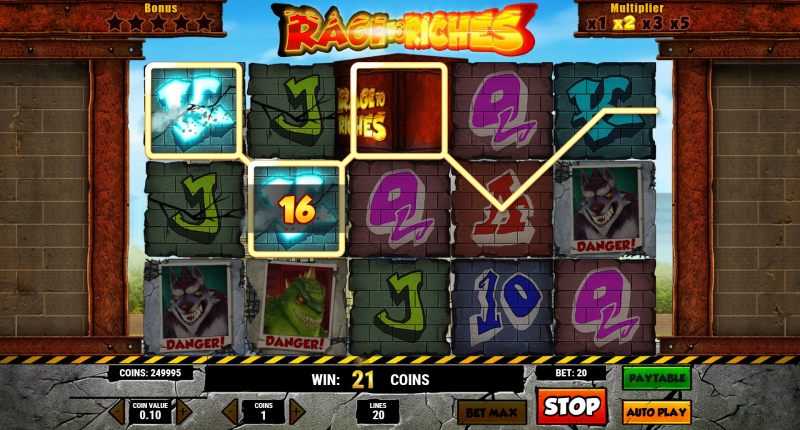 The Main Feature
Rage to Riches employs a tile-matching, cascading mechanic à la commuter favourite, Candy Crush Saga. The 20 payline Rage to Riches is a refreshing take on the all too conventional rotating reels set up. 15 blocks are marked with a combination of spray-painted Royals, King Kong, Godzilla, a werewolf plus a rather incongruous damsel in distress.
The main players in this B-movie style slot are our monsters of mayhem. Land five and you'll enjoy this:
The Werewolf – 250 coins
Godzilla – 500 coins
King Kong – 1,000 coins
Here, every win pays from left to right, excluding scatters. This slot likes to keep you on your toes – if you want a more chilled-out gaming experience, you're spinning on the wrong reels. This slot is chaos, glorious chaos.
If you're autoplay inclined, Rage to Riches satisfies your needs, although you could be missing out on some tidy animations and sweet sound effects.
Rage to Riches packs the following features:
Cascading reels
Watch on gleefully as mortar tumbles down, connecting with other symbols and dissipating in a puff of smoke, making way for a new set of symbols. This slot has adrenaline inserted directly into its blueprint, making for an insane inner-city romp through Konami-inspired streets.
Free Spins
Free Spins are brought to us by the slightly odd symbol of a woman blow-drying her hair. Land three of these symbols of strangeness and you can enter the Free Spins round, no hairdryer required.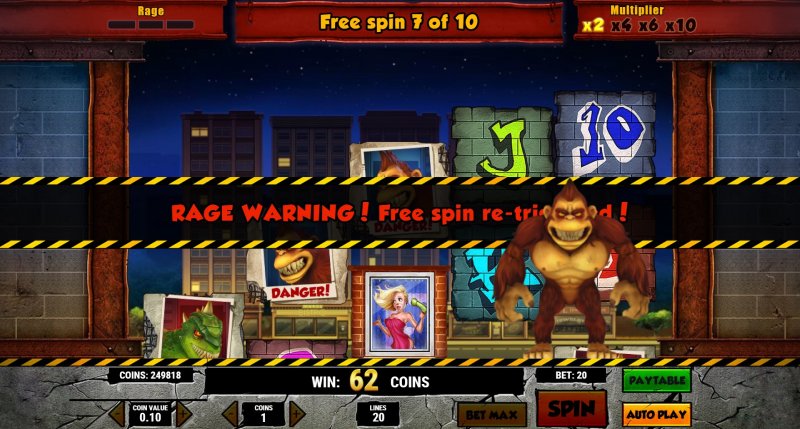 Multipliers
Multipliers increase by 1x with each win, up to maximum of 5x.
Bonus game
The bonus game is quite literally a riot. Gawp as your monster of choice goes full postal on a block of flats while fending off automatic machine-gun fire from passing choppers. I won't lie – it's loads of fun watching these helicopters flail helplessly to the ground in a ball of smoking steel. Here's an inventive reworking of your classic 'pick a card' bonus game, but fun.
To enter the Bonus Game and have yourself a whale of a time decimating apartment blocks, accumulate five scatter symbols and a win potential of up to 100x your total bet.
Pixelated Payouts
A low volatility slot, Rage to Riches brings players a generous RTP of 97.12% and a maximum win potential of 29,348x. Minimum bets start at $0.20 with a maximum bet set at $100.
Feedback
I like what Play'n GO is doing here – a tongue-in-cheek throwback that takes inspiration from out-moded video games and movies. It manages to feel both comfortingly familiar and still fresh out of the box.
A minor complaint is that the symbol design is a little too detailed and it makes the images a little bit hard to decipher. Also, the character design feels like something a bored student might scribble on the back of a textbook during a Friday afternoon maths class. It's kind of juvenile, but perhaps that's the point.
Visually, the symbols could have been more iconographic, optimising better for mobile. Small niggles aside, Rage to Riches is massive fun and Play'n GO have levelled up with this outing. Ready player one?