Queen's Day Tilt brings to life medieval times where a lot of entertainment involved knights competing for the attention of the monarch. Players will be able to enjoy this special event with a slot that features cascading reels, Wilds and free spins.
Developed by Play 'n GO and released in 2019, Queen's Day Tilt is up to date when you consider the look and feel of the game. The designers of the studio clearly spent considerable time designing the slot as the graphics are intricate and sharp, and both the symbols and the other art is unique to the game. Players who enjoy a medieval-looking game will have found an excellent one.
When it comes to its appearance, it actually takes the rather unusual step for it to only have a 3-reel, 3-row playing field with the Cluster Pays mechanic and cascading reels. All of the symbols look great and are made to fit the theme of the game, but the low-paying symbols are still just based on card suits. I normally think that's a bit lazy, but at least the designers did make the symbols seem appropriate for the setting.
Its soundtrack is luckily a bit more inspired and has the classic medieval sound that we might be familiar with from movies and TV shows. It evokes the sense that we are really at a medieval fair where brave knights confront each other for glory and honour. Sound-effects are kept light and in the background.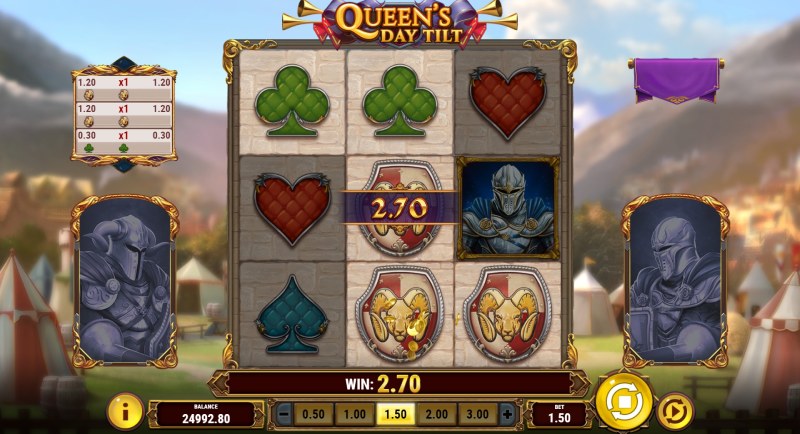 Symbols
Queen's Day Tilt has a rather large collection of symbols, especially considering the tiny playing field. As a result, getting any win is a bit trickier than it can be in other slots and it has High Volatility. This translated to the wins being spaced out quite a bit, with the free spins mode being the main way of getting bigger wins. In my experience, the free spins mode would facilitate this but it's obviously also possible to walk away with barely anything.
Players can pick a bet between $0.10 and $100 per spin to deal with this volatility, taking their time to figure out the rate at which wins are awarded and how high they tend to be. It's advisable to pick a bet you can play with for a longer time as it might take you a while to hit the free spins mode. For the few players that manage to hit the jackpot, there is a max. win of 5,000x their bet waiting for them. Considering the volatility of the game, I would consider this a relatively moderate jackpot compared to other games.
The symbols in the game are made to look the part and include:
Wild: Substitutes all other symbols in the game. Max. 12x your bet with three-of-a-kind in a cluster.
Red Knight: Max. 12x your bet with three-of-a-kind in a cluster.
Blue Knight: Max. 12x your bet with three-of-a-kind in a cluster.
Purple Shield: Max. 7.5x your bet with three-of-a-kind in a cluster.
Blue Shield: Max. 6x your bet with three-of-a-kind in a cluster.
Red Shield: Max. 6x your bet with three-of-a-kind in a cluster.
Spade: Max. 3x your bet with three-of-a-kind in a cluster.
Heart: Max. 3x your bet with three-of-a-kind in a cluster.
Diamond: Max. 1.5x your bet with three-of-a-kind in a cluster.
Club: Max. 1.5x your bet with three-of-a-kind in a cluster.
The longest possible cluster is three-of-a-kind, but two-of-a-kind clusters are also counted.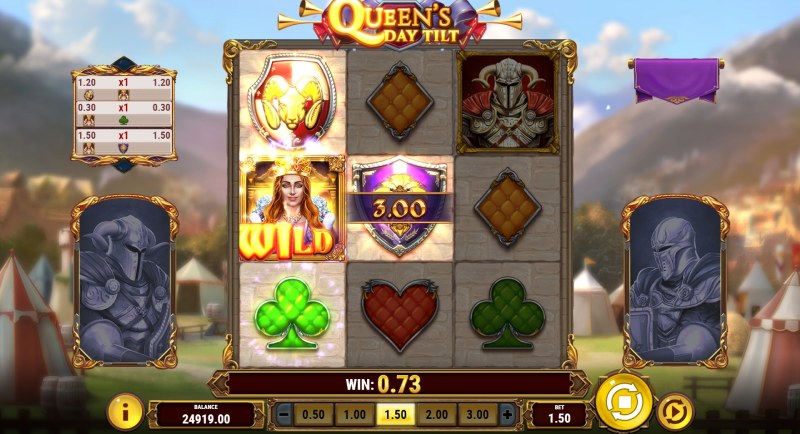 Features
Queen's Day Tilt has a number of familiar features but because of the smaller size does things a bit differently from most other slots. The features in the game include:
Cluster Pays: Wins are counted whenever symbols are touching horizontally or vertically. A cluster can never be bigger than 3 tiles.
Cascading Reels: Whenever a win is achieved, the winning symbols disappear and the remaining symbols drop down. This continues as long as new wins are created.
Wilds: Wilds can appear on the screen to substitute all other symbols. If a Wild is the last symbol on the screen, it will disappear automatically.
Game of Accession: When during the base game a win involves both the Blue and the Red Knights, this bonus game is activated. Players pick which knight will win, then the game shows a drop. Players who chose correctly get another guess.
Free Spins: When the entire playing field is empty, the free spins mode is activated. Players receive 5 free spins.
Multiplier: During the free spins mode, a 2x multiplier is active that increases with every win.
I found the features to be rather rare when playing the game, as the Wild only appears randomly during the base game and won't be a familiar sight. When it does appear it will always help create a win since the slot also counts two-of-a-kind clusters.
The game uses the cascading reels feature but does not replace symbols. The playing field will slowly empty until there are no more wins or until there is only one symbol left. When that happens, it can activate the free spins mode but it won't always. If the entire playing field empties out, this mode is not activated.
The free spins mode plays much the same way as the base game except there are no low-paying symbols and any time there is a no-winning spin a Wild will be added. This way, players can be assured of at least some wins during the free spins mode.
Finally, the Game of Accession triggers when the Red and Blue Knight are both part of a win on the same screen. The bonus game replaces all symbols with only Red and Blue Knight symbols. The player picks which one will be awarded the biggest win in the free re-spin. If they choose correctly, the game spins again and the win will be multiplied.
Conclusion
Queen's Day Tilt is a fun little slot that looks great and has really embraced the setting it is based on. There is a tonne of detail to see while the gameplay keeps the player engaged. Even though the features might not activate too often, the spins are fast and the features are worth the time it takes to activate them.
Players who enjoy modern features on a small playing field should also give this game a try. Instead of the usual 7×7 or larger playing field with cascading reels and cluster pays mechanics, this game goes the opposite route. Although there aren't many similar slots, it still might be a nice idea to see if it resonates with you.
If you prefer a classic video slot then there are a lot of things done differently here. I didn't think it was very difficult to figure out, but it still might take a moment for players who are unfamiliar with it to get a grasp on it.