Most average folks tend to keep away from the mining profession, but if you are an epic adventure hero type of a person you may as well dig deep into Dungeon Quest by Nolimit City.
The game's premise is as simple as the graphic design. A number of weapon-wielding heroes are about to cross into a cave portal that is ominously shaped like a skull.
And that's as far as this story gets because the heroes are part of a still background that doesn't flinch. It's a different story over to the reel set. We get two sets of gems and some element-transforming bonus symbols that can come together for the adjacent-reel payouts.
The reel set looks promising, with five reels and seven rows, but a medium variance leaves you in no man's land in terms of Dungeon Quest's payout potential, which is, by the way, a mere 540x your bet.
So what's in it for the player? It's hard for me to say. I tried the game with the lowest wager of $0.20, which I find to be steep in view of everything else, only to find seen-before gameplay and pauses between payouts that are too long for my liking.
I don't want to shred this Dungeon Quest to pieces because there are few quality details. There is potential for a big win (up to 450x from the initial bet) and the extra features may be worth the wait, so let's uncover some more dirt from this underground adventure.
Theme and Graphics
As I said, the game involves a set of superheroes but only superficially. The elf, barbarian, wizard and paladin from the background are nowhere to be seen on the paytable, except for a short glimpse where they announce one of the extra features.
I get it, sometimes a company is tempted to bypass the highly-praised quality bar that's been set by their previous games. In that respect, Nolimit City is a top-notch studio, but it's hard to stomach the lack of inspiration in Dungeon Quest.
Besides the reels being set in motion when you wager your coin, there is very little in terms of movement. Winning outcomes don't result in any animation unless you consider the tick-tock, two-step pulsing of the symbols and the embers that are carried towards the top of the reels.
Not a lot more could be said about the graphic design. I would have given the musical theme an honourable mention, but what's the point? I guess the only thing that can redeem the heroes from getting lost on their Dungeon Quest is the all-ways-pay system and the extra features, even though they are a rarity on the reels.
Three features sound like the beginning of the redemption for Dungeon Quest, so let's take a look and see what else is on the paytable.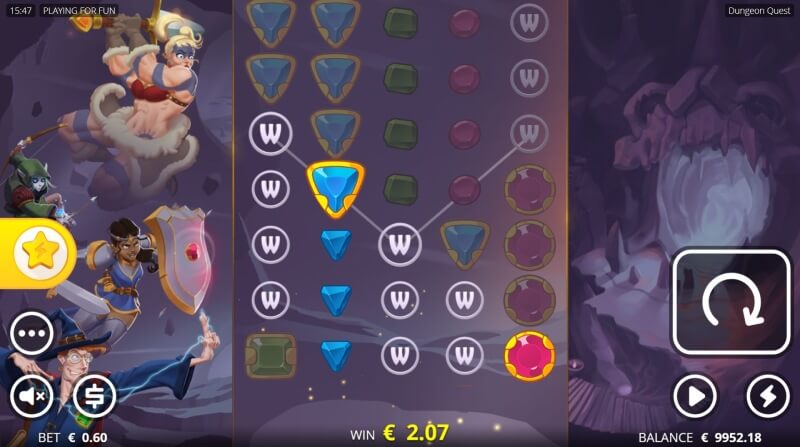 Power Stone is a random reel modifier that crops out a 2×2 field and fills it with wild symbols. In addition to this, a random symbol is selected and each position it fills on the reels becomes wild.

Not a bad extra feature, this one, but I still think there is a shortcoming in that only the low-paying symbols can be transformed into wilds.

Gem Forge is another random feature that makes an attempt to correct the shortcoming of the feature above. This is a two-step bonus.

First, one of the low-paying ore symbols is selected to replace all other low-paying symbols in its kind. The second step is for that symbol to upgrade into the high-paying that matches it in colour and shape.

Alchemy Spins is the free spins bonus, which, sadly, starts with four spins. The bonus is triggered with three purple-black orbs that can land on the odd-number reels.

There is a twist, however, that can push the math model to shake out some interesting combinations for a big win. This is possible because each of the four spins takes one of the low-paying ore symbols and turns it into wild.

Now consider there are four ores and four spins, which means there are going to be four sticky wilds. What is more, the ores can stack up pretty high on the reels, so all of these positions are potential wilds and this is a high-paying symbol of 100 coins for five of a kind.
Bets and Payouts
You'd really have to want to play this game so as to try it with 20p per spin. Nevertheless, it avails a look into the payout system and possible one of the extra features, that is, if you've resolved to see one crop up.
Curiously enough Dungeon Quest has 29 paylines and makes payouts on adjacent reels. You can get three matching symbols or three stacks of matching symbols in the middle three reels and call it a payout. That's one of the good aspects of the game, as payouts in this shape and form do crop up every number of spins.
When considering the paytable, keep in mind it serves as a reference point but only for winning outcomes of up to five matching symbols. Since there are seven rows on the reel set and wins are paid on adjacent reels, Dungeon Quest can trigger payouts for five, six, seven and even more symbols.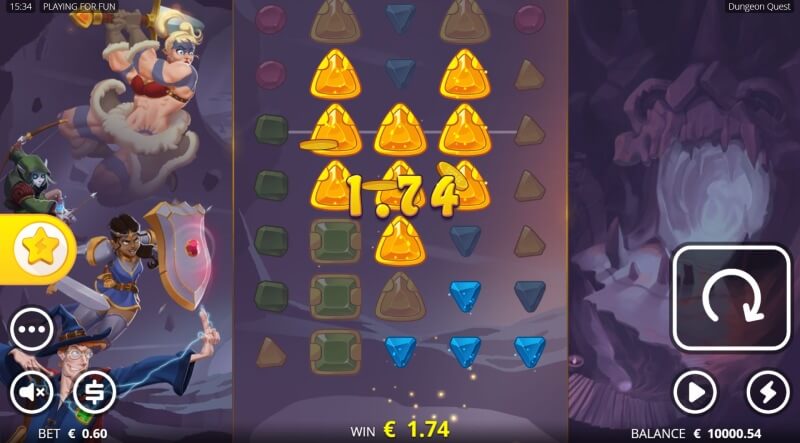 Yes, I think that the payout amounts could have been better. The 'ores' pay 4, 8 and 30 coins for three, four and five matching symbols. These amounts equal $0.20, $0.40 and $1.5 in that order when playing with $1.00 per spin.
The picture looks a little bit prettier regarding the gems. Three, four and five symbol wins equal $0.25, $0.75 and $5 when the winning outcomes have been made with $1.00.
Conclusion
I can't mince words here. I genuinely didn't enjoy Dungeon Quest, in fact I think it needs a do-over if it is to ever attract any players. But since I want to be as unbiased as possible, I do give Dungeon Quest the benefit of a doubt for its ability to trigger multiple wins across the 29 paylines, resulting from the same spin.
Only if those extra features, especially the free spins feature, could trigger at a greater frequency, it would have easily erased what I think about the overall look and feel of the game.