It is the only time of year when chunky-knit sweaters make sense, especially if they have candy cane and reindeer patterns on them. And it doesn't matter if you are living in the tropics or in snow-covered areas, because Xmas always feels merry and with a healthy dose of a festive mood to go about.
Play'n GO have made their own imprint on the thread of Christmas-themed slots and for those who aren't sure which to pick from the search results, I can wholeheartedly recommend Merry Xmas.
The game has that magical glow that I can associate with a fully-decorated Christmas tree, complete with presents underneath. The three rows and five reels are tightly-knit with beautiful symbols that represent the holiday in spirit and colour, but the red and green sprinkles on the gingerbread are the maximum win potential of 132,715 coins.
Merry Xmas also stays true to the holiday spirit of exchanging gifts with its three bonus packages that can hold a prize of up to 150x your bet and there are four wild multipliers that can give any winning outcome a boost.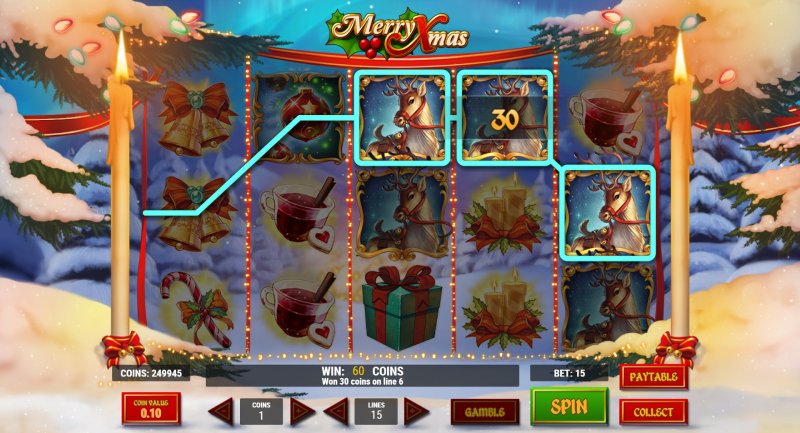 Although the game's mechanics and payouts look similar in nature to several other Play'n GO slots from around the same time, the slot makers have definitely considered giving the players an extra opportunity to gain bigger wins, precisely because of the win multipliers.
Theme and Graphics
Just when you think it doesn't get any cosier than this, there are two candles on the sides of the reel set, which is, by the way, a transparent window that shows a thicket of evergreen trees in the back. The selection of symbols includes a cup of warm wine with a cinnamon stick for a straw, a portrait of a jolly Santa, a delicious candy cane that has a warm glow behind it, and so on.
Playing Merry Xmas definitely feels pleasant and rich because it brings back memories when all of the above felt differently. I didn't stop believing that Santa Claus exists but it feels like the Christmas tree ornaments don't have the same magic to them. I don't know, maybe they just use different plastic that doesn't give off the same glow, but one thing is sure, the warm wine with cloves and cinnamon always tastes mighty good in the depth of winter.
I guess this game can strike the right chords of memory in me so that I feel nostalgic about childhood, so it makes sense why I've enjoyed playing a number of rounds ever since I discovered it.
Features
When it comes to the wild multipliers the feature works with marvellous simplicity – land a wild on a winning payline and get that winning amount boosted by either 2x, 3x, 4x and 5x.
The wilds can substitute for all, except the bonus packaged gift symbols, of which you need three on the reel set in order to pick one from the screen for a chance to win up to 150x your bet.
This Christmas party on the reels doesn't award a free spins bonus, so it is the base game where the main share of the winning outcomes is going to happen. There is a game that is very similar to this, also made by Play'n GO, which does come with a free spins bonus and win multipliers, but I am not going to divulge the big secret until just a bit.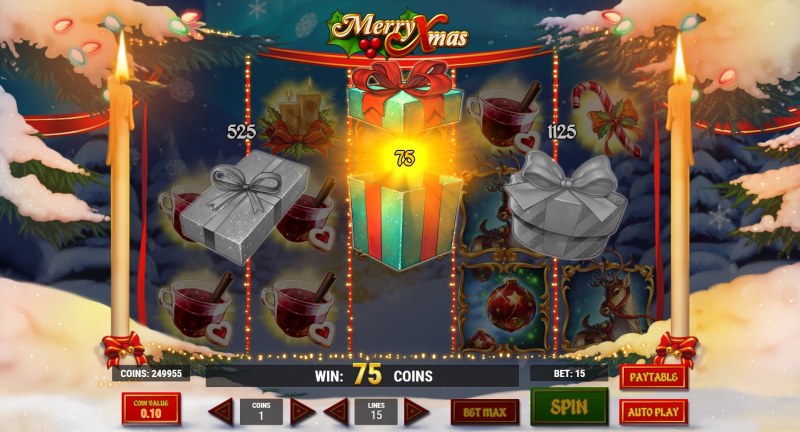 Bets and Payouts
Play'n GO has given the Merry Xmas slot 15 paylines that can be selected by the player. Any number between one and 15 can work, however, the conventional wisdom regarding these older slots says the fewer paylines you play one the greater the chances are that you will miss out on a winning outcome that may post on an inactive payline.
In terms of the bets, the fewer the paylines the smaller its cost, so the trade-off is apparent. I prefer to play on all paylines, wherever a game presents me with that dilemma, even if I have to play with a smaller wager. The smallest bet in Merry Xmas when all 15 paylines are active is 15p. Playing with 5p per payline bumps up the cost of the bet to 0.75 but also the value of the winning outcomes.
The math model can be seen dishing out payouts with most of the symbols on the paytable. Santa's symbol is understandably rarer than the usual because it pays 2500x your payline bet for five of a kind, which amounts to wins of 166x. Another high paying symbol is Rudolf the reindeer, which can cargo-in 2x, 10x and 66.66x your bet for three, four and five matching symbols.
The low-paying symbol category actually pays quite decently, with the exception of wins consisting of three matching symbols, which range between 0.2x and 0.6x. All other outcomes are between 1x and 16.66x and that is more than decent.
Conclusion
This is a simple online slot with a festive theme and what I think is an even more festive paytable. Consider that all of the potential payouts above can soar much higher with the help of the multiplier wilds, of which there are 'only' four.
Medium variance deems the payout engine able to trigger winnings across the board, ranging from small to big, and the bonus feature is an easy way to get an instant cash prize. I find Merry Xmas charming, but not something that I can play for too long.
Oh, and that other game that is similar but has more features and bigger payout potential, also by Play'n GO is called Easter Bunnies.