Prism of Gems is a game that will bring players into a special dome where they are presented with a variety of gems in different colours and shapes. The slot also features cascading reels, expanding symbols and free spins.
This slot was developed and released by Play 'n GO who brought it out in 2021. The slot looks nice but has only a limited idea, with the setting and theme never being expanded on. There are a lot of gems in the game and we can see a dome in the back like we're in a horticulture building. That doesn't really fit the very slight narrative of the game though. There is a 5-reel, 3-row playing field with an extra row above reels 2, 3 and 4.
Whenever there's a win on 1 of the 576 paylines the smaller top reel will increase its multiplier by 1, which can increase to up to 7x any win they're a part of. The reels themselves are filled with a variety of gems as high-paying symbols. These appear in different shapes and colours. Meanwhile, card letters are used to fill out the roster, which is presented in a very simple way.
As far as the sound goes, the presentation feels very cute and innocent with a lot of bells and twinkle sounds. There is also the sound of falling coins whenever the player gets a win. It fits the setting quite well although I would associate it more with something like fairies or other mystical elements. The gems in the game don't strike me as particularly magical.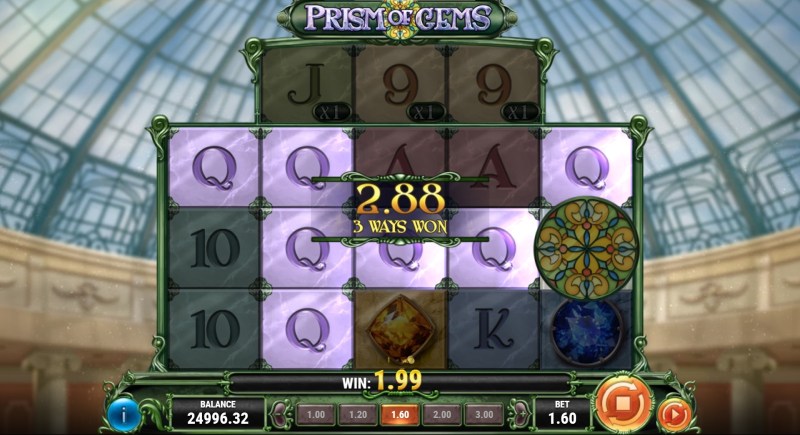 Symbols
Prism of Gems includes a variety of different gems that are only animated as they are lit up when part of a win. I think that's about as well as the designers could, given the nature of gems. Meanwhile, we're mostly looking at animations that include symbols splitting into 2 or 3 on the same tile. It's also possible for winning symbols to disappear and the reels to cascade.
Players who enjoy a slot with High Volatility will feel right at home with this game. Even though I found it quite possible to get regular wins, these were usually only small and did not help with keeping my funds up. Bigger wins are harder to get, requiring the extra reel with multipliers and the filled tiles. That said, over my time playing I only lost a small amount of coins so even with its stern volatility it wasn't too keen on just draining my account.
As always, the game offers people the possibility of adjusting their bet. This slot lets players pick a bet between $0.20 and $100 per spin. There is a max. win of 30,000x your bet which is impressive when compared to other slots. That said, I never felt like I was even close to winning a win that size. In that regard, it feels like kind of a waste to have such a big jackpot.
The game has a number of symbols either revolving around gems or card letters, from most to least important:
Scatter: Get 3 or more Scatters on the screen to receive a number of free spins.
Wild: Substitutes all existing symbols except the Scatter symbol.
Blue Gem: Max. 3x your bet with five-of-a-kind on a win line.
Yellow Gem: Max. 2x your bet with five-of-a-kind on a win line.
Green Gem: Max. 1.5x your bet with five-of-a-kind on a win line.
Pink Gem: Max. 1.4x your bet with five-of-a-kind on a win line.
Ace: Max. 0.7x your bet with five-of-a-kind on a win line.
King: Max. 0.6x your bet with five-of-a-kind on a win line.
Queen: Max. 0.6x your bet with five-of-a-kind on a win line.
Jack: Max. 0.4x your bet with five-of-a-kind on a win line.
10: Max. 0.4x your bet with five-of-a-kind on a win line.
9: Max. 0.4x your bet with five-of-a-kind on a win line.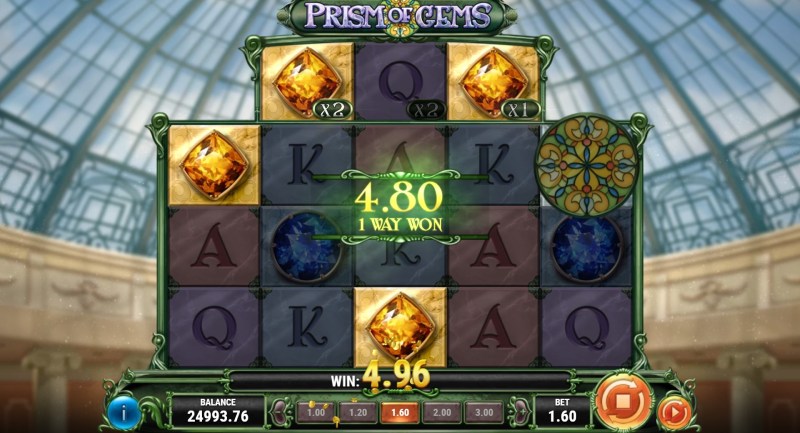 Features
Prism of Gems has a few features that change up the standard gameplay and most of these features are immediately obvious. The playing field has the usual 5 reels and 3 rows but there is an additional shorter row on top of reels 2, 3 and 4. The different tiles can all split up to hold multiples of the same symbol. If there is a win, the winning tiles will drop away to make room for new symbols that can also trigger additional wins.
The features in the game include:
Multipliers: Whenever there's a win, the top row will increase its multiplier by 1 until the next spin.
Ways to Win: The game has 576 paylines which can increase up to 3,087 paylines. Anytime a symbol appears on consecutive reels from left to right it will count towards a win.
Cascading Reels: When there's a win, the winning symbols drop away and make room for new symbols. This continues as long as new wins are created.
Expanding Tiles: A single tile can split into multiple symbols on the same tile.
Free Spins: With 3 or more Scatter symbols on the screen the free spins mode is activated. Scatter symbols during the free spins mode award additional free spins.
Players will be playing the main game most of the time, with the free spins mode proving rather hard to trigger. I would still have it activated once in a while but players shouldn't expect to see it very often. Most of the time, players will be working with the random wilds, the multipliers and the cascading reels. The game will also split tiles into multiple symbols on the same tile every spin, but this will often not be part of a win.
Conclusion
Prism of Gems feels like a slot which was built mostly on a certain vibe and not particularly connected to a certain style or theme. The idea of different gems can be seen in other slots as well, but those are usually part of something like a dragon's hoard or an underground mine. In this slot, the gems seem to be an incidental theme.
The gameplay is solid if a bit chaotic. The different features do make every spin interesting, with the multipliers, cascading reels, and expanding tiles all working closely together. They do still have trouble working together, only rarely granting players a bigger win.
If you're looking for a simple visual slot with a lot of depth in the gameplay, I would recommend Prism of Gems. This game looks a lot simpler than it plays and even veteran players might need a while to figure out the intricacies of this slot.