Easter Island 2 is the obvious sequel to Easter Island which was also developed and released by Yggdrasil. Again we are greeted by two statues on either side of the playing field as we play with re-spins, expanding reels and colossal symbols.
This sequel was released in 2021 and boasts improved graphics, extra animations and some slight tweaks to the gameplay. This all happens at a beach resort where the 2 statues are standing on either side of the 6-reel, 4-row playing field. They did remind me of the Netent slot Aloha! Cluster Pays which has almost the exact same visual style.
That said, the gameplay for this slot is considerably different. First off, there is no cluster pays mechanic but just regular paylines. Easter Island 2 has 25 paylines in fact. Secondly, the game has no free spins mode but does have a re-spins feature. All of this is done in great detail, with the reels and statues rendered in 3D. I thought this looked good and clearly allowed the developer to inject some additional animations.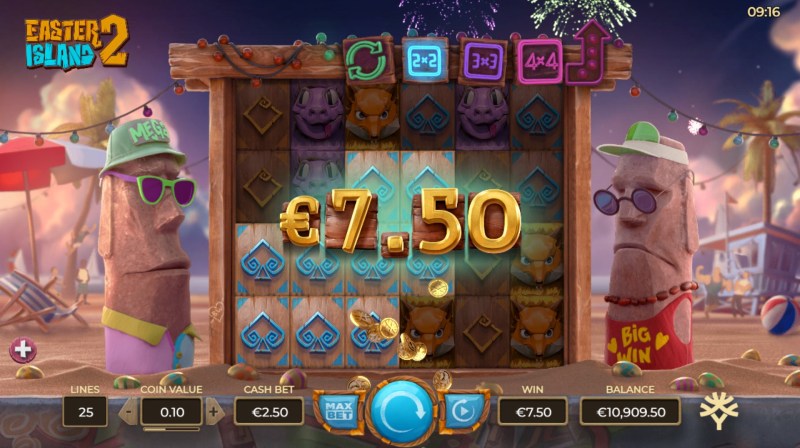 The sound design is good, with a simple but effective island song playing in the background. I thought the reels might be a bit too loud spinning as they often drowned out the song. Whenever there was a win, the music would pick up a bit to make it more audible. Meanwhile, the statues also have their own sounds, commenting on what's happening on the screen.
Symbols
Easter Island 2 makes sure to add a number of symbols to the game that fit the setting. There are low-paying symbols based on card suits but they're done in such an abstract way that they perfectly fit the Pacific island style that fills up the rest of the game. The high-paying symbols look like abstract animal faces where I'm not quite sure if they're supposed to be masks or actual animals.
The game has a listed Medium Volatility which only partially shone through during my gameplay. Although my losses were minimal I did not get the idea that the longer wait between wins was rewarded with bigger wins to compensate. Instead, the occasional average win is just enough to keep the funds stable without really offering the necessary excitement of big wins.
Players can deal with this somewhat by changing their bets to a number between $0.25 and $300 per spin. Obviously, the maximum bet is quite high and only power players will be able to really stomach for that long. I would recommend anyone to give the slot a try with low bets either way to get a feel for the volatility. As an incentive to keep playing the jackpot is 2,500x your bet which is a good average for a game like this.
The features in the slot include:
Red Bird: Max. 40x your bet with six-of-a-kind on a win line.
Orange Fox: Max. 10x your bet with six-of-a-kind on a win line.
Green Turtle: Max. 8x your bet with six-of-a-kind on a win line.
Purple Lizard: Max. 6x your bet with six-of-a-kind on a win line.
Blue Fish: Max. 4x your bet with six-of-a-kind on a win line.
Heart: Max. 2x your bet with six-of-a-kind on a win line.
Diamond: Max. 2x your bet with six-of-a-kind on a win line.
Spade: Max. 2x your bet with six-of-a-kind on a win line.
Club: Max. 2x your bet with six-of-a-kind on a win line.
Features
Easter Island 2 includes only a small number of different features but they do try to change up the standard gameplay in some interesting ways which helps their effectiveness. The features you'll find here include:
Re-Spins: If players get a win the re-spin is triggered. If the win involves a low-paying symbol, all low-paying symbols are replaced by that one in the re-spin. If the win involves a high-paying symbol, all high-paying symbols are replaced by that one in the re-spin.
Colossal Symbols: If there is a four-of-a-kind win or longer the game will add Colossal Symbols to the re-spin. A four-of-a-kind win will add a 2×2 colossal symbol, five-of-a-kind will create a 3×3 colossal symbol and the maximum six-of-a-kind win will make a massive 4×4 colossal symbol.
Wilds: Any of the Colossal Symbols can randomly be a Wild. Wilds substitute all other symbols in the game.
Expanding Reels: If the player gets a six-of-a-kind win, the re-spin will feature on the expanded reels where the playing field is grown to a 6-reel, 8-row size with 55 paylines.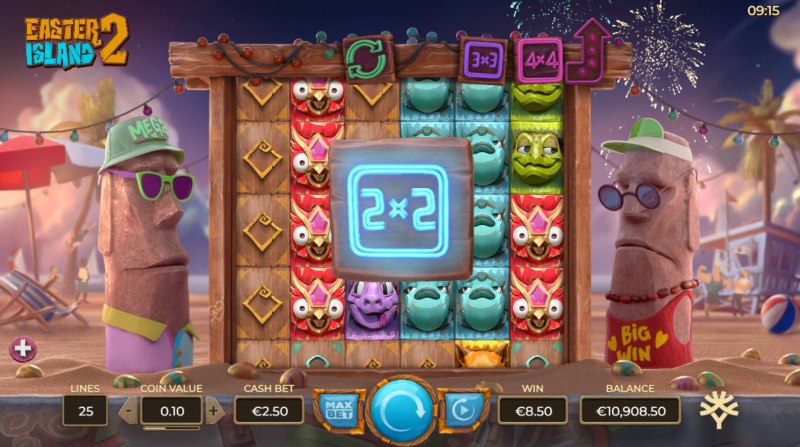 There is no free spins mode in this game, instead, everything relies on the re-spin functionality. Players will be treated to a re-spin whenever they get a win, with this extra spin augmented in a way depending on the previous win.
Winning with a low-paying symbol will have all low-paying symbols in the re-spin replaced with that one. Similarly, winning with a high-paying symbol will also have only that symbol appear in the re-spin. This makes it more likely that another win is created.
This will be most of the game since a three-of-a-kind win is the most common win and that will only trigger a re-spin. It gets more interesting with longer wins. however. Getting a win that is four-of-a-kind will add a Colossal Symbol to the re-spin, whose size grows according to the size of the win.
When the player manages to get a six-of-a-kind win the playing field grows to its maximum size of 6 reels and 8 rows. It will also include a 4×4 colossal symbol that can be turned into a wild, which might result in some massive wins. During my time playing though, I only once got a six-of-a-kind win.
Conclusion
Easter Island 2 is very closely related to its original and only takes some small steps to differentiate itself on a mechanical level but the graphics are markedly better and more engaging. I do wish they had some music in it to really bring the setting to life.
The features are fun and rather original, with a focus on getting wins in order for re-spins and different features to activate. It does feel more volatile than it is listed as, with the bigger wins being heavily dependent on getting bigger win lines and then having the colossal symbol sync up in the re-spin.
If you're a fan of the original or talking Easter Island heads in general you would want to give this slot a try. I found it to be a rather relaxing, uncomplicated slot that people will be able to get used to and start playing almost immediately.