Octopus Treasure is one of the newest Play 'n GO slots to grace our screens and phones, with a dexterous octopus helping us find treasures off the ocean floor. The game further aids us by introducing free spins, bonus games and re-spins.
Released in 2020, Octopus Treasure is brand new and it shows in the presentation. The graphics are crisp and detailed, with a lot of attention put into creating a fitting setting. We find ourselves deep under the ocean with the titular octopus sitting right behind the 5-reel, 3-row playing field. These hold an average 20 paylines on which to get wins, using the selection of original symbols to do so.
The high-paying symbols are all styled after items one might find on the ocean floor. The low-paying symbols are based on card suits but in a very stylized way, making them seem at least somewhat plausible to fit the theme. Most of the animations in the game are rather simple with just a little jiggle or a quick zoom but it does help in creating some additional movement.
When it comes to the sound, the developers didn't go for anything too original. The sounds are dimmed but energetic, feeling like they're playing through the water. There are some additional sound-effects whenever there's a win or a feature is triggered but it wasn't overly unique.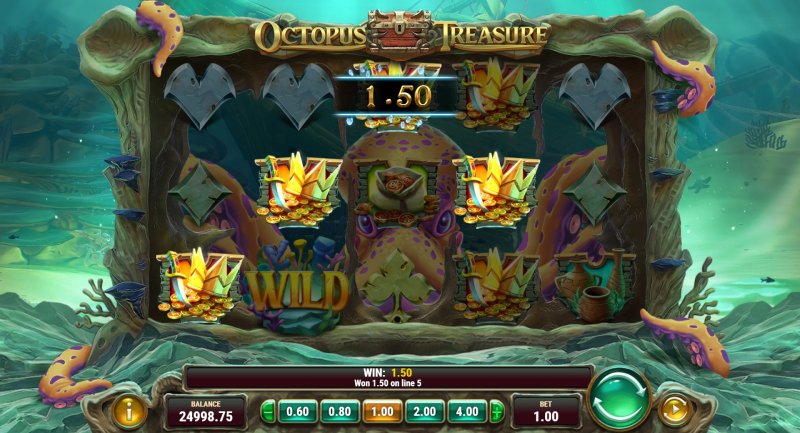 Symbols
The game has a moderate selection of different symbols, affecting the Medium Volatility. Octopus Treasure aims to hand out the occasional win while sprinkling larger and smaller wins in-between. The larger wins are almost entirely dependant on the special features to activate but that was pretty rare in my experience.
The symbols you'll find in this slot include:
Scatter: Get 3 Scatter symbols on the screen to activate the free spins mode.
Wild: Wilds substitute all other symbols except the scatter symbol.
Treasure Chest: Max. 5x your bet with five-of-a-kind on the screen. Substitute all other symbols except the Scatter symbol.
Gold: Max. 3.5x your bet with five-of-a-kind on the screen.
Silver: Max. 3x your bet with five-of-a-kind on the screen.
Bronze: Max. 2.5x your bet with five-of-a-kind on the screen.
Pots: Max. 2x your bet with five-of-a-kind on the screen.
Spade: Max. 2x your bet with five-of-a-kind on the screen.
Heart: Max. 1.5x your bet with five-of-a-kind on the screen.
Club: Max. 1x your bet with five-of-a-kind on the screen.
Diamond: Max. 1x your bet with five-of-a-kind on the screen.
As you can see, the payouts per win line are extremely low even for the longest and highest possible wins. This is partially because of the assumption that any spin will have more than 1 winning payline. Another factor is that the features are assumed to have a big hand to play in awarding wins.
Features
The features in Octopus Treasure can be rather confusing and I found the paytable not to be very enlightening either. Still, I will try to give an accurate summary of what you can expect to find in this slot.
Free Spins: Instead of the free spins mode playing as normal and awarding wins, the free spins mode in Octopus Treasure is used to determine which special feature is activated. Players can't win anything during the Free Spins mode.
Wild Coins: Players can pick 1 of 6 coins to add random wilds to the playing field.
Treasure Grab: The octopus will collect symbols for an instant prize.
Wild Reels: Players pick 1 of 5 pots to transform entire reels into Stacked Wilds.
Gold Pile: The octopus transforms symbols to facilitate winning pay lines.
Multiplier: Multipliers can be activated after any feature.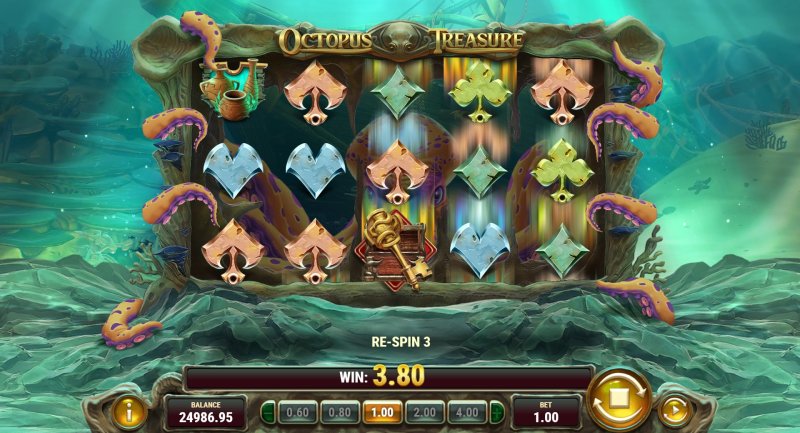 Instead of what normally happens in a slot, the features in Octopus Treasure are mostly hidden behind a free spins mode. First, the player has to get 3 Scatter Symbols on the screen. This activates 3 spins, with the playing field only showing keys. The keys are collected and award a number of re-spins.
Afterwards, the total number of keys and re-spins are used to activate the different features, using the re-spins and activating a different feature with every spin. It's possible for features to repeat themselves and there's no way to control which ones are selected either.
Even explaining it now, I never really got a full clear grasp of how it works. My main takeaway was that it only activated very rarely and when it did it would grant some big wins. Players should not expect these features to be present very often but when they do, they will likely boost your funds considerably.
The only other way to get any of the features to activate once randomly is by getting the Treasure Chest symbol on reel 3. That's because the key symbol only appears on reel 3, and when these combine the key opens the treasure chest and activates a random feature once.
It's possible to win a max. win of 5,000x your bet and for people to choose a bet between $0.20 and $100 per spin. Considering the medium volatility I would suggest you start with smaller or medium bets since it can be quite some time between wins, which might be too much for your funds to sustain.
Conclusion
Octopus Treasure is a wonderful looking slot that has taken a lot of time to make it feel like it's set at the bottom of the ocean. The background has a number of cool details as well as subtle animations that enhance the feeling of being there. The symbols themselves are also very sharp and detailed.
The gameplay is perhaps a bit too complicated for the average player. Even as someone who enjoys experimental slots, the game had a lot of features that were explained rather poorly. I understood how each individual feature worked but the ways of activating them were messy and poorly done.
Play 'n GO fans will likely get a kick out of this slot and even without understanding the features it's a fun play. Maybe the fact that the features seem to appear completely without rhyme or reason adds to the excitement. The only way to find out is to give it a try.