Xmas Magic is a slot full of Christmas wonder and excitement. Sit down, grab your hot chocolate and enjoy the atmosphere.
When December rolls in, people start to look for the best Christmas-themed slots. Play'n GO's Xmas Magic, released right before Christmas 2019, is a great contender. For me, this is one of my top-3 Christmas slots of all time.
Xmas Magic is all about that old-time Dickensian Christmas. The night is peaceful, a warm candlelight is shining through the windows and garlands are hung everywhere. The anticipation fills the air and everyone is waiting for Santa's gifts.
This slot is a perfect choice for anyone who wants a bit of Xmas Magic in their life. The game looks great, but it's not all just about the theme. There is an intriguing game under all that tinsel.
Graphics and sound
Xmas Magic is a portrait of classic Christmas. The visual style is timeless, as it is hard to tell if it is from the late 1800s or just a quiet town with old buildings. Nonetheless, we get a beautiful cityscape all dressed up in garlands and wreaths.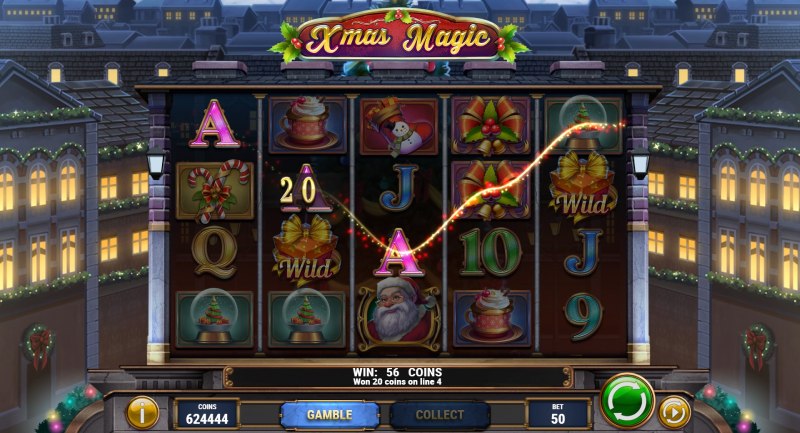 Everyone is waiting for Santa to fly over the houses and deliver presents to all the well-behaved children. The feeling of anticipation is in the air while everything is still calm.
That childlike anticipation can be heard in the music as well. It truly grabs you and takes you for a ride. The adventure is just starting and all we need is Santa to show up.
I love how this slot looks and sounds. I always enjoy a good Christmas slot and Xmas Magic is high on my list. This game has that perfect Christmas feel to it, just like in the films and Christmas specials.
Symbols and wins
The reels are full of all things Christmas. You'll find snow globes, socks full of gifts, candy canes and even Santa as symbols. Unfortunately, Play'n GO did add the card numbers as the low-tier symbols, but at least they look festive.
The game features two special symbols. The big present is a wild and Santa is a scatter. The wilds are normal but can get stacked during the Free Spin feature. The scatters activate the free spins if you get at least three of them.
That Free Spin feature is the main attraction here. At the start of every spin, you get more and more wilds on the reels. The will get stacked and they can potentially fill all the reels after the first one.
The game has high volatility and those free spins are a good reason why. There is potential for massive wins if the stacked wilds show up correctly. The slot's fifty paylines are the reason why even the weakest symbol can be extremely rewarding.
When it comes to the base wins, they are volatile as well. Three of any symbol isn't much alone, but hitting multiple paylines at the same time is the way to go. The slot can surprise you with a massive win at any point, but it can also just as well give you a lump of coal.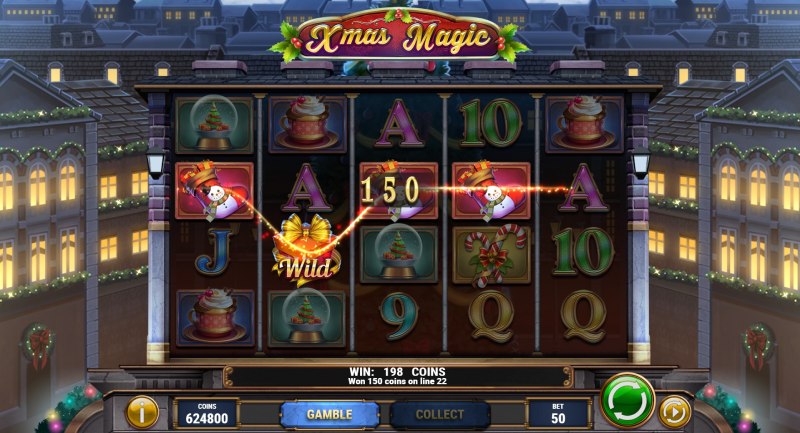 Features
Free Spins: Santa showers you with gifts
Santa's free spins are the only proper special feature, but it is so worth it. First, you just need to get three Santa symbols and you get 10 free spins. You can earn 10 extra spins if you get three more Santa scatters during the feature.
What makes these spins great, are the gifts Santa keeps dropping. At the beginning of each spin, he will fly over the houses and drop more presents. This will add two extra wilds on reels 2, 3, 4 and 5. Combine this with those extra spins and you got a good thing going.
The longer the spins go on, the better chances you have of hitting massive combinations. It is possible to get full stacks of wilds on every reel beyond the first. This is where the biggest wins are hiding.
Gamble: Multiply your wins
Every time you win something, you have the option to gamble it. You just need to guess what the face-down card is. Guessing the right colour doubles your win and guessing the right suit quadruples it.
Final Thoughts
Xmas Magic is a game I enjoy. The biggest draw for me is the beautiful visuals. This slot reminds me of Christmas films and stories.
As a game, it is simple and fun. The high volatility adds a bit of excitement and a chance to get bigger wins. I was waiting for those Santa symbols and all the gifts he was about to deliver.
Now, the game could have used some additional features, so all time wouldn't be spent on just trying to activate the free spins. This isn't a deal-breaker, as I said, this is a top-tier slot for me, but a little more would go a long way.
If you are looking for Christmas-themed games, then you should definitely check out Xmas Magic. This one is worth your time.