New Year Riches is the latest Play 'n GO slot that celebrates the new year by popping champagne and hopefully some jackpots! This game doesn't just feature literal fireworks but also treats the player with free spins, re-spins and multipliers to make this event especially memorable.
Created and released in 2020, this slot probably shows how eager everyone was to cross that year off their list and move on to the next one. To do that, the game uses a lot of celebratory images to convey that idea. We're treated to a high view of a massive city in the background, with the occasional firework explosion in the distance. Meanwhile, the 5-reel, 3-row playing field with 20 paylines is filled with various balloons, famous buildings and of course the clock and champagne bottle.
I didn't think the game went far enough when it came to its creativity but everything looks sharp and detailed. The high-paying symbols are based on famous landmarks around the world such as the Taj Mahal, the Statue of Liberty and Big Ben. The low-paying symbols are balloons in the shape of card suits. While the topic isn't original I did think the idea of shaping them as balloons fits the theme a lot better and shows some level of creativity.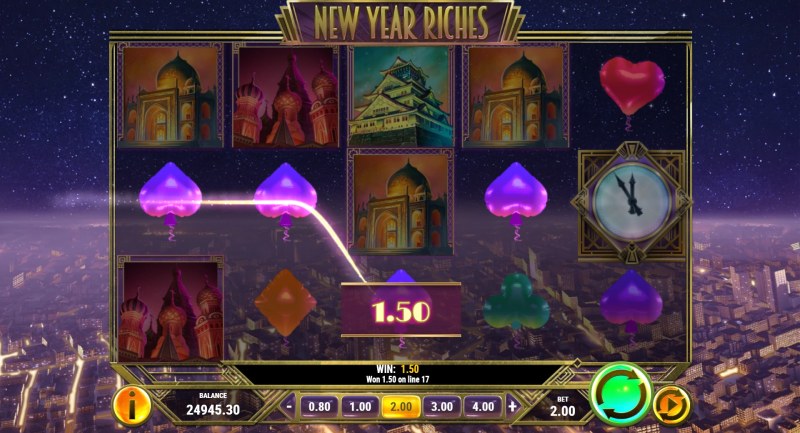 The music is modern and upbeat but didn't really strike me as being new year's music either. The champagne bottles make a cork popping sound whenever it is part of a win. The other symbols have more generic jingle sounds when they're on a payline. Overall, I thought the sound-design was acceptable in terms of quality but I'm not sure if I would have made the same choices.
Symbols
New Year Riches has a decent variety of symbols. Coupled with the regular size playing field and the frequent activation of the free spins mode, the game lands at Medium Volatility. I found that to fit my experience as well, handing out frequent but spaced out wins that were usually only worth a couple of spins. The free spins mode would often award bigger wins but it was not guaranteed.
The symbols in New Year Riches are:
Scatter: Get 3 Scatter Symbols to activate the Free Spins mode.
Champagne Bottle (Wild): Wilds substitute all regular symbols in the game. Max. 250x your bet with five-of-a-kind on a win line.
Statue of Liberty: Max. 50x your bet with five-of-a-kind on a win line.
Big Ben: Max. 25x your bet with five-of-a-kind on a win line.
Forbidden Palace: Max. 15x your bet with five-of-a-kind on a win line.
Taj Mahal: Max. 10x your bet with five-of-a-kind on a win line.
Saint Basil's Cathedral: Max. 5x your bet with five-of-a-kind on a win line.
Diamond: Max. 2.5x your bet with five-of-a-kind on a win line.
Heart: Max. 2.5x your bet with five-of-a-kind on a win line.
Spade: Max. 2x your bet with five-of-a-kind on a win line.
Club: Max. 2x your bet with five-of-a-kind on a win line.
The payouts start off low but ramp up quickly as there aren't that many symbols. Players can pick a bet between $0.20 and $100 to find the risk they're willing to play at, while the max. win of 5,000x your bet is a nice incentive to keep going. I would recommend to start off with smaller bets before increasing them since this game does have its own way of pacing out wins. If you bet too high too fast, you might run out of funds before you hit the big wins.
Features
New Year Riches doesn't invest too heavily in a variety of features but the ones it does have offer some interesting changes to the basic gameplay. You'll find the free spins mode activates quite often and comes with an additional re-spin feature, which I thought was rather unique.
Wilds: Wilds substitute all other symbols in the game except the Scatter Symbol.
Free Spins: Get 3 or more Scatter Symbols on the screen to activate the Free Spins mode with 10 free spins.
Multiplier: During the Free Spins mode, the multiplier increases by 2x with every spin up to a maximum 20x multiplier on the 10th spin.
Re-Spins: While the Free Spins mode is active, Scatter Symbols activate re-spins instead of granting additional Free Spins. Re-Spins are activated immediately and use the current multiplier.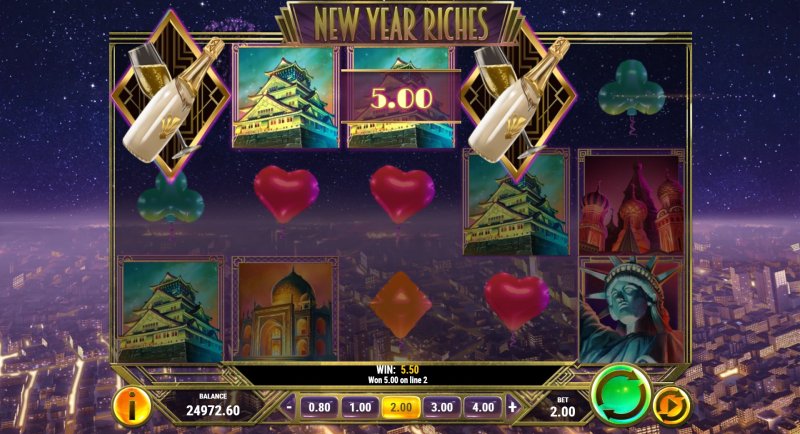 This slot does pretty well at granting players wins during the base game, usually with the help of Wilds. The wins aren't very big most of the time but do enough to keep your funds relatively stable. The game does make it clear that it requires you to hit the free spins mode to have the opportunity at any big wins.
I found the free spins mode to be activated often enough to fill that role, but it wasn't common enough to guarantee any kind of positive trend in your funds. What I mean by that is that not every free spins mode would actually result in any big wins, and since they aren't quite common enough that could still mean you would lose coins in the long run.
The Free Spins mode always gives the players 10 free spins, it's not possible to have more, and with every spin the multiplier increases by 2x. This means that you start the first spin with a 2x multiplier, then 4x, 6x, and so on to 20x for the last spin.
Whenever a Scatter Symbol appears during the Free Spins mode, the free spins stop and are replaced with 2 re-spins per scatter symbol. These re-spins are functionally the same and also profit from the multiplier at that stage, but they do not increase it further. Once the re-spins are done, the game resumes its free spins. It's not possible to activate additional re-spins during the re-spins.
The features felt solid to me and the free spins mode was usually a source of some coins but I did notice a downward trend in my funds as I played. It means players need to keep a close eye on their coins since even some bigger wins might not be enough to compensate for a series of no wins.
Conclusion
New Year Riches is a good-looking slot that doesn't go out of its way to do something new or original. Instead, it takes existing features and makes sure they work well. I also liked the combination of free spins and re-spins as opposed to the usual re-triggering free spins. Having a multiplier that increases with every spin means the mode becomes a lot more volatile. This can obviously end up helping or punishing a player.
The gameplay itself is very standard and most players will be able to instantly start playing, without having to delve into the details. Everything seemed very obvious to me and the game does a decent job telling you what's going on even without diving into the paytable.
People who enjoy the celebration of the new year, like a game with a heavy emphasis on free spins, or are just looking for something new will likely enjoy New Year Riches.