With Sizzling Spins any day is a good day for a BBQ party! Pour some glaze over the ribs and brown the sausages to perfection in Play'n GO's delicious slot.
Released in July 2018 Sizzling Spins is an easy-to-play game with an appetising theme. The highlights of the game include 243 paylines (and even more in free spins), sticky wild re-spins and win multipliers in free spins.
For those who have played hundreds of different slots, Sizzling Spins doesn't offer anything new. But, the theme is very nicely implemented and with the RTP being 96.49% this slot has quite good potential.
Graphics & sound
I got so hungry watching this slot, you don't even know! Seeing all those tender chicken thighs, plump sausages with mustard on top and juicy ribs made my mouth water – this is definitely a slot you don't want to play while hungry.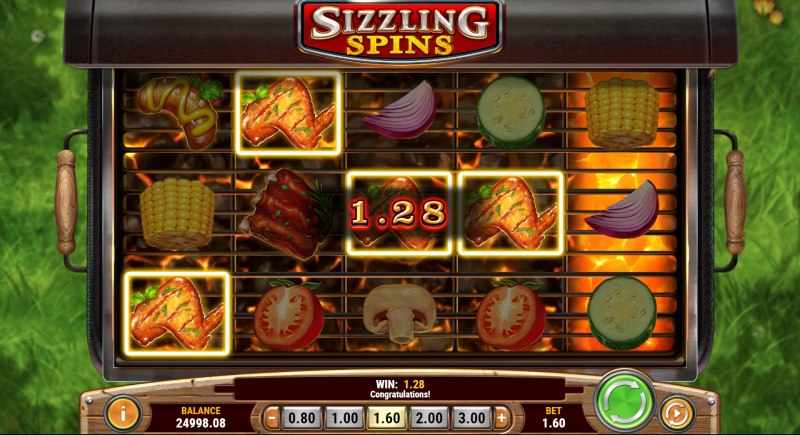 The graphics in Sizzling Spins are nice, if not exactly ground-breaking. The play area is a glowing-hot barbeque grill and behind it is a lush, green grass spotted with sun and shadows. There's a non-visible radio playing generic rock tunes, and when it occasionally quiets down, we're able to hear people chatting casually and birds chirping. Just a perfect setting for a BBQ party.
Symbols & wins
The base game of Sizzling Spins has five reels, three rows and 243 paylines. The paylines are increased to 1.024 during the free spins by adding a new row. The minimum bet is 20p and the maximum is $100.
The symbols are all something you'd find in a hot grill, and I love how even the low-value symbols are presented as vegetables (as they're usually just suits or letters/numbers).
High-value symbols:
5 x ribs pay 10x your bet
5 x sausage pay 5x your bet
5 x chicken pay 3x your bet
5 x shrimp pay 2x your bet
Low-value symbols:
5 x corn pay 0,8x your bet
5 x onion pay 0,8x your bet
5 x tomato pay 0,6x your bet
5 x courgette pay 0,4x your bet
5 x mushroom pay 0,4x your bet
Special symbols:
Foil Blockers / Wild: The Wild, which is a foil packet, is a worthless symbol alone. But, if it stops on a hot reel it will open up and transform into a Wild. It substitutes all other symbols except Scatter and 5 active wilds pay 10x your bet.
Chilli / Scatter: Red chillies on reels 1, 3 and 5 activate 8, 10 or 12 free spins.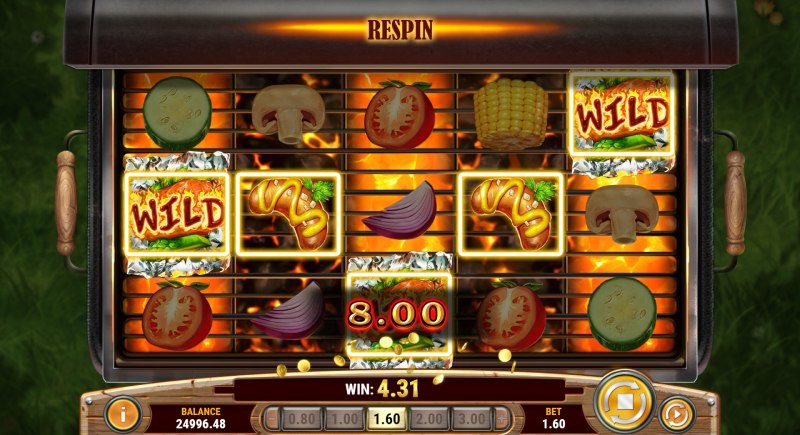 Features
Hot Reel: Opens the Foil Blockers and changes them into Wilds.
With every spin, one reel starts randomly glowing and is a "Hot Reel". If a Foil Blocker lands on a Hot Reel it opens up, uncovering a piece of salmon and asparagus. Now the Foil Blocker acts as a Wild, and the entire reel gets stuck as the others are given a free re-spin.
Wild re-spins: The Wilds landing on Hot Reels activate the Wild re-spins.
When a Foil Blocker lands on a Hot Reel it activates as a Wild, freezing the entire reel for a free re-spin. During a re-spin, another Hot Reel lights up and if a new Foil Blocker lands there, the Blocker converts to a Wild and then also this reel gets frozen.
The re-spins continue until no new Foil Blockers comes up on a Hot Reel, or if all the reels have an active Wild on them. If all the reels glow red and each of them has a Wild, the winnings from the last re-spin get paid double.
Free spins: Three chillies activate free spins.
When a red and flaming chilli lands on reels 1, 3 and 5, it's time for you to choose one of them. Each chilli hides a different number of free spins, so you can get 8, 10 or 12 free rounds.
When free spins start, the reels stretch by one symbol, meaning instead of 243 paylines you now got 1.024 ways to win!
Each chilli that lands on the reels increase the temperature inside the grill. After three chillies, your next winnings are multiplied by two. Collecting six chillies adds a 3x multiplier, and after gathering nine chillies means every win after that will be multiplied by 5.
During the free spins, all the Foil Blockers are active wilds. However, if one of them lands on a Hot Reel, it will start a free re-spin like in the base game.
Final Thoughts
While Sizzling Spins has a nice look and technically is a working slot, it definitely could be more innovative. The Wild re-spins and multiplier wins are something an experienced player has seen many, many times before. But, even if combining the re-spins with multipliers can result in some delicious winnings, it's good to keep in mind that this is a highly volatile slot. Meaning, it can be very stingy with payouts.
As for me, I do hate the so-called wins where I don't even get my wager back. It's so not thrilling to win 40p with a $1 bet. And this happened way too often with Sizzling Spins.
Another feature I don't appreciate much is the random number of free spins. Luckily, in Sizzling Spins you're always guaranteed to get at least 8 spins. So it's not as bad as in some slots where the minimum number can be as low as 3. This can happen, for example, in Play'n GO's Legacy of Egypt.
There's not really anything wrong with Sizzling Spins, other than it could do with more interesting features. In my humble opinion, I could take it or leave it.