Ozwin's apprentice is helping his master turn back into human form. Join him and Ozwin will reward you with riches.
Ozwin's Jackpots is a progressive jackpot slot from Yggdrasil. Released in early 2018, Ozwin's Jackpots was Yggdrasil's first major attempt to join the jackpot market. These slots may not have millions of dollars in their jackpots, but they can grow big.
Ozwin's Jackpots is an interesting game that offers a lot more than just the big jackpot. The slot has some interesting mechanics and a ton of special features.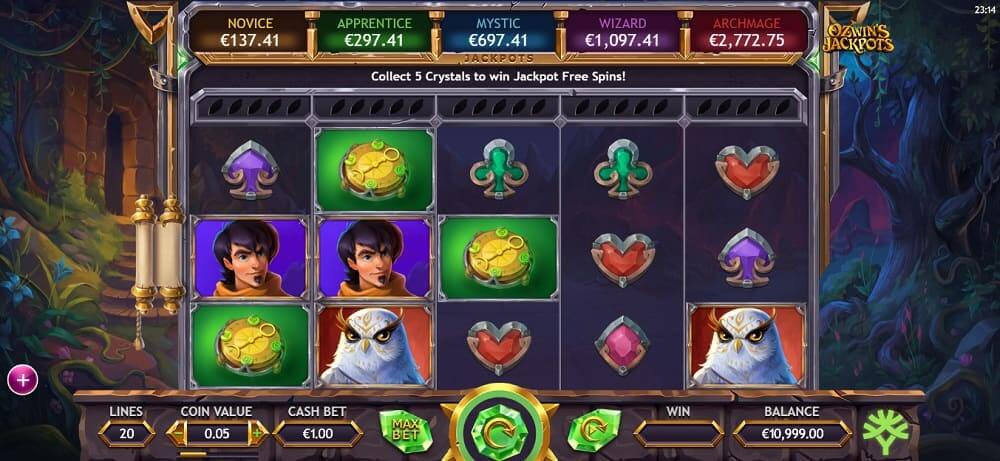 If you have played some of the other Yggdrasil progressive slots, you already know how Ozwin's Jackpots works. Yggdrasil has used the same core mechanic in multiple games, including the popular Jackpot Raiders.
Graphics and sound
Ozwin's Jackpots is a fantasy-themed slot and has a cartoony style. The slot looks good to me, but this particular style has become very common in fantasy-themed video games. I did notice a striking similarity between the visual style of Ozwin's Jackpots and Blizzard's games, especially Hearthstone.
The style isn't bad and it fits the slot well. The user interface is clear and you can easily see where everything is. The slot has a lot of different items you can collect, and all of them can be easily understood just by looking at the game.
The audio is good, but nothing fancy. There is a fairly standard medieval-styled ambient music in the background, which works well. It adds a bit to the theme and doesn't bother anyone. That can also be said about the soundscape in general. Nothing here bothers me, but nothing wows me either.
Symbols and wins
There are three kinds of symbols in Ozwin's Jackpots, high-paying, low-paying and special. The high-valued symbols are Ozwin himself as an owl, his apprentice, a magical compass and a magic potion. The low-valued symbols are card suits made to look like jewellery. The special symbols are where the magic happens. There are the Ozwin's spellbooks, which start the Bonus Game feature, the crystal ball that hands out free spins and the crystals you collect for later use. If you gather five crystals of any one colour, you activate the free spins with a special surprise.
The special symbols are also important for their wins. Getting three will just activate the particular special feature, but the fourth and fifth will give great prizes. Five symbols are worth 10,000x your wager, which is the largest win, not including the jackpots.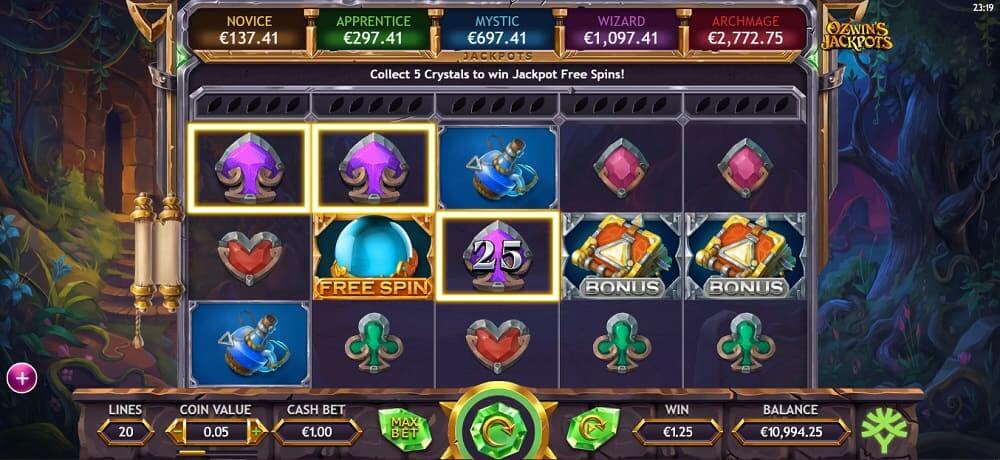 The pay structure is an interesting one. Most of it is well balanced and hand out normal wins, but there is one catch. If you get five copies of any of the most valuable symbols, you get a massive win. Five hearts is 10x your wager, which is fine, but five Ozwins is 200x times your bet.
The game features a low volatility and an RTP of 96.70%. These are promising stats for a slot that you are meant to play for longer.
Features
Bonus Game: Study Ozwin's spellbooks
Ozwin's spellbooks can activate the Bonus Game feature. You need at least three spellbooks anywhere on the reels to start.
In the Bonus Game, you open up the spellbooks and hope to find something good inside. You can either get a cash prize, a Free Spin crystal or an evil spell. The evil spell will end the bonus feature immediately.
Jackpot Free Spins: Grab some free spins for some big wins
Jackpot Free Spins feature can be activated in two different ways. You either get at least three Free Spin symbols or collect five Free Spin crystals of any one colour. Both of these will give you 10 free spins, but the crystals will form an orb.
During the free spins, all line wins are tripled. You are also collecting orbs, which will win you one of the jackpots. Collect five orbs of one colour and you win that jackpot.
Five jackpots: Five different progressive jackpots
Ozwin's Jackpot has five progressive jackpots. They each have their own seed value and grow at a different rate. The jackpots are unique for each casino and can only be networked inside a casino group. For example, ComeOn and MobileBet have the same jackpots, as they both are a part of ComeOn Group.
The largest jackpot in Ozwin's Jackpots is named Archmage. It seeds at $2,000and is usually won around $13,000. The largest win ever was approximately $65,000.
Final Thoughts
I like Ozwin's Jackpots on multiple levels. The game itself is good, no doubts there, but this slot is so much more. Ozwin's Jackpots means that a new developer has started to make good progressive slots. No longer do we need to choose between NetEnt and Microgaming when it comes to big jackpots.
Yggdrasil did a great job with Ozwin's Jackpots and didn't just slap a big win on a boring game and call it a day. No, this slot would have been good even if it didn't have a jackpot. That is what I love to see and that is what makes a good jackpot game.
If you like games with larger jackpots, then I do suggest that you check Ozwin's Jackpots out. This game is full of great features that will keep you entertained for a long time.